Over 1,800 Industry Professionals Attend CREtech's Flagship In-Person Conference Debut, CREtech New York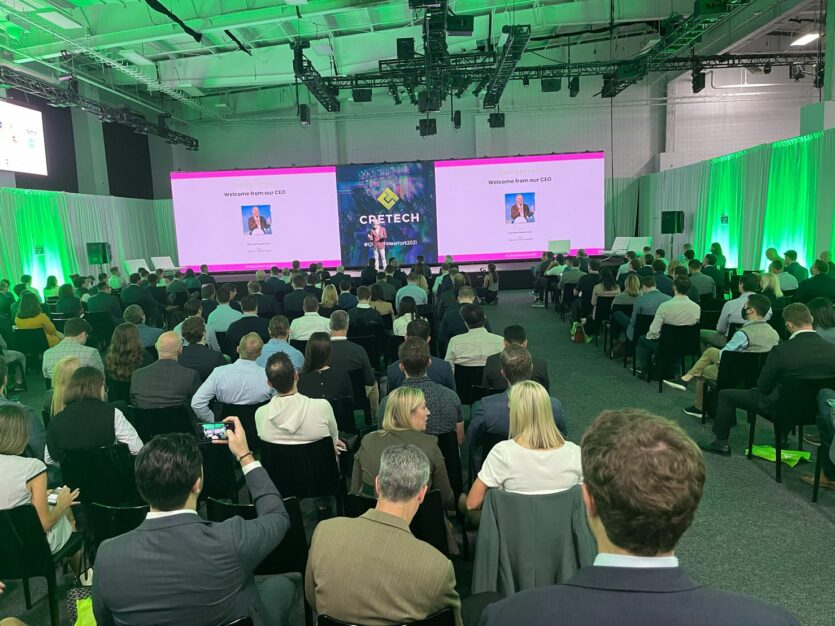 New York (October 15, 2021) — CREtech, the largest international community of professionals devoted to technological innovation in the real estate sector, returned to New York on October 13th and 14th for the most influential commercial real estate tech conference of 2021.

The two-day conference was held at Pier 36 and featured keynote presentations, panel discussions and demos from today's leaders in real estate, technology, venture capital and finance, the event was a rousing success. Over 1800 individuals attended the conference and used CREtech's professional matchmaking app to set up 1:1 meetings in their industry renowned Tech Connect Lounge. 
"CREtech New York was the single most meaningful event we ever staged at CREtech," stated Michael Beckerman, CEO, CREtech. "As our first in-person event in two years, the size of the crowds, the enthusiasm and energy in the building, the extraordinary content and the amount of meaningful business connections made not only reflected the excitement to be back at live events, but the tremendous health of our real estate tech global ecosystem," Beckerman concluded.
During the conference, attendees heard from leading experts in the real estate, tech, and venture capital industries on how the digitalization of the real estate industry continues to drive innovation for and impact commercial and residential real estate owners, developers, brokers, property managers, tenants, landlords and startups. The 2021 conference also featured the Climate Symposium to raise awareness and drive measurable investment in climate tech, sustainability and ESG in the Built World.
The conference's 65+ speakers hailed from global brokerage firms, major development companies, venture firms and leading startups. Industry leaders on the Keynote Stage included Andrew Florance, Founder and CEO of CoStar Group Inc, Peter Scialla, President and Chief Operating Officer of Delos, John Fitzpatrick, Managing Director and Chief Technology Officer of Alternative Asset Management Technology, Blackstone, and Brad Greiwe, Co-Founder and Managing Partner at Fifth Wall.

CREtech will also host a live debut conference in London since CREtech's acquisition of FUTURE PropTech in 2019. CREtech London will bring together over 1,000 industry leaders for 2 days of in-person networking, demos, and keynote presentations. Attendees will have the opportunity to connect with the most prestigious group of real estate tech professionals in the world while enjoying one of London's premiere event venues, Magazine London.
To register and learn more about CREtech London 2021, click here.
About CREtech
CREtech is Reimagining Real Estate. We are the largest international community of professionals devoted to technological innovation in the real estate sector. Our mission is to help the industry embrace, adopt, and future proof it's businesses. Our streaming, live/virtual events, and consulting platform inspires the next generation of ideas, processes, and people to champion the world's largest asset class.
Learn More: CREtech.com