Pillow Offers A Collaborative Solution for Short-Term Rentals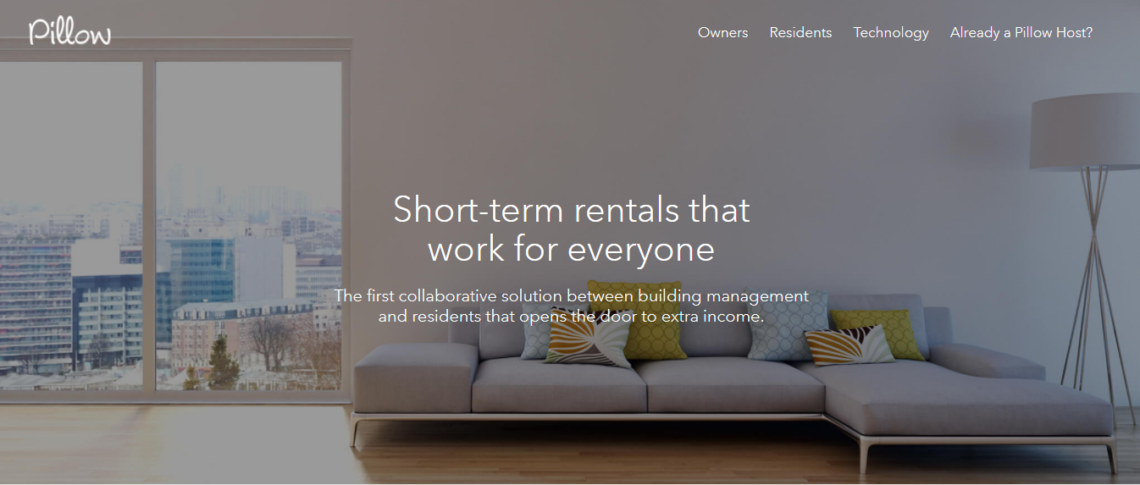 The Pillow platform takes Airbnb a step further, allowing both tenants and property management the ability to benefit from short-term rentals. With these types of rentals on the rise, Pillow has managed over 25,000 reservations.
What was an ongoing problem before now becomes part of the plan: transparency. Building owners are now in on the short-term rental so that residents can host worry free.
Pillow partners with building owners to help them earn additional revenue from compliant and transparent short-term rentals. This allows owners to provide a new amenity for residents and decrease vacancy rates. Owners have access to reporting dashboards that monitor and include detailed insights into a property portfolio and performance.
Property managers can utilize any vacant space until long-term rentals can be obtained.
Pillow advocates for residents with an end-to-end hosting solution so that residents can earn extra income. They receive a full-service solution platform that makes hosting easy: automated listing creation, secure building access, and a professional, verified network of turnover assistance. This turnover service lets residents request cleanings, new linens, supplies, and more (residents can pass these costs onto the guests).
A digital guest guide allows residents to perform a secure check-in and communicate with guests. After residents are paid directly by Airbnb, an automated system charges them for the building's share, which then gets distributed to the owner. The platform then generates real-time reports for building owners, summarizing unit-level details with revenue and enrollment rates for the entire property portfolio.
The platform allows residents to view all reservations, schedule services, and use a full suite of products to create a satisfying guest experience.
Revenue is then shared between building owners and residents. Earnings are automatically allocated based upon terms that work for everybody.
How it works: residents sign a lease addendum making short-term rentals 100% legal and compliant. Verified guests and service providers follow clear building guidelines to keep the building safe and in good order. Owners and residents share a percentage of the earnings from every Airbnb reservation.
The platform promotes security with controlled guests and verified vendor access, protecting both guests and property managers.
Pillow goes a step further in helping to avoid unknown visitors, safety problems and overlooked revenue from uncontrolled usage. It also helps both owners and tenants remain compliant, following all local legislation.
The site also offers a guide to help find states with Airbnb and short-term rentals.
Click here to find out more about Pillow.