Pipedrive Gets Your Sales Plans Organized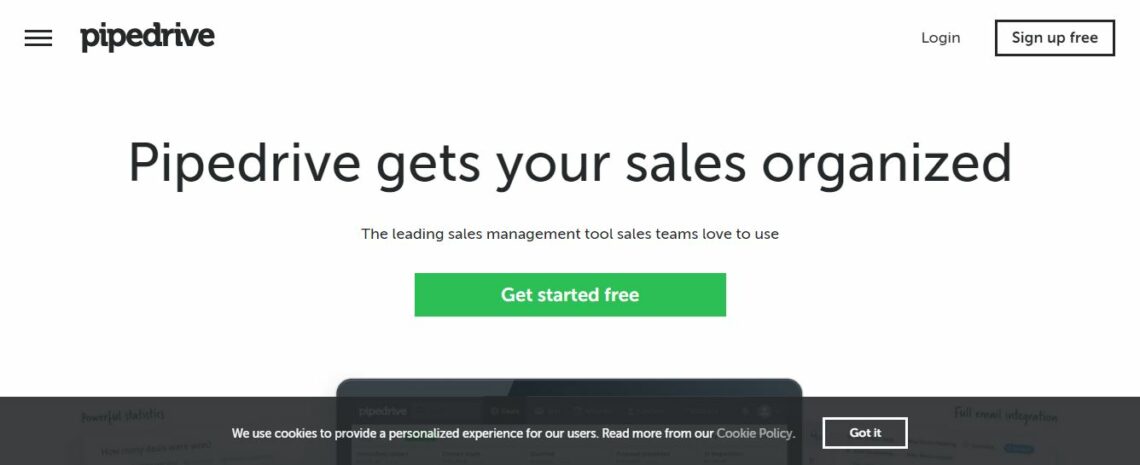 Salespeople know that, on the surface, the sales process always seems simple, but never is. From the initial reach out to the ultimate closing of the deal, there are numerous levels of concern that need to be address and details that need constant focus and attention. Coordinating this complex process has always been a challenge, even for the most Type A personality.
The Pipedrive platform was created specifically with salespeople in mind, helping them tame, streamline and control the sales process. The sales management tool features ways to help drive deals -- both big and small -- toward completion. This means attention to details, more results, and closure.
The Pipedrive view allows you to see deals by sales stage (examples: contact made, qualified, proposal presented), allowing your team to get a bird's eye view of the sales momentum and immediate priorities, letting you put your focus where it is currently most needed.
Because no two sales processes are exactly alike, the platform is fully customizeable -- you can add more sales stages as needed. You can even name the sales stage that will make the most sense to your team. You can also turn off features that are not relevant to the current process.
Other features include the ability to add deals, contacts and activities to the sales pipeline with a drag-and-drop capability, ensuring that your entire sales process will always be a visual experience.
Integrations and add-ons allow you to build out from Pipedrive, making for increased automation and enhanced reporting. These include the most popular options: Google Apps, Google Maps, MailChimp, Trello, and Yesware, among others.
The platform is focused on salespeople, but managers can benefit too. They can view entire pipelines for the company as a whole, and learn sales metrics from a dashboard that illustrates how many sales were closed, how much money was made, and who the sales leaders are. Deals are organized based on which ones have the nearest sales dates, giving a sense of priority and proaction.
Recently added features include email templates, which allow you to increase the number of emails you send while still keeping it personal. You can choose from a number of predesigned templates or customize your own. A new scheduling tool helps define your day or week's availability in advance, managing your appointments on a fully integrational calendar. A note area lets you include more detailed descriptions, contact info, and URL links to a video call.
Pipedrive was founded in 2010 when two sales managers partnered with developers to create a customer relationship management (CRM) platform. It's now used by over 50,000 companies globally, in 16 languages and multiple currencies. The headquarters is based in New York, and has over 300 employees in six offices in four countries.
Pipedrive is described as "activity-based," in which its selling methodology is built right into the software. You'll know which actions need your attention, and which to-do's are lagging behind.
Click here to find out more about Pipedrive.
DON'T MISS OUR UPCOMING CRE // TECH EVENT IN NEW YORK ON DECEMBER 7TH! TICKETS ARE ON SALE NOW!