Q&A with Tanner McGraw, Founder & CEO of Apto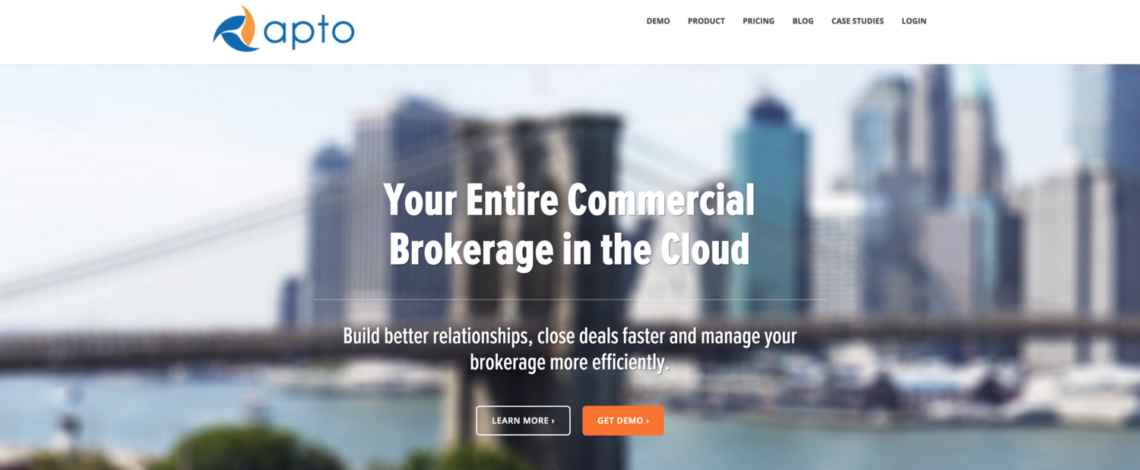 We sat down with Tanner McGraw, Founder & CEO of Apto to chat all things commercial real estate and technology. Learn more from our interview below:
Tell our readers a bit about your professional background, and your work founding Apto.
I got into commercial real estate brokerage after college and specialized in the medical office sector. The CRE industry has traditionally been behind other, more mature industries when it comes to technology, and it didn't take long for that to become a personal challenge. I attempted to use the various CRMs that were available for the commercial real estate industry but couldn't find anything that worked for my business.
Out of frustration following our third implementation, I decided to build my own. I had an established brokerage business at that point and there wasn't any intent to take it to market but after receiving an abundance of interest, Apto was created. I left the brokerage business in 2013 to focus on building Apto and growing the company.
Since then we've experienced tremendous growth in terms of customers served, revenue, and headcount. The platform itself has also grown to include deal management and back-office functionality. We've had great momentum in the last couple of years, but we're really just getting started.
To date, Apto has raised $9.4M in funding and is serving hundreds of commercial brokerages, including 5 of the top 7 CRE brands. To what do you attribute your success?A product designed specifically for commercial brokerages -- built to meet their unique needs and workflows.A deep and nuanced understanding of the CRE industry, including brokers' challenges and frustrations.A commitment to providing exceptional customer service to our clients.Establishing processes for hiring and retaining remarkable talent.
Apto has been in stealth and under-the-radar for a number of years, and you've recently announced some big initiatives and growth. What should the CRE industry know about this growth?
We're investing heavily in enhancing our product: adding features, expanding the functionality, improving the user experience, and making it easier to connect with other tools and platforms. We're also building a more advanced customer success function that will focus on on-boarding and training new users so they can get the most out of their investment, as quickly as possible.
There is much talk on how the CRE industry is ripe for disruption, what are your thoughts on how this will continue in the coming years?
The commercial real estate world is so disconnected. We've begun interacting with other technologies as many of our counterparts have. You'll see an industry where the frustration of moving data around is gone. Combining that data into valuable insights will become more commonplace and the broker will be able to add value in truly unique ways that haven't been possible before.
To learn more about Apto, visit: http://www.apto.com/