Real Referrals Provides Free Referral App to Take the Hassles out of Sending and Receiving Real Estate Referrals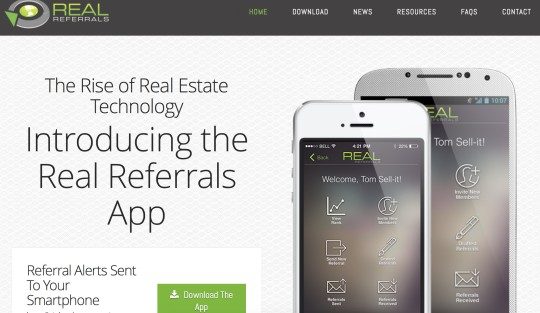 real*
In the past, the process of sending and receiving referrals could be somewhat complex for most real estate professionals. Now, that process is being made easier thanks to Real Referrals. The new free app enables real estate professionals to send and receive referrals using their smartphone. Property managers, mortgage brokers, and real estate agents across the United States and Canada are now able to connect with and engage a rapidly expanding network of North American real estate professionals to send and receive referrals. This can prove to be significant, as referrals can often form a vital part of a real estate professional's business.
How the App Works to Help Agents Send Referrals
Real Referrals uses a built-in CRM system that makes it possible for users to organize both inbound and outbound referrals via a single easy-to-use platform. The app is designed in a way that allows it to operate by rewarding activity. For instance, users who invite other real estate professionals to join the network are rewarded with having their profile listed at the top of the app's market. Users who either accept or send referrals receive the same type of rewards. This type of system ensures that users are able to increase their exposure among other real estate professionals.
Rather than using an algorithm, Real Referrals instead is powered by the genuine referrals made by users. In addition to providing users with a professional platform for exchanging business, the app also provides immediate exposure for real estate professionals outside their traditional market. In the past, real estate professionals often struggled with receiving this kind of exposure from beyond their own market. Now, with Real Referrals, it is possible to take advantage of a rapidly expanding network of real estate professionals across North America. No longer are real estate professionals restricted to their own limited market in order to send and receive referrals. This makes it possible for real estate professionals to grow their business faster than ever before.
Platform Offers Ease of Use
The CRM platform is designed to be easy to use, which also makes it simpler to organize both incoming and outgoing referrals. Rather than needing to use multiple tools, users can instead use their smartphone, ensuring they are able to send and receive referrals from wherever they may be. This feature alone can benefit real estate professionals tremendously. As most agents know, business is often conducted while on the go rather than while in the office. Thanks to the fact that Real Referrals is designed to be used on a smartphone, users do not have to worry about being restricted to in-office use in order to make referrals.
Real Referrals also gives users the option to send referrals to specific real estate professionals or to actually place the referral up for bid, providing the opportunity to gain the largest profit margin possible.