Realty Organizer Offers Simple Solution for Document Organization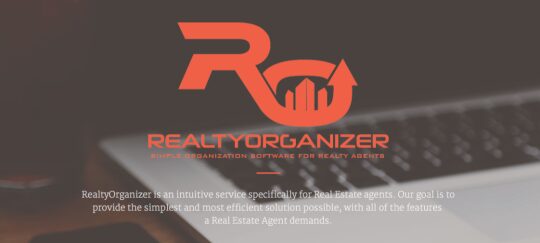 Gone are the days when real estate professionals must simply make do with overloaded file cabinets and Rolodexes. Today, real estate professionals are able to benefit from a wealth of tools and technology that make it much easier to close transactions. Among those tools is RealtyOrganizer.
Designed to make document tracking and organization much easier, RealtyOrganizer tracks everything, including disclosures, forms, and all client correspondence. In a nutshell, it makes organization simple for real estate agents. An intuitive service geared specifically for real estate agents, RealtyOrganizer helps meet the needs of agents on the go.
How the Service Works
With RealtyOrganizer, real estate agents can upload scanned contracts as well as other documents and retrieve them later from any location. Now, real estate professionals never have to worry about wasting time or possibly even losing a deal because the documents they need were left back at the office. Agents can even take advantage of the opportunity to upload important property disclosures for later retrieval. With this service, when an agent is at a property and a client has a question about the property disclosure, the agent can retrieve the disclosure and answer the question on the spot without the client needing to wait. This helps to save both the agent and the client a tremendous amount of time and frustration.
Even tracking communication is made easier and more efficient with RealtyOrganizer. As most real estate professionals know, a single transaction can involve a multitude of different types of communication. In the past, trying to track such a massive amount of communication could be burdensome and time-consuming. RealtyOrganizer makes it easy and fast to keep track of emails as well as other correspondence from anywhere.
With technology evolving at an ever-increasing rate, it has become more important than ever for real estate offices to become as streamlined as possible. RealtyOrganizer's paperless solution helps real estate professionals to ensure compliance while also providing oversight for all transactions.
Anytime and Anywhere Access
Real estate agents can even take advantage of 24/7 online access for their documents, including via mobile devices. Whether an agent is using a PC, notebook, tablet, or smartphone, he or she can benefit from access anywhere and at any time. Never again does an agent have to worry about making the drive back to the office or even being unable to access an important document at a critical juncture in a transaction.
The reality is that the real estate industry moves quickly. Now, real estate professionals can keep up with that rapidly moving pace better than ever. As a result, real estate agents can close more deals more efficiently and faster. By eliminating an outdated dependency on paper documents and manual processes, real estate agents can increase the speed of transactions, reduce mistakes, and close deals at a lower cost while increasing client satisfaction.
RealtyOrganizer gives real estate professionals the ability to manage their listings and transactions quickly, easily, and efficiently.