Redfin Founder Launches New Real Estate Startup in Seattle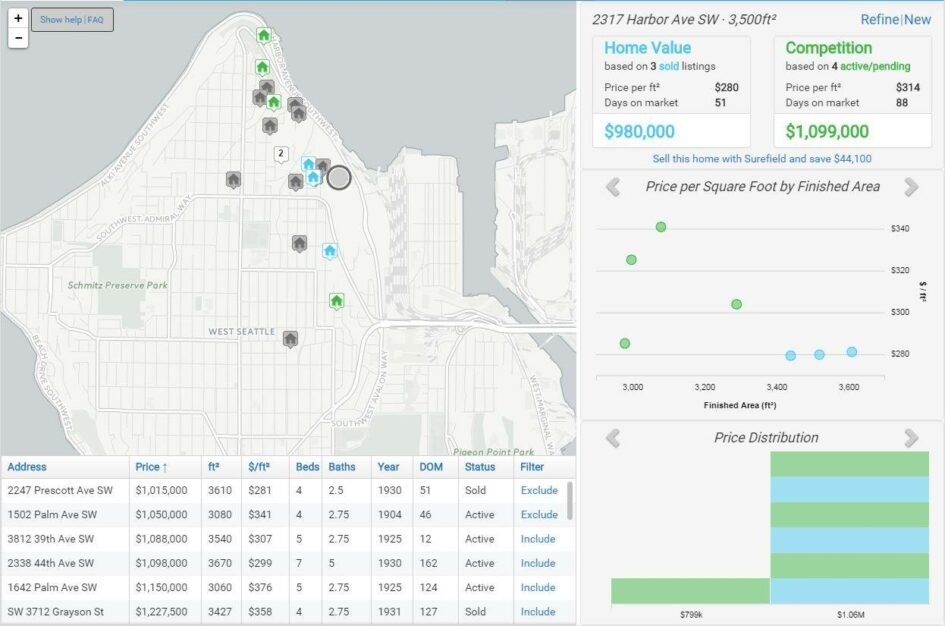 Seattle-based Surefield, an online real estate company assisting homeowners in selling their homes, recently released a free home pricing tool. Pricepoint gives users the ability to enter their property address and receive a list of similar properties recently sold, as well as active listings, in the nearby area. Such information gives sellers the ability to eliminate those listings that are not true comparables while at the same time adding those that are more relevant. As a result, Pricepoint users are able to establish an extremely accurate asking price in line with current market conditions.
Potential Competition for Zillow
According to Surefield, the new pricing tool will be taking Zestimate, the pricing tool released by Zillow, head on. The company went on to state that Pricepoint is much more accurate than Zillow's pricing tool because their competitor only reviews tax data rather than also looking at photos. Zillow has hit back by stating that such a characterization is not accurate because they incorporate numerous data points into their home valuations.
Surefield's co-founder, David Eraker, certainly has plenty of experience in disrupting real estate. He got his start more than a decade ago when he co-founded another startup in Seattle, Redfin. At the moment, Surefield is still relatively small, with a staff of less than ten people. Along with providing a pricing tool, Surefield also allows homeowners to list their homes for sale while providing virtual 3D tours. Fees are only charged if a listing results in a sale. The company charges a fee equivalent to 1.5 percent of the property's sales price—an amount far less than the traditional 6-percent commissions most real estate brokerages charge.
Zillow and Surefield do differ in a number of other ways. While Zillow does not function as a brokerage, it does operate as a listing service helping to connect sellers and buyers with real estate brokers who then handle the myriad of details related to a sale. Surefield takes an entirely different approach. Rather than selling consumers as leads, Surefield works to empower consumers to handle real estate transactions at a much lower price than through traditional methods.
Home Tours Made Easy
The home tour process used by Surefield simulates the process of walking through a home, giving buyers a realistic view of the flow and surroundings of a home, and enabling them to make more informed buying decisions. Sellers are able to benefit by receiving inquiries from qualified, serious buyers. When buyers are ready to take the next step, they can opt to either tour a home with their agent or work with Surefield to make arrangements to tour the home in person, if they are not represented by an agent. The company reports that their process enables sellers to save up to 75 percent in commission fees. Surefield also provides a commission calculator to help users determine exactly how much they could save in commission fees by using the platform to sell their home.