Residential Real Estate Agents Highlight Location with LocationCertified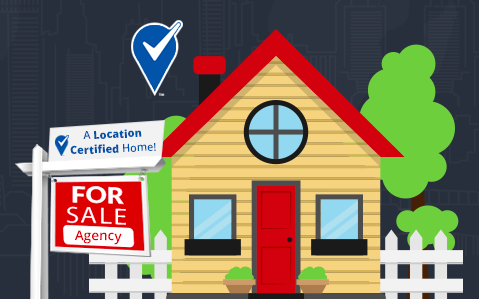 One key element is pervasive in residential home searches: the location. Not all buyers want a downtown townhome in walking distance to top restaurants, nor do all buyers want a suburban development. Most buyers do want to live in a neighborhood with a low crime rate. That's where LocationCertified steps in to make highlighting a home's location as a top selling feature quick and easy.
What Location Certified Means
Adding the Location Certified logo to a residential listing says the property is in a low-traffic, low-crime area near high-performing schools. The service uses a computerized analysis system to rate the addresses' local traffic, school performance, and crime rates. A street passes the traffic rating if it far enough away from busy roads to not be impacted by noise or vehicle flow. Public and private sources of crime statistics on personal and property crimes are analyzed, as is data on school performance for all public schools to which an occupant may attend based on the address.
Using Location Certified
Addresses can be tested for their potential eligibility for free with results returned within 30 seconds. Test an unlimited number of addresses without paying. Block other agents from certifying the address to reserve the designation for your marketing proposal to the seller.
Verified Location Certified listings will have a range of service options ranging from $7 to $15. Once the listing is reserved exclusively to you, receive a web link, online printable certificate, badge photo, and more for use in marketing materials.
The service is in compliance with the Fair Housing Act. It does not discriminate based on the physical condition of the home, its price, size, or any other factors besides proximity to transportation, schools, and crime rates. An expensive mansion could fail to meet all qualifications while a modest home could earn certification.
Why Use Location Certified
Location is a key selling point for many buyers, especially a family looking for a safe neighborhood with good schools. Location Certified listings sell faster because the designation drives more buyers to investigate the property by highlighting its prime location. Pitch the certification to qualified buyers as an incentive to purchase the property or to sellers as a marketing tool to make their home stand out. Having Location Certified listings increases an agent's portfolio both in total numbers and value.
Test LocationCertified at www.locationcertified.com
Connect