Sara Neff, Americas Head of Sustainability, Lendlease, Announced as Keynote Speaker at CREtech San Diego 2022 Conference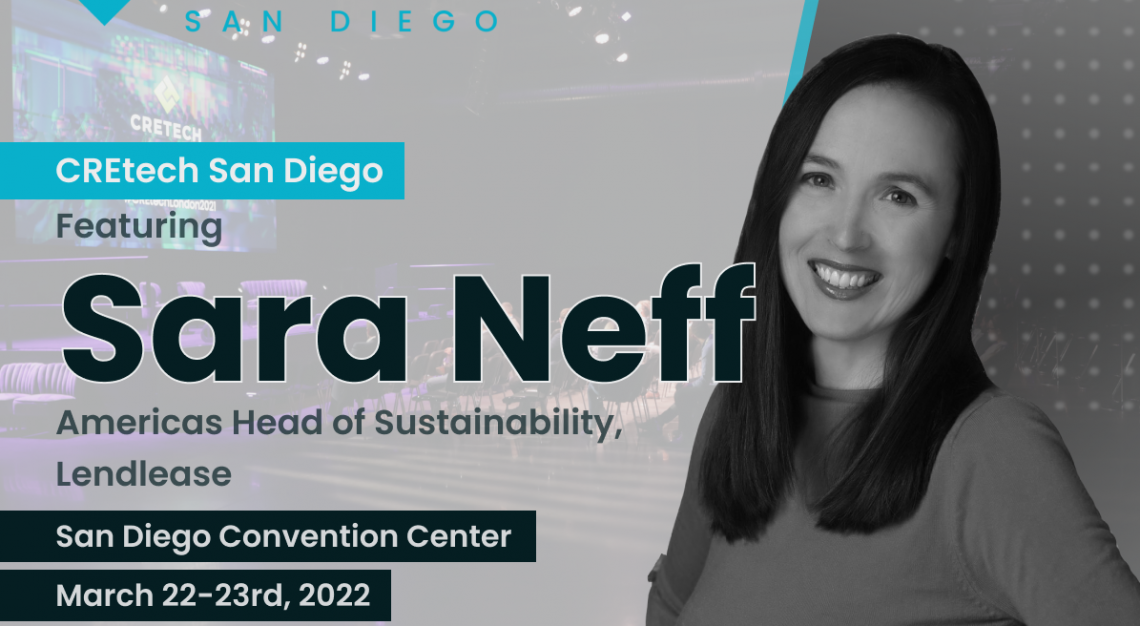 New York, NY (January 19, 2022) — CREtech, the largest international community of professionals devoted to technological innovation in the real estate sector, has announced Sara Neff, Americas Head of Sustainability, Lendlease, as a Keynote Speaker at CREtech's debut West Coast conference in 2022, CREtech San Diego, taking place in person on March 22-23.
Sara will take center stage on Day 2 of the CREtech San Diego conference to share insights on 'Carbon Reductions Beyond Energy'. The Keynote will take a deep dive into how one company is tackling Scope 3 with the goal of Absolute Zero emissions by 2040, successes so far, and gaps that will need to be filled to achieve their ambitious targets.

Lendlease is a globally integrated real estate and investment group with core expertise in shaping cities and creating strong and connected communities. Lendlease creates award-winning urban precincts, new communities for older people and young families just starting out, retail precincts, and workplaces to the highest sustainability standards. 
Lendlease has been entrusted with many projects of public, cultural and social significance: constructing the Sydney Opera House, creating the National September 11 Memorial & Museum in New York, and restoring and renovating historic buildings such as London's Tate Britain and National Theatre.

Sara provides leadership and management oversight in developing, implementing and driving Lendlease's corporate sustainability framework in the Americas region. Prior to Lendlease, she served as Senior Vice President, Sustainability at Kilroy Realty Corporation. Under her leadership, Kilroy has been recognized as a leader among publicly traded real estate companies on sustainability in the Americas by GRESB for seven of the last eight years as well as being recognized by NAREIT, and achieved carbon neutral operations at the end of 2022.

Over 1,500 real estate executives from around the world will attend the CREtech San Diego conference to network, uncover new investment opportunities, and acquire leading-edge products and services to enable digital transformation for the largest industry in the world.

To purchase CREtech San Diego 2022 conference tickets, click here.

To learn more about partnerships and sponsorships, click here.

About CREtech

CREtech is Reimagining Real Estate. We are the largest international community of professionals devoted to technological innovation in the real estate sector. Our mission is to help the industry embrace, adopt, and future proof its businesses. Our streaming, live/virtual events, and consulting platform inspires the next generation of ideas, processes, and people to champion the world's largest asset class. Learn more: cretech.com