SiteCompli: Reduce Risk by Tracking Compliance Automatically and Continuously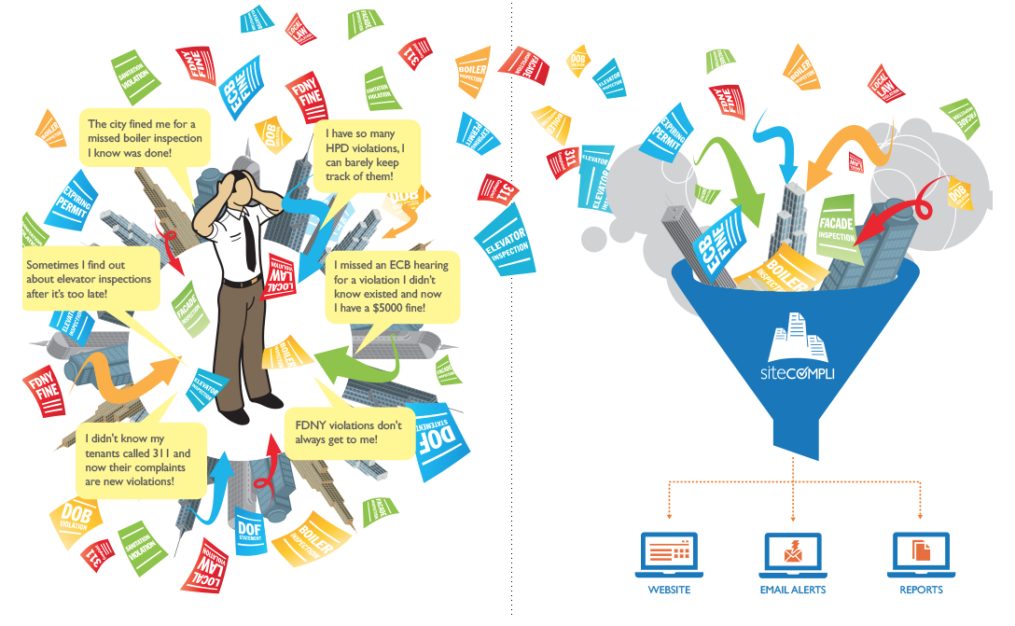 For real estate compliance monitoring, there is no better solution than SiteCompli. The company first launched in 2008. Since that time, it has experienced significant growth. Because staying in compliance has become an increasingly critical aspect of business, having a software solution that automatically and continuously aggregates critical data is empowering.
Today, SiteCompli is the leading compliance solution for more than 1 billion square feet of real estate in New York City. Daily, top managers, owners, and institutions rely on compliance monitoring and data reporting/analysis, the very service that SiteCompli provides. Without this software solution, staying compliant would be an exhausting task.
Throughout New York City, SiteCompli aggregates all types of critical data, including permits, jobs, inspections, complaints, violations, fines, hearings, and more for real estate managers and owners. By using this software solution, business owners and managers can focus on other pressing business matters as opposed to the demands of compliancy.
What makes SiteCompli even more incredible is that it acquired Empower, which is a leading provider of tools related to compliance issues. Empower also provides viable workflow solutions specifically for real estate organizations that are members of SiteCompli. These two solutions combined have changed the way that compliance issues are handled by companies throughout New York City.
Reducing Cost and Risk
With SiteCompli, you no longer have to spend significant time looking for data. Instead, you rely on research reports provided as part of this solution. As a result, you gain quick and easy access to real estate data that is typically very difficult to find. Not only are all reports heavily researched, each is presented in a professional manner.
Companies must be compliant in a number of areas. If something is overlooked, there can be very serious ramifications. In fact, financial penalties can be so great that smaller companies face the risk of extinction. With the SiteCompli compliance monitoring solution, you are always on top of critical compliance issues. By receiving instant notifications coupled with analysis and expertise, your risk is dramatically reduced.
SiteCompli's automation reduces both risk and cost. Especially for larger enterprises, this solution is vital. With a broad network of stores or businesses, compliance risk increases significantly, as does the cost associated with monitoring. However, by using SiteCompli, you are not exposed to compliancy problems. Because of that, your brand is protected.
New York City real estate is tough and demanding. Very quickly, complaints, fines, inspections, violations, and more can consume your time and money. With these issues, you experience a greater risk of noncompliance and lost revenue. Whether you are the property owner, manager, service company, or even tenant, it is essential to keep properties in compliance with all local building laws.
Using the proprietary technology offered by SiteCompli, data from local city agencies are analyzed. This includes the HPD, ECB, FDNY, DOB, DEP, DOF, and Sanitation. At the same time, the software tracks mandated inspections for facades, elevators, and boilers. Once something is identified, the system immediately sends out a report, reminder, or alert, giving you adequate time to correct the problem before facing consequences.