Space Jam Data: Consumer Insights For Retail Real Estate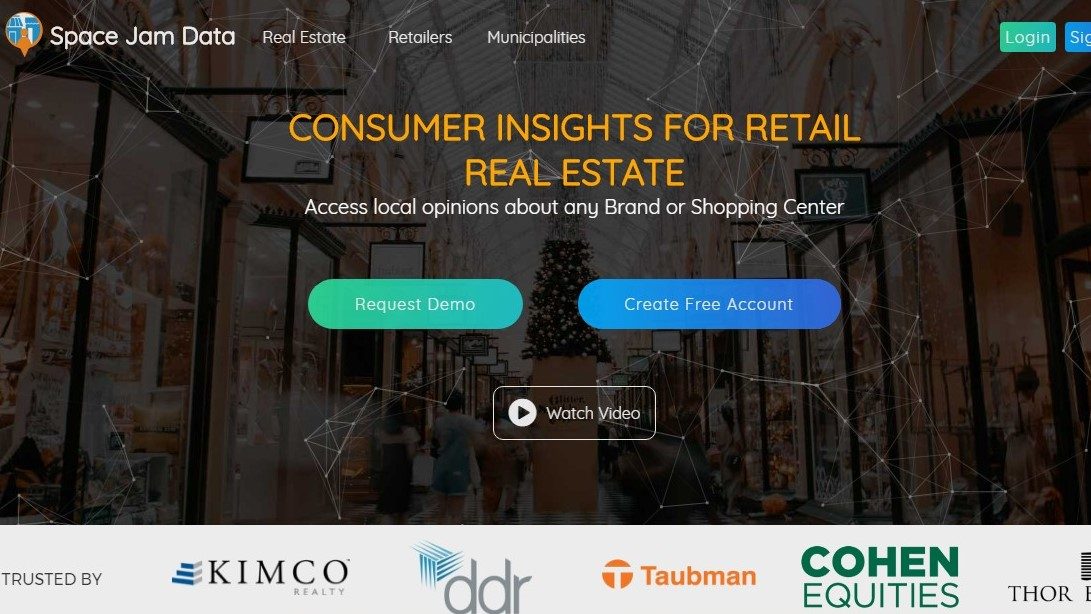 Space Jam creates geo-targeted campaigns on social media and asks local neighbors to share their input. The questions asked are simple but powerful and revealing: what stores do customers want and what do they think of a specific local shopping center or trade area.
The incentives for voters: prizes. The platform guarantees over 1,000 actionable consumer opinions for any shopping center.
Space Jam Data collects and synthesizes data through proprietary natural language processing software that converts thousands of comments -- raw data -- into a data visualization platform.
These consumer insights are then accessed on the platform, allowing retail professionals to use the data to perform due diligence, attract national and local retailers to vacant spaces, and to lease, manage and market properties.
For leasing agents, Space Jam Data helps encourage renting by finding out the types of local retail that customers are demanding. Investors can learn the priority order of new amenities based on shopper input. Property managers can discover hidden issues with a certain property through ongoing conversations with local shoppers.
For the retailers themselves, the old-world way of capturing customerfeedback -- focus groups, surveys, demographic studies, and customerintercepts -- can be replaced by more seamless and targeted digital
communication.
Marketing campaigns can be created to cater to the local shopper, leveraging the millions of users on social media posting about real estate. If a retailer has specific questions about a retail property, it can be asked specifically, providing instant research.
Retail businesses looking to expand can use Space Jam Data to help mitigate risk in acquiring a retail property. All opinions and hidden issues regarding an asset can be uncovered and further investigated. Hundreds of properties can be considered and compared thanks to feedback from shoppers.
Retailers can request a deep-dive report for any shopping center in the country, to discover if their brand or category is highly requested.
Even municipalities can benefit from Space Jam Data. It can show retailers that consumers are specifically requesting their specific concepts in the area, and local shoppers can be heard, answered and their requests satisfied.
Space Jam Data boasts over 700,000 consumer votes, over 75,000 marketing/managing suggestions, and has launched in all 50 states.
The platform is used by Kimco Realty, Regency Centers, Thor Equities, Shopcore Properties, Brixmor Property Group, among others.
Click here to find out more about Space Jam Data.