Spotlight Feature: Q&A with Tanner McGraw, Founder and Chief Strategy Officer, Apto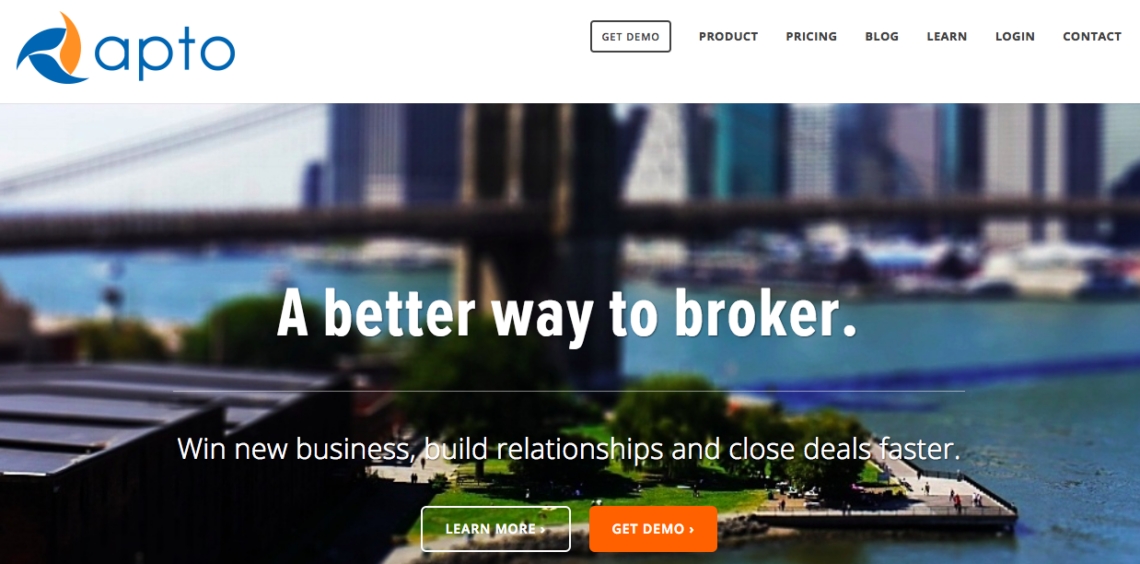 Q&A with Tanner McGraw, Founder and Chief Strategy Officer, Apto
Can you describe your site?
Apto provides technology to help brokers organize their data, build relationships and work their deals. It's not just about having all your data in one place anymore. Our tool helps brokers efficiently act on their information so they can strengthen their relationships and grow their business.
Who are your customers?
Apto serves nearly 10,000 commercial real estate brokers across North America. 
What problems are you solving for real estate professionals?
Brokers need a lot of information when calling on prospects—maps, property info, contact details, etc. Apto puts all the information right there in one place. Brokers can then create call lists based on set criteria and churn through that list of contacts in about half the time it would normally take them. 
What is the latest news on your product?
We've been incorporating broker feedback and adding functionality to our product to make it even better. For example, you can now create call lists on the fly directly from contacts and properties, and review open tasks when logging calls to make sure you're closing the loop. You have richer insights thanks to an integration with FullContact, which automatically pulls in additional data for the contacts in your database. You have a better overall experience thanks to recent improvements to reporting, mass email functionality, and more.
We also recently announced a new integration with OfficeSpace.com, which streamlines the broker workflow by pushing listings from Apto to OfficeSpace.com. This allows brokers to generate much greater exposure for their listings with one click.
What are your current views on the current real estate tech sector?
We've seen definitive evidence that brokers who embrace technology have a competitive advantage over those who do not. Though commercial real estate is primarily a relationship business, clients expect their broker to have information at their fingertips. 
What are your future plans?
We're busy adding new functionality (like mapping and simplified deal tracking) to our tool, as well as redesigning the user experience to make it easier get up and running with Apto and to immediately become more efficient and productive.
Tanner McGraw is the founder and Chief Strategy Officer of Apto, the commercial real estate industry's leading web-based software for managing customer relationships, properties, listings, and deals. A commercial real estate veteran with a decade of brokerage experience, Tanner founded Apto after experiencing deep frustration with the lack of specialized technology available to manage customer relationships simply and profitably. Today, Apto serves nearly 10,000 commercial brokers and is the CRM of choice for 6 of the top 8 CRE brands.