The Rise of Business Intelligence in Commercial Real Estate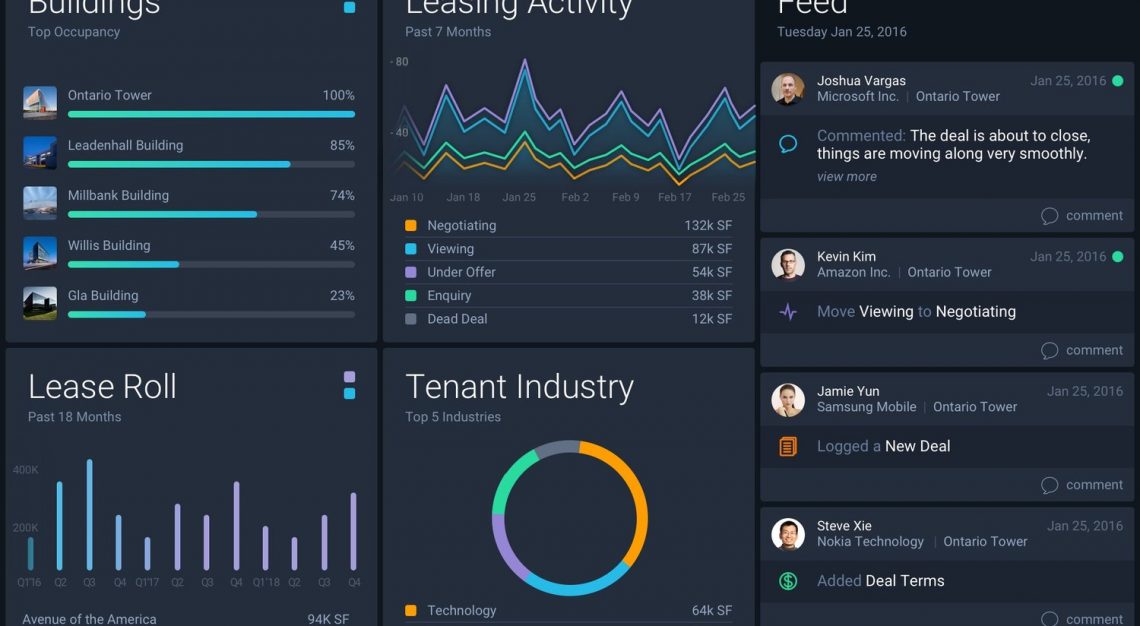 Guest Post by Nick Romito, CEO and Co-founder of VTS
Commercial real estate has historically relied on outdated and disparate systems, using spreadsheets and CRM tools to house mountains of data. But these systems don't talk to each other. That's a huge problem causing landlords, brokers and asset managers to waste countless hours digging through multiple systems to answer even one simple question. It also makes it near impossible to see the big picture.
That's where Business Intelligence (BI) tools come in—giving landlords and brokers access to a high-level view of their entire portfolio from a data and performance perspective.
At their core, BI tools analyze data and allow users to glean actionable insights. The industry already enjoys access to massive sources of data, on tenants, comparable sales, portfolio metrics and more. Having so many data sources is great, but when these systems don't sync up, they aren't nearly as powerful. BI aims to add one more step of automation in the process of analyzing and aggregating data, helping landlords reduce downtime, close deals faster and increase tenant retention.
Commercial real estate has seen what data can do, and has a hunger to unlock even more intel behind the data it consults daily. BI tools are emerging to grow with this data culture and equip firms with the actionable insights they need to stay ahead.
Here are some of the key ways BI tools are changing the game for commercial real estate players:
Deeper Portfolio Analytics
BI tools unlock the full story on a portfolio's performance with data analytics extending into each and every asset under management. Aggregating multiple data sources into one powerful visual grants users easy access to important portfolio health metrics, as well as deal and pipeline activity. What's more, all of this is in real-time. A landlord could find out about a vacancy in one of their buildings the moment it happens, and immediately begin working to fill that space, pivoting with the information quickly and fruitfully.
Custom Reporting
Today, landlords and brokers spend hours manually building reports and conducting duplicative data entry. Custom reports on analytics platforms allow users to uncover unique insights, both dynamic and on-demand. Users can often update these reports directly, integrating with the various data sets and platforms in their portfolio. The time traditionally spent on building reports can be allocated to more important tasks like seeking out new deals or building tenant relationships. Landlords and brokers can then close deals faster and increase tenant retention with their new bank of insights.
Mobile Access
These BI tools can often be accessed on mobile apps, on the devices landlords and brokers use on the job everyday. This puts immediate information in the palm of their hands, like a mini-command center while they're in meetings and on the go. A good business intelligence platform will deliver a high-level view of an organization's entire portfolio for easily digestible insights as well as the ability to drill down into details so executives can make smarter decisions faster, using real-time data.
Data can and should be a competitive business advantage for landlords, brokers and asset managers. BI platforms allow users to leverage strategic, actionable insight from the data sources they use every day. Ultimately, BI tools allow users to better harness data, transforming this information into actionable insights that lead to smarter business decisions.
At VTS we're acutely aware of how powerful BI tools can be — that's why we've recently rolled out our own BI offerings.