The Square Addresses Needs of Growing Tech Community in NYC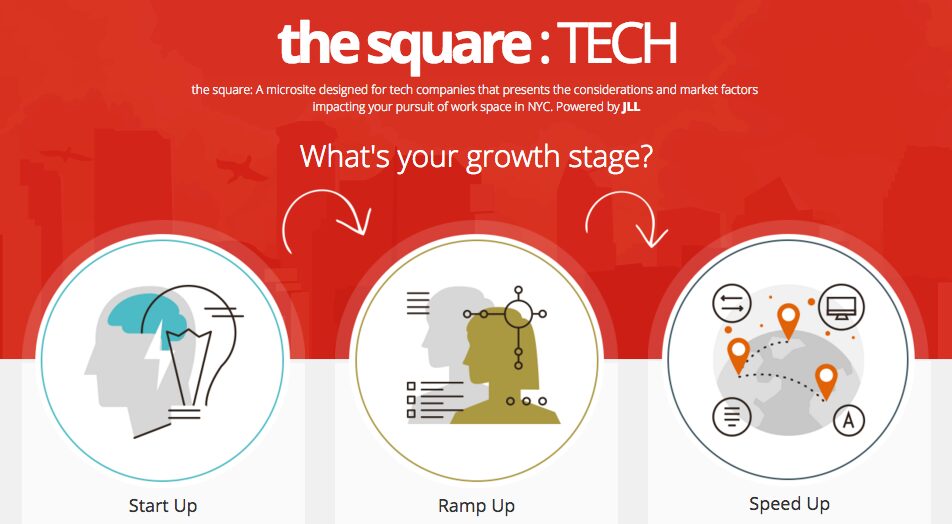 New York City has always been recognized as the heart of the financial industry, but in recent years, the Big Apple has also become the scene of a burgeoning tech community. A new microsite has been designed to address the needs of that growing community. The Square was built to streamline the real estate journey experienced by a small-to-medium-sized business.
The site is designed to assist tech companies at three different levels of growth by presenting the market factors and considerations that can impact a company's pursuit of workspace in NYC. Powering The Square is JLL, the professional and financial services firm specializing in investment management and commercial real estate services.
The Square offers users the opportunity to gain a wealth of insight into current market conditions. For instance, users can rank a number of real estate considerations and then find out how their priorities compare to others within their specific community. Factors include affordability, convenience, efficiency, flexibility, identity, and infrastructure.
Users can also receive assistance in determining which type of space might be right for their needs by comparing the features of eSuites, coworking spaces, and office spaces in terms of cost, upfront cost, efficiency, and more.
Users can also leverage the data made available via The Square to perform an asking versus taking rent analysis for various areas in New York City, including Midtown, Downtown, and Brooklyn.
In addition to assisting startup tech companies, The Square is also designed to address the unique needs of companies that are ready to make the transition from startup to ramping up their business activities. The microsite gives users the opportunity to compare the pros and cons of various space options that might be suitable for their needs, such as subleases, full mobility, hybrid mobility, and activity-based spaces.
Recognizing that every neighborhood in New York has a different feel and pace, and that such submarkets can have a tremendous impact on a company's productivity and brand identity, The Square helps users decide where they should move while planning their ramp-up activities. The site is even designed to address the distinct needs of growing tech companies that may be ready to acquire a permanent address.
While Silicon Valley was once the de facto home of most tech companies in the United States, an increasing number of tech firms have begun to eye New York City. At least part of the appeal can be attributed to the tax breaks New York City has extended tech companies in a deliberate effort to lure them to set up shop. Perhaps the single biggest reason so many tech companies are increasingly focusing on New York City is the amount of venture capital flowing through the city. Venture capital investments in the New York Metro region climbed 138 percent during the third quarter compared to one year ago. At the same time, venture capital only grew by 20 percent in Silicon Valley.