Truss Expands to Houston: Local Businesses Can Find Their Next Office Space in Two Minutes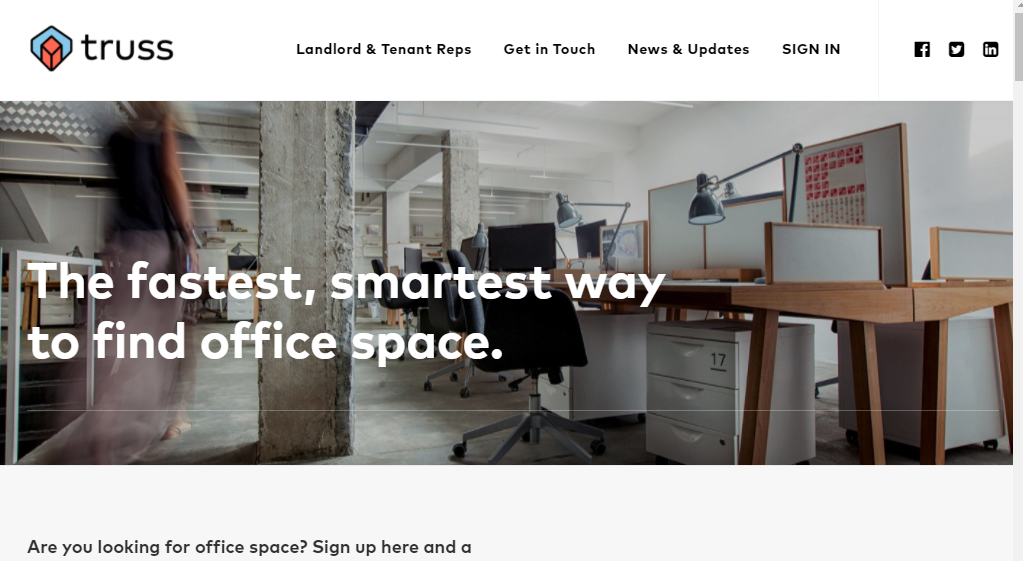 Finding and leasing office spaces is no longer a complex and timely process for businesses located in Houston. In fact, starting this week, local startups and SMBs are able to tour office spaces in just two minutes flat.
Truss, an AI-enabled web and mobile platform that helps businesses find, tour and lease office spaces with incredible speed and ease, is now available to tenants located in Houston.
One local company is already very pleased with the platform.
"I'm so impressed at how easy the office search process was for Gulf Coast Boiler Service Company and how quickly we were able to lease the space" said Todd Kaplan, President of Gulf Coast Boiler Service Company. "Processes that used to take several weeks to complete now only takes a few minutes to finish, thanks to Truss. I cannot imagine an easier or faster process than what Truss offers."
Touring spaces, for example, used to be a time-consuming aspect of the process, where tenants had to physically visit several different locations to understand details of the layout. With Truss, Houston office-seekers can virtually tour spaces and immediately decide whether or not they want to move forward with a property.
"We're so happy to help the office-search process for local businesses in a city facing a gradual recovery from Hurricane Harvey," said Bobby Goodman, Truss Co-Founder. "It feels good knowing we have a solution that will make people's lives easier in the area. Businesses in Houston now have a quick and easy way to find and lease their office space. The burden of handling a complex business transaction is now removed."
Truss's key features include:
Enhanced property listings: The Truss platform supports 3D virtual tours, allowing prospective renters to explore properties as if they have physically stepped foot inside the space. Truss also provides dimensioned floor plans and property brochure PDFs, which include information about nearby retail and dining options, as well as parking availability.
Vera ChatBot: Tenants are able to connect with Vera throughout the office search process. Vera gathers tenant requirements and provides tenants with simple, jargon-free information such as the number of people the office space can fit and all-in monthly rent costs across all lease types.
Artificial Intelligence (AI) Search: Truss uses a machine learning algorithm that provides tenants with a list of spaces that best fits their needs. The search results receive a confidence rating from zero to 100 percent, with an explanation of the rating. Tenants can quickly decide which spaces should be on their shortlist.
Truss educates tenants with the knowledge needed to make an informed decision using easy-to-understand terms instead of industry jargon. Also, human interaction is available to assist at any point throughout the process.
DON'T MISS OUR UPCOMING CRE // TECH EVENT IN NEW YORK ON DECEMBER 7TH! TICKETS ARE ON SALE NOW!