VC Market Pulse: State of the Market Survey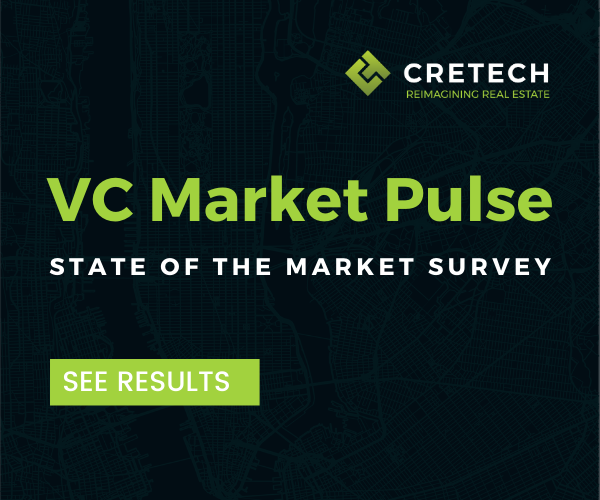 Pandemic Disrupts Boom in Real Estate Venture Capital
Real Estate Tech VCs have a Low & Dejected outlook over the 3-6 months
The real estate tech venture capital market was riding a wave of accelerated growth in the past two years. Record-setting figures in both deal volume and capital had the young industry on track to set new records with impending IPO's, notable exits and continued capital growth. However, in the wake of the global pandemic and tightening economic conditions, real estate tech startups, and their VC sponsors are entering a period of transformation.
In a recent 2020 CREtech State of the Market survey, a large proportion of real estate tech investors and VC respondents, 56%, have a 'Low and Dejected' outlook of the macro real estate tech market in the next 3 to 6 months.  
"We think that valuations will go down, including down-rounds, the number of deals will decrease, but M&As can occur more frequently," according to a venture capital respondent.
While most real estate tech investors have a less than stellar outlook of the market, some investors, 44%, have a more 'Moderate' outlook, primarily lead by flat rounds.  
According to a venture capital respondent, there will be more flat rounds than up rounds, adding, "a few high profile companies will fail and a few more will have down rounds."
Additionally, the overall impact of 'current market conditions' on the greater real estate tech startup market could mean that investors will calibrate their investment strategies, resulting in less capital for new to market startups and entrepreneurs.  67% of real estate tech investors cited that current market conditions will lead to a 'decrease in venture capital investments,' greatly impacting innovation in real estate and the built world.
CREtech State of the Market analyzes all the potential fallouts and market sentiment for the real estate tech venture capital industry that's yet to realize the full impact of the recent COVID-19 pandemic. 
A few key takeaways:

56% of real estate tech investors and VCs have a 'Low & Dejected' outlook of the market.

44% of real estate tech investors and VCs have a 'Moderate' outlook of the market.

67% of real estate tech investors and VCs believe that there will be a 'decrease in venture capital investments.'