Walmart Online Expansion Takes Aim at Amazon
Walmart is in a head-to-head battle with shopping and shipping giant Amazon to be America`s top goods retailer. In a race to increase its online market share, the
retail giant
is building new mega-warehouses and improving its shipping logistics.

Amazon reported $107 billion in ecommerce sales, nearly 8 times more than Walmart.com. The company is adding to its fleet of distribution centers with five more enormous warehouses in the works for 2017 and has long term plans for 18 more. Its dozens of mega-warehouses by far outstock Walmart`s small-to-medium size distribution centers.
Online sales account for only 3 percent of Walmart`s business, and the retailer is seeking to improve its online return. Walmart is slowing down its new construction expectations with only 25 new supercenters and 20 Neighborhood Markets on tap for 2018. Compare that to 69 supercenters and 161 Neighborhood Markets in 2015. That capital will be directed towards online operations, including construction of new giant fulfillment centers dedicated to online sales.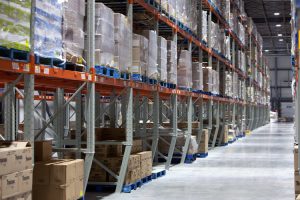 Photo Credit: [[url=https://flic.kr/p/9dqTub]Balzac Fresh Food Distribution Center - Floor Reflectivity[/url] by [url=https://www.flickr.com/photos/walmartcorporate/]Walmart[/url], on Flickr, Walmart Corporate
Speeding up its standard five-to-seven day shipping is key to Walmart`s success as an online retailer. The company has already invested into automated product sorting to speed item tracking and improve profitability. Walmart is experimenting with a membership program providing two-day shipping similar to Amazon`s Prime membership. Amazon remains a step ahead, with same-day delivery available in 27 major cities.
The retail giant`s $3.3 billion dollar purchase of online shopping start-up Jet.com is another sign of Walmart`s investment into ecommerce. Jet.com offered lowers prices than Amazon thanks to intelligent pricing software that adjusted based on how far the merchandise would ship, the size of the order, and other factors. Company founder Mark Lork will head Walmart`s online retail business when the purchase closes later in 2016.
Amazon shows no signs of slowing down. Capital shares are up 23% this year and the company holds a $395 market value. It added 10 million prime members in 2015 and it projecting an additional 12 million this year. By 2018, Amazon will become the second-largest seller of consumable items like paper towels, diapers, and cleaning products.
Even with its investment in online shopping, Walmart still views its store footprint as an advantage over Amazon. An estimated 90 percent of Americans live within 15 minutes of a Walmart store. Its shoppers can buy online and pick up items at a location. Its grocery pickup service has expanded to 100 markets. By improving its overall shopping experience along with its online fulfillment, Walmart aims to take a chunk out of Amazon`s market dominance.