Zillow and CoStar Set for Head-to-Head Competition in Online Rental Market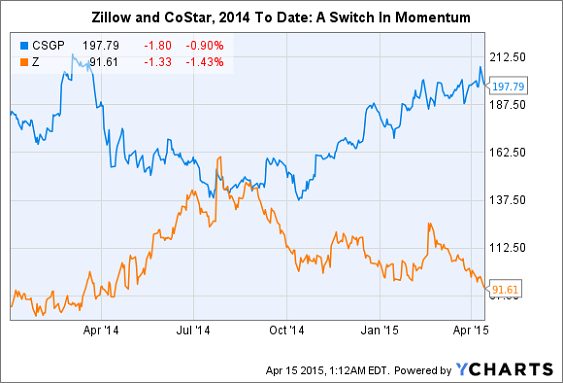 Could Zillow and CoStar soon be engaged in head-to-head competition for the online rental market? It's not as far-fetched as you might think. Spencer Rascoff, CEO of Zillow, recently even admitted that it certainly seems as though CoStar has Zillow's marketshare in its sights following the acquisition of Apartments.com. How long it will take for those two worlds to collide is anyone's guess, but it would certainly seem as though the online rental market is facing some changes.
Why the Two Companies Are Gunning for the Online Rental Marketshare
The marketshare held by Zillow is certainly worth acquiring. Residential rental rates have continued to climb steadily across the United States over the past few years in light of an improving job market and economy. More young people are opting to delay homeownership in favor of renting. Rental rates have become increasingly strong. In fact, during the fourth quarter of last year, the country experienced its strongest rent growth in 18 months. Rents have also grown. According to data from CoStar, annualized rent grew by 3.2 percent year-over-year last year. This year, annualized rent is expected to increase 2.1 percent.
Rents have now reached such high levels that renters in the United States should now expect to pay more than 30 percent of their monthly income for rent. While those numbers might seem high, in some areas of the country, rent has become even less affordable. For instance, in Los Angeles, renters typically pay about 50 percent of their income for rent while rental rates hover around 45 percent in New York and Miami.
When CoStar relaunched Apartments.com earlier in the year, it also kicked off a marketing campaign to the tune of $100 million and even managed to snag actor Jeff Goldblum to headline the ad campaign. At the heart of that effort is the goal of reaching 95 percent of the 18-to-49-year-old demographic while simultaneously creating increased awareness of the site's brand.
Over the last few years, Zillow has developed a strong reputation for its home listing services that intentionally target homebuyers. All of that began to change when Zillow Rental Network acquired Trulia at a buyout price of $2.5 billon.
CoStar, the leading provider of commercial real estate information, made industry news when it announced last year it had a deal to acquire Apartments.com for $585 million in cash. Considered a premier online apartment resource, Apartments.com works to match renters with apartments that meet their specific needs. Over the last several years, CoStar has worked diligently to build a comprehensive information source that includes vast amounts of data regarding apartment buildings, including rents, availabilities, comparable sales, key contacts, building characteristics, photographs, and other details. In light of such a wealth of knowledge, CoStar's acquisition of Apartments.com actually makes a lot of sense.
One thing is clear; currently both Zillow and CoStar are aiming to increase visibility across the national rental market.