Zillow's Latest Purchase Could Be Lead-in to Mortgage Industry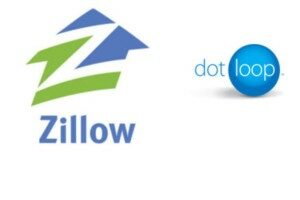 zildot*
In recent months, it has seemed as if there is a game of musical chairs taking place in the commercial real estate industry, given the large number of acquisitions. Zillow's latest purchase of DotLoop is case in point. Known for removing the hassle from duplicating and managing documents, DotLoop quickly became a rising star in the industry. Now that Zillow has acquired the digital document management company for $108 million, there could be changes looming on the horizon for the mortgage industry.
Initially, DotLoop was created to make the cumbersome process of signing all of the various paper documents related to a real estate deal easier and faster. With DotLoop, the entire signing process became digitized, with all of the various paperwork displayed within individual DotLoop accounts, giving all of the relevant parties the opportunity to pass the paperwork around to review and sign. While that was certainly a great start to making real estate transactions less complicated, the one area where the company has not worked is with mortgages. Instead, DotLoop has handled all of the other documented areas of real estate transactions right up to the mortgage. Now, with Zillow's acquisition of DotLoop, the potential could be present for the company's document management technology to be leveraged in the financial services industry.
Zillow, which entered the industry by providing online real estate listings, has begun to gain a foothold in the mortgage industry with a loan rate advertising service. Now that the firm has acquired DotLoop, Zillow has an excellent opportunity to expand its capabilities even further. While DotLoop made significant strides as a startup, thanks to a $4.5 billion market cap, the resources are certainly there for Zillow to develop DotLoop even further.
Still, Zillow is not without challenges, including regulatory issues that would need to be overcome. As an online real estate listings service, Zillow has only had to worry about regulatory issues on the state level. That is not the case with the mortgage industry, which is regulated not only at the local and state level but also by federal officials.
If Zillow intends to gain a stronger foothold in the mortgage industry, it would also need to contend with the fact that the mortgage industry is an entirely different space. Whereas real estate transactions typically only involve a contract and perhaps a few other documents, mortgages can be quite complex and large. As a result, Zillow will be facing a completely different workflow.
To date, Zillow has not announced any plans to expand its services beyond real estate brokerages, but it is focused on expanding DotLoop's market share through the application of Zillow's resources.
While Zillow may not have plans to expand its service offerings into the mortgage industry now, it plans to make DotLoop available to its more than 10,000 broker partners, in addition to some 100,000 agents advertising across Trulia and Zillow.