CREtech Announces SEC Newgate as Media Relations Partner for CREtech London 2022 Conference Following Success of 2021 London Debut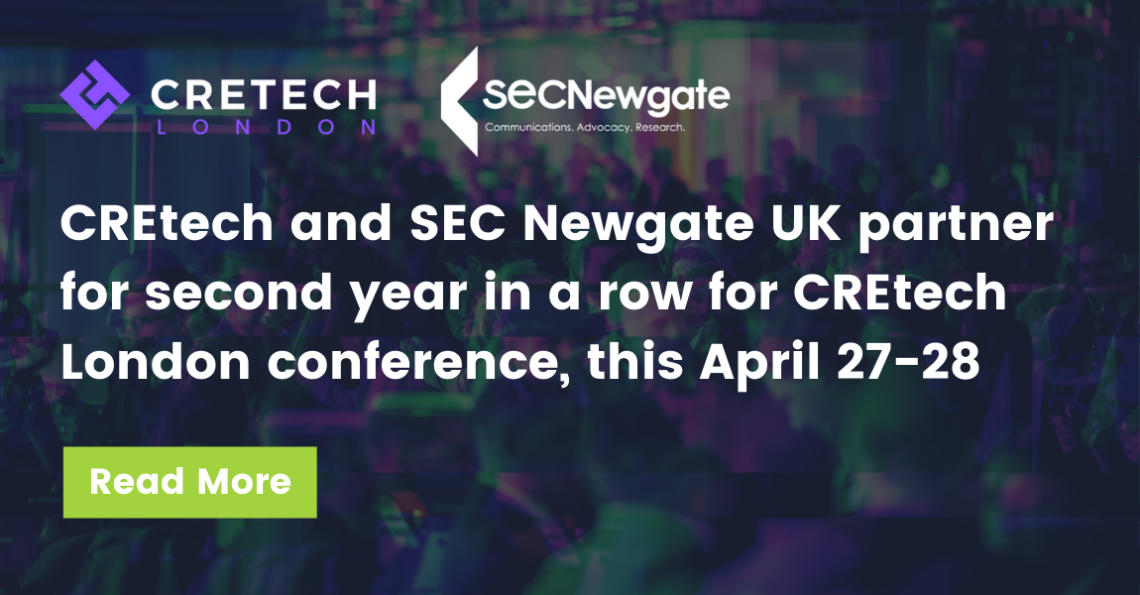 New York, NY (March 23 2022) — CREtech, the world's leading community of professionals devoted to technological innovation in the real estate sector, has announced SEC Newgate UK as CREtech's official Media Relations Partner for the CREtech London Conference on April 27 - 28 at Magazine London. CREtech London is recognised as Europe's most important PropTech networking event.

SEC Newgate is an award-winning strategic communications firm with a team consisting of c.700 staff, working in 38 offices, in 15 countries, across five continents. SEC Newgate's focus is on achieving positive outcomes through communications, advocacy and research, helping clients clearly demonstrate their purpose, value, and impact locally, nationally and internationally.

SEC Newgate UK will be responsible for all of CREtech's public relations prior to, during and after the London conference. During the event, SEC Newgate will serve as the onsite media relations coordinator for all press associated with the conference and will manage the media lounge.
Tali Robinson, Managing Director, Communications, at SEC Newgate UK, said: "We were bowled over by the enthusiasm from the property sector for the inaugural CREtech London in 2021 and are delighted to be working with the team once again. CREtech London combines brilliant content and networking opportunities – all of which we know are hugely valuable to the clients we work with, whether they're developers, agents, REITs, or proptech companies. We can't wait to be back and introducing many of the most exciting companies in real estate today to journalists keen to understand PropTech's role in tackling many of our burning issues, from the housing to the climate crisis and much more."
Lindsey Imperatore, President of CREtech, shares "We are thrilled to be partnering with SEC Newgate for the second year in a row for our upcoming conference, CREtech London, this April. Following the success from our debut London conference in 2021, we look forward to carrying on this journey and working closely with the SEC Newgate team in our mission to help drive awareness of the real estate tech ecosystem."

Attendees of CREtech London 2022 will get front row seats to exclusive keynote presentations and panels featuring the biggest names in the industry, the ability to schedule 1:1 in-person meetings through their event matchmaking app in CREtech's industry renowned Tech Connect Lounge, and an all-access pass to the expo hall packed with the latest real estate technology solutions. 
To register and learn more about CREtech London, click here.
To learn more about partnership and sponsorship opportunities, click here.
About CREtech

CREtech is Reimagining Real Estate. We are the largest international community of professionals devoted to technological innovation in the real estate sector. Our mission is to help the industry embrace, adopt, and future-proof its businesses. Our streaming, live/virtual events, and consulting platform inspires the next generation of ideas, processes, and people to champion the world's largest asset class. Learn more: CREtech.com

About SEC Newgate
SEC Newgate is an award-winning insights and research-driven global strategic communications and advocacy group.  We work at the nexus of business, politics, communities, markets and media to deliver positive outcomes.  We are the people you come to with an opportunity to seize or a problem to solve.  Our advice is delivered by circa 700 professionals across five continents, providing clients with around the clock counsel and support, implementing campaigns locally, nationally and internationally.

The SEC Newgate team consists of c.700 people, working in 38 offices, in 15 countries, across five continents including Beijing, Berlin, Brussels, Bogotá, Canberra, Cardiff, Catania, Dubai, Edinburgh, Hong Kong, London, Madrid, Manchester, Melbourne, Milan, New York, Perth, Rome, Shanghai, Singapore, Sydney, Warsaw and Washington DC. Visit www.secnewgate.co.uk