Emily Wright, Head of Content, EG, to Interview Sandeep Davé, Chief Digital & Technology Officer, CBRE at CREtech London 2022 Conference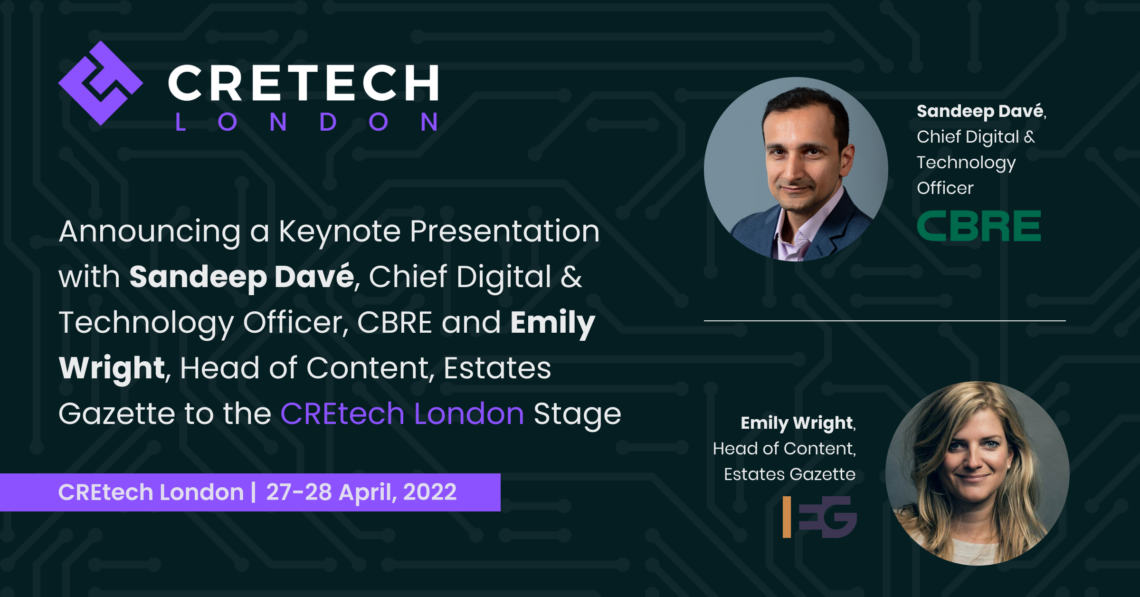 Industry leaders, Sandeep Davé and Emily Wright, to deliver Keynote Fireside Chat on Main Stage at Europe's most important PropTech networking event, CREtech London, this April 27-28
New York, NY (March 7, 2022) — CREtech, the largest international community of professionals devoted to technological innovation in the real estate sector, has announced that Sandeep Davé, Chief Digital & Technology Officer at CBRE and Emily Wright, Head of Content, will take center stage at CREtech London, this April 27-28. In this Keynote Fireside Chat, Emily will interview Sandeep on what CBRE are hearing from clients as to their needs and how technology aids in solving their challenges.

Sandeep Davé leads CBRE's digital strategy and execution globally. Mr. Davé and his team provide the technology capabilities and infrastructure to support CBRE and CBRE's clients and professionals across the globe. He has been interviewed and his work has featured in prominent media publications including Financial Times, The Economist and Wall Street Journal. He is a regular speaker on digital transformation and technology at venues such as the Milken Institute, Brookings Institution.
Emily Wright specialises in domestic and global real estate investment, the tech and start-up sectors, ESG, cities and the future of property design and development around the world. She has secured interviews with some of the biggest names in the industry and politics including Sidewalk Labs founder Dan Doctoroff, Facebook's global head of real estate, the co-founder of Tesla, architect Zaha Hadid and designer Sir Terence Conran. She is the host of EG's long-running Tech Talk Radio podcast and is a passionate advocate for change and progress within the real estate sector.
Attendees of CREtech London 2022 will get front row seats to exclusive keynote presentations and panels featuring the biggest names in the industry, the ability to schedule 1:1 in-person meetings through their event matchmaking app in CREtech's industry renowned Tech Connect Lounge, and an all-access pass to the expo hall packed with the latest real estate technology solutions.

For more information and to attend the CREtech London 2022 conference, click here.

To learn more about partnerships and sponsorships, click here.
About CREtech

CREtech is Reimagining Real Estate. We are the largest international community of professionals devoted to technological innovation in the real estate sector. Our mission is to help the industry embrace, adopt, and future proof its businesses. Our streaming, live/virtual events, and consulting platform inspires the next generation of ideas, processes, and people to champion the world's largest asset class.
Learn more: CREtech.com