Toby Courtauld, CEO, GPE Ltd and Melanie Leech, CEO, British Property Federation to deliver Keynote Fireside Chat at CREtech London, this April 27-28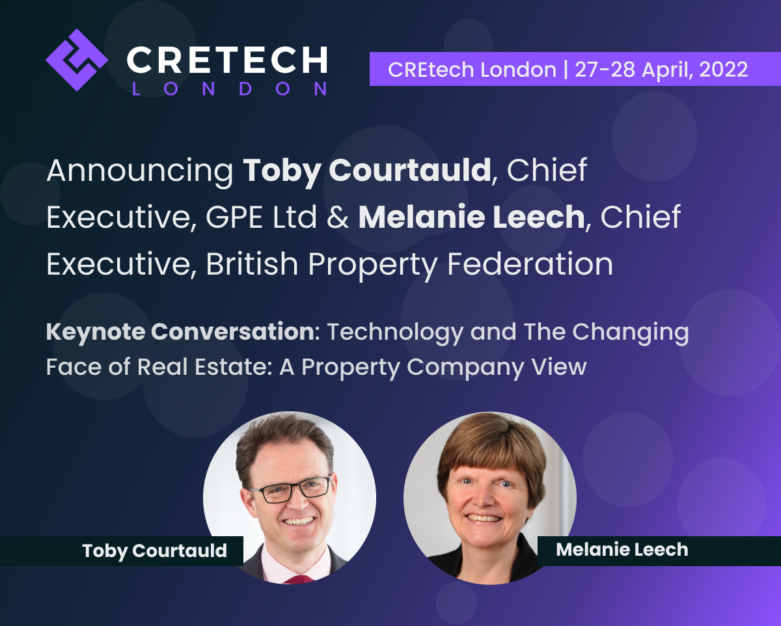 Industry leaders, Toby Courtauld and Melanie Leech, to deliver Keynote Fireside Chat on Main Stage at Europe's most important PropTech networking event, CREtech London, this April 27-28
New York, NY (March 28, 2022) — CREtech, the largest international community of professionals devoted to technological innovation in the real estate sector, has announced that Toby Courtauld, Chief Executive of GPE Ltd and Melanie Leech, Chief Executive of British Property Federation, will take center stage at CREtech London, this 27th-28th April.

In this groundbreaking Fireside Chat, attendees will hear from one of the industry's leading chief executives discussing how GPE Ltd is harnessing technology to drive major change programmes – from meeting the net zero carbon challenge to re-thinking the business's relationship with its customers.

Toby Courtauld, has been the Chief Executive of the listed property company Great Portland Estates plc since 2002. He graduated from Cambridge University in 1991 and has spent all his professional life in commercial real estate. He is a past President of the British Property Federation and sits on its Board and Policy Committee as well as the Board of the New West End Company. 
Melanie joined the British Property Federation as Chief Executive in January 2015. Prior to this, Melanie spent nine years as Director General of the Food and Drink Federation. Melanie began her working life as a Police Constable in the Metropolitan Police Service. She joined the civil service (HM Customs and Excise) in 1988 and subsequently held senior roles in a number of departments including the Department for Culture, Media and Sport, the Office of the Rail Regulator and the Cabinet Office.
Attendees of CREtech London 2022 will get access to all Main Stage, Innovation Stage and brand new Ask Me Anything Stage keynote presentations and panels featuring the biggest names in the industry, the ability to schedule 1:1 in-person meetings through their event matchmaking app in CREtech's industry renowned Tech Connect Lounge, and an expo hall packed with the most innovative real estate technology solutions.
For more information and to attend the CREtech London 2022 conference, click here.

To learn more about partnerships and sponsorships, click here.
About CREtech

CREtech is Reimagining Real Estate. We are the largest international community of professionals devoted to technological innovation in the real estate sector. Our mission is to help the industry embrace, adopt, and future-proof its businesses. Our streaming, live/virtual events, and consulting platform inspires the next generation of ideas, processes, and people to champion the world's largest asset class.
Learn more: cretech.com