Andre Brumfield, Principal & Global Leader for Cities + Urban Design at Gensler, Added to Keynote Speaker Lineup for CREtech San Diego 2022 Conference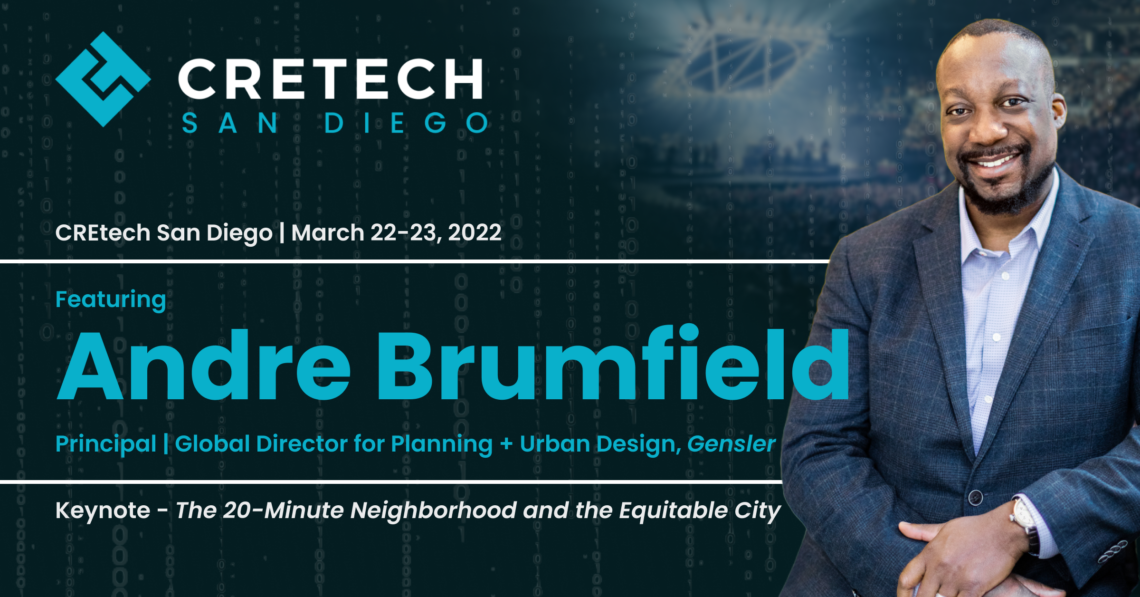 New York, NY (February 17, 2022) — CREtech, the largest international community of professionals devoted to technological innovation in the real estate sector, has announced Andre Brumfield, Principal & Global Leader for Cities + Urban Design, Gensler, as a Keynote Speaker at CREtech's debut West Coast conference in 2022, CREtech San Diego, taking place in person on March 22-23 at the San Diego Convention Center.

Gensler is a global architecture, design, and planning firm with 50 locations across Asia, Europe, Australia, the Middle East, and the Americas. Founded in 1965, the firm serves more than 3,300 active clients in virtually every industry. Guided by determined optimism, Gensler believes the power of design can spark positive change and create a future that promotes equity, resilience, and wellbeing for everyone.

Andre Brumfield is a Principal and Design Director in Gensler's Chicago office and serves as the firm's Global Cities + Urban Design Leader, applying his 23 years of experience in revitalizing and repositioning urban environments to shape equitable, accessible communities. Andre's extensive portfolio comprises city wide master planning and high density, urban infill to emerging urban district redevelopment, mixed income housing, and neighborhood and community revitalization. Andre's visionary-yet-implementable revitalization plans have been successfully applied in economically challenged areas throughout the world. Andre is a member of Gensler's Board of Directors and serves multiple roles with the City of Chicago on the Chicago Plan Commission and Committee on Design.
Andre's session will discuss 'The 20-Minute Neighborhood and the Equitable City'. In this Keynote address, Andre will suggest a reimagining of longstanding urban design concepts to amplify access to basic amenities, improve the quality of life, and create balance and flexibility in our cities' underserved neighborhoods.
Real estate executives from around the world will attend the CREtech San Diego conference to network, uncover new investment opportunities, and acquire leading-edge products and services to enable digital transformation for the largest industry in the world. Attendees will get front row seats to keynote presentations and panels featuring the biggest names in the industry, the ability to schedule 1:1 in-person meetings through CREtech's event matchmaking app, and an all-access pass to the Expo Hall packed with the latest real estate technology solutions.
For more information and to attend CREtech San Diego, click here.
To learn more about partnerships and sponsorships, click here.
About CREtech
CREtech is Reimagining Real Estate. We are the largest international community of professionals devoted to technological innovation in the real estate sector. Our mission is to help the industry embrace, adopt, and future-proof its businesses. Our streaming, live/virtual events, and consulting platform inspires the next generation of ideas, processes, and people to champion the world's largest asset class. Learn more: cretech.com