CREtech Releases Final Agenda for World's Most Important Real Estate Technology Networking Conference, CREtech San Diego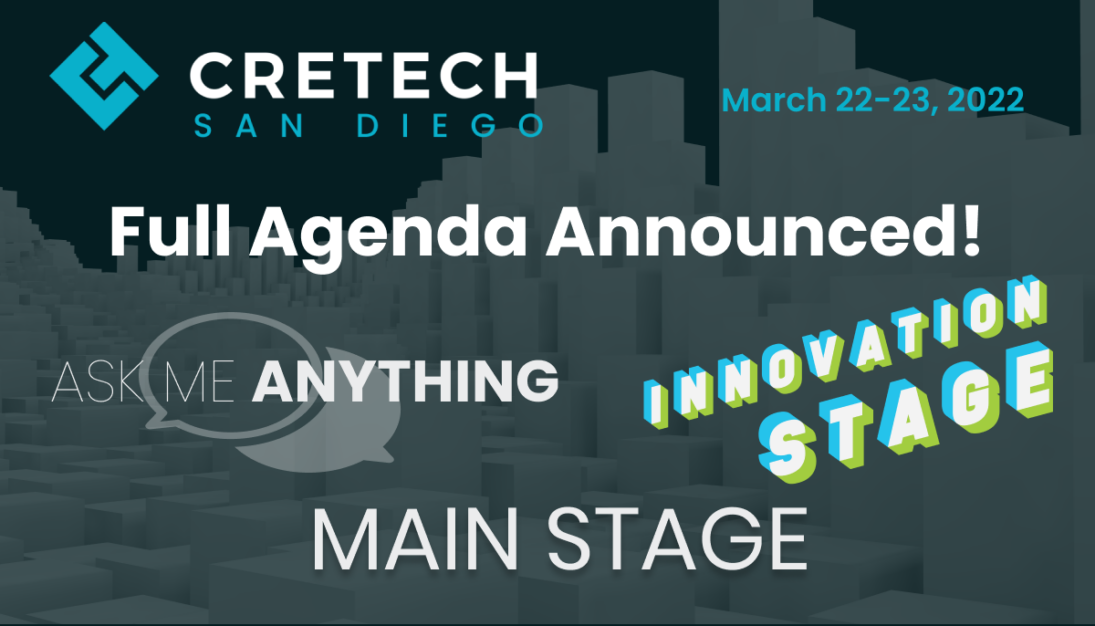 New York, NY (March 15, 2022) — CREtech, the largest international community of professionals devoted to technological innovation in the real estate sector, has released the final agenda for the must-attend real estate technology conference, CREtech San Diego, which will take place on March 22-23 at the San Diego Convention Center.  Nearly 1,000 attendees are registered to attend the debut West-Coast event next week.

Attendees will experience the full suite of CREtech conference offerings, including cutting-edge content across three stages, a packed expo hall featuring 50 of the leading real estate technology providers, CREtech's renowned Tech Connect Lounge which will host 1:1 meetings scheduled through the official event matchmaking app, free food, and much more.
Over the three stages - the Main Stage featuring keynotes by C-Suite leaders, the Innovation Stage featuring demos and presentations from technology providers, and the all new Ask Me Anything Stage featuring pioneers of the real estate industry answering questions from attendee , CREtech San Diego will showcase global C-suite executives and leaders to discuss built world innovation.
Main Stage

Day 1, March 22

10:00am: Keynote Conversation: John Helm, RET Ventures & Michael Schall, Essex Property Trust
10:45am: Panel: Perspectives on Hybrid Work
11:25am: Fireside Chat: Building the Right Infrastructure to Power the Future
12:40pm: Fireside Chat: Michael Beckerman, CREtech & Jeff Morrison, Brivo
1:00pm: Panel: Tech & Innovation Experts Leading The Way
1:45pm: Panel: The Future of Office: How Landlord's are adapting for Hybrid work in the Post-Pandemic World
2:30pm: Keynote Conversation: Brad Greiwe, Fifth Wall & Ryan Marshall, PulteGroup, Inc
3:15pm: Panel: Streamlining Multi-Site Management with Technology
4:00pm: Keynote: Investment and Innovation in the Metaverse
Day 2, March 23

10:00am: Keynote: Carbon Reductions Beyond Energy
10:45am: Keynote Conversation: Travis Putnam, Navitas Capital & Dallas Tanner, Invitation Homes
11:30am: Fireside Chat: Unveiling The Real Estate Tech360
1:00pm: Panel: Decarbonizing the Built World: One Investment At A Time
1:45pm: Keynote: Creating the NextGen "Carfax" for Buildings
2:30pm: Panel: Productivity & Profitability: How ConTech Leads to Better Outcomes for GCs, Owners, & Beyond
3:15pm: Keynote: The 20-Minute Neighborhood and the Equitable City

Innovation Stage

Day 1, March 22

10:30am: Brivo: Innovation Roulette: What's Hot and What's Not?
11:00am: VTS: The Data You Need to Win In A New Era of CRE
1:00pm: PlentificOS: Streamlining and Digitalizing Property Maintenance, Repairs, Turns and Renovations
1:30pm: Tavant: Disruptive Potential of AI across the CRE Industry
2:30pm: Cherre: Data-Driven Investment in the Commodified Real Estate Market
3:00pm: Local Logic: How Quality of Life and Sustainability Drive Returns

NEW Ask Me Anything Stage

Day 1, March 22

10:30am: Soheil Pourhashemi, Senior Vice President, Business Technology, Brookfield Properties
11:30am: Momei Qu, Managing Director, PSP Growth
2:00pm: Lionel Foster, Investor, Camber Creek
3:00pm: Ashley Stinton, Head of Marketing & Communications, Second Century Ventures

Day 2, March 23

10:30am: Raj Singh, Managing Partner at JLL Spark
11:00am: Breton Birkhofer, Director, Venture Investments, DivcoWest
2:00pm: Lauren Alpeyrie, Director, Global Innovation, PGIM Real Estate
2:30pm: Elie Finegold, Managing Director, Crow Holdings

Real estate executives from around the world will attend the CREtech San Diego conference to network, uncover new investment opportunities, and acquire leading-edge products and services to enable digital transformation for the largest industry in the world. Attendees of CREtech's debut in San Diego will discover the most innovative technology solutions, whilst connecting in-person with the most prestigious group of real estate tech professionals in the world.
Tickets are still available. To register and learn more about the event, click here. 
About CREtech
CREtech is Reimagining Real Estate. We are the largest international community of professionals devoted to technological innovation in the real estate sector. Our mission is to help the industry embrace, adopt, and future-proof its businesses. Our streaming, live/virtual events, and consulting platform inspires the next generation of ideas, processes, and people to champion the world's largest asset class. Learn More: CREtech.com