Lindsay Baker named CEO of International Living Future Institute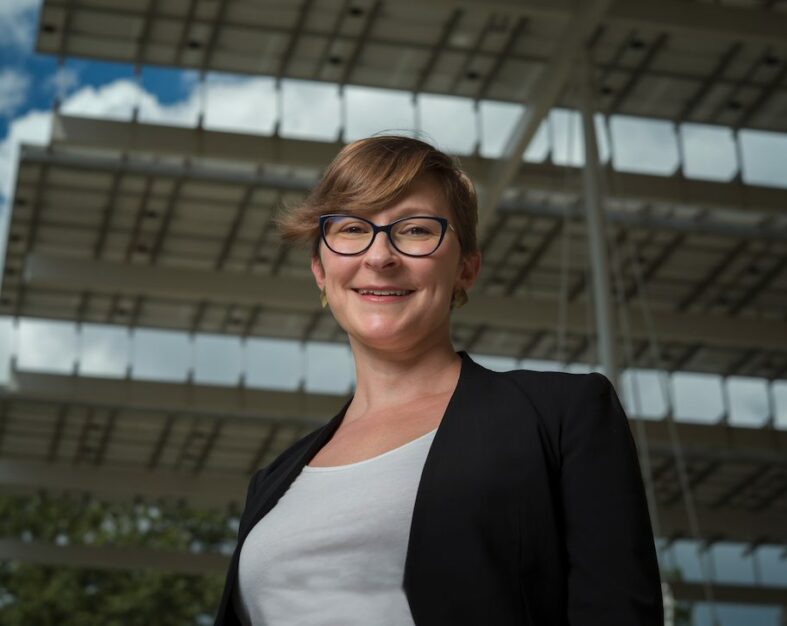 Climate leader brings a focus on social justice and scaling impact to the world's most ambitious, advanced, and holistic non-profit organization for buildings
August 3, 2021 (SEATTLE)—Today the International Living Future Institute (
ILFI
) Board of Directors named
Lindsay
Baker
as
CEO
, choosing a climate leader with deep experience in technology, real estate, and sustainability.
Ms.
Baker
is an environmentalist by background, a building scientist by training, and she's been at ground zero for some of the green building movement's most seminal moments. She also is a climate entrepreneur with experience launching and growing innovative
new
businesses. Her unique background and passion made her the top choice for
CEO
of
ILFI
, the organization responsible for the most advanced and comprehensive standard for green buildings: the Living Building Challenge. Selected by the
ILFI
board of directors from a large pool of candidates,
Lindsay
will lead the organization forward as its chief strategist, delivering on
ILFI
's mission to lead the transformation toward a civilization that is socially just, culturally rich, and ecologically restorative.
"
Lindsay
has a proven track record of heart-centered leadership, and as a building scientist, she's committed to pushing the limits of what's possible to keep
ILFI
on the leading edge," said Anthony Guerrero, Board Chair of the International Living Future Institute and Vice President Workplace and Real Estate Strategies at Earthjustice. "She's got the power, vision, and experience to ignite the movement and shape its trajectory."
Lindsay
's experience in the green building movement began at a young age at the Southface Institute in Atlanta, where she interned before entering Oberlin College as an Environmental Studies student. She was one of the first 40 staff members at the USGBC, charged with finding consensus about what LEED would become, as the organization experienced its first period of high growth. From there she went on to receive an MS from UC Berkeley in Architecture with a focus on Building Science, and spent five years as a building science researcher at the UC Berkeley Center for the Built Environment.
"The urgency of the climate crisis requires that we be doers and advocates, lead with our heads as well as our hearts, and grow a movement with the power to change the world,"
Lindsay
said. "To be successful, we need to join our efforts with broader movements and organizations pushing for change, which means a major commitment to equity and diversity. The green building movement must achieve large-scale impact, faster."
When selecting the
new
CEO
, the Board's criteria included an entrepreneur's mindset that will embrace the people, technologies, partnerships, and programs that make up
ILFI
's ambitious agenda. From Living Buildings and biophilic design, to thriving communities and building products that give more than they take,
ILFI
has enabled some of the world's most transformative firsts.
After her time at Berkeley,
Lindsay
applied her experience around the study of heat, light, and human interactions in buildings to a role with Google's Green Team. She co-founded a smart buildings start-up called Comfy, which grew to 75 employees and a global portfolio of clients over 5 years. She then became the first Global Head of Sustainability and Impact at WeWork, where she spent more than a year growing a
new
team and corporate sustainability program from scratch. She was most recently a Senior Fellow at the Rocky Mountain Institute and a lecturer at UC Berkeley. She serves on several non-profit boards and is an advisor and board member for several climate tech startups. When
ILFI
's recruiters at Koya Partners reached out,
Lindsay
was intrigued by what she could bring to the community of
ILFI
from the work she has done in the private sector, broadening the constituency of Living Buildings and products and strengthening the alliances of the organization in the broader climate movement.
Lindsay
begins her
new
role as
CEO
on August 9, 2021.
###
About the International Living Future Institute
The International Living Future Institute is a global nonprofit organization that inspires the greenest buildings for a healthy world. The Institute's mission is to advance communities that are socially just, culturally rich, and ecologically restorative. ILFI operates the Living Building Challenge, the world's most ambitious, advanced, and holistic performance standard for green, resilient, and healthy buildings. In addition to the Living Building Challenge, ILFI offers an array of transparency platforms, labels, and certifications that enable organizations to communicate their commitment to a healthier world, and provides professional education, books, and events. ILFI is a hub for visionary programs that support the transformation toward--and provide a compelling vision for--a living future that is accessible to all. Learn more at www.living-future.org.