A Profile of the type of CRE tech executive who I would bet on succeeding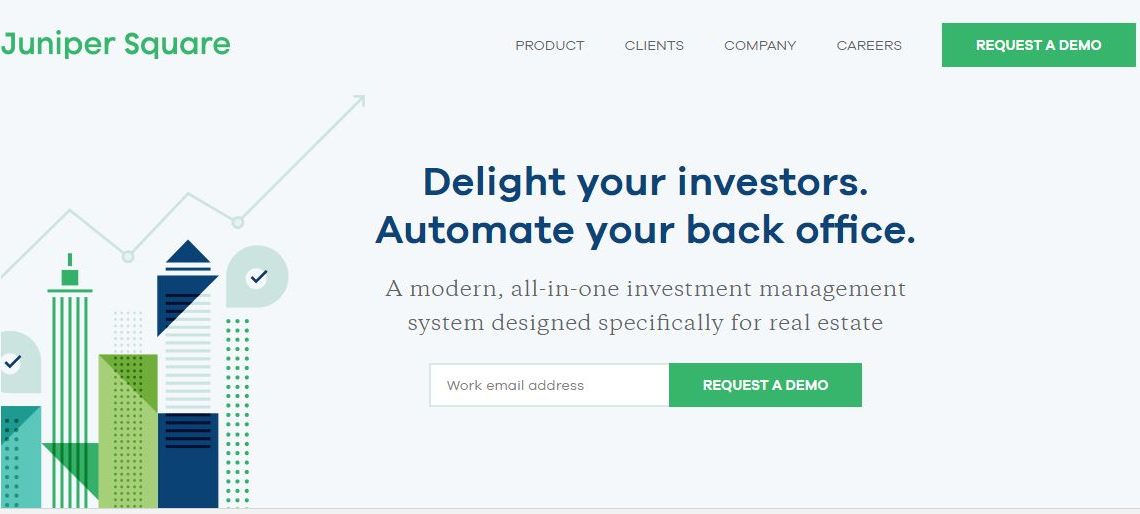 I haven't invested in other people's sites to date (but I am always open to a pitch). If I did, I would strongly consider investing in Juniper Square! Why? For me, it's not just about the site. In fact, the site is usually the least important to me.
It's all about the team! As someone who has been working at my own start up for the past few years, and has literally spoken to hundreds of other startups in the CRE space, the journey towards building a successful site usually never goes in a straight line. You build, you listen and observe, you adjust. And you repeat. Just ask Nick and Brandon of VTS and they will tell you the same, and they are arguably the most successful in this space to date.
So when I heard of Juniper Square, I looked into their site and was impressed by their technology, vision and roadmap. But I was REALLY impressed with their team. They have everything I would look for in a startup… experience on the tech side and deep knowledge on the real estate side. To me, that's a winning combination. And the success of their site to date validates this.
I caught up with Brandon Sedloff, (I also had the pleasure of meeting founder Alex Robinson on a recent trip to SF as well) who joined the firm 8 months ago as Head of Sales/Business Development. We spoke about his background, their site and their future plans. Really insightful stuff. Hope you enjoy it...
Michael: What's your background?
Brandon: I've been in the real estate industry for over 15 years and for most of that time, I've been focused on business development and starting/running new business lines for existing companies. I spent 7 years doing institutional real estate advisory which brought me to Hong Kong. While there, I moved from the private to non-profit sector. In my most recent role as Global Head of Corporate Development for ULI, I managed the institute's key corporate relationships and started and chaired a committee within ULI exploring the intersection and impact of technology on real estate. I've been fortunate to have roles which have allowed me to connect with a broad range of people across our industry.
M: Why did you make the move to Juniper Square and what's your role at the company?
B: It was the right opportunity at the right time. I'd met Alex, one of the co-founders, shortly after he launched the business. We were introduced by a mutual friend and advisor to Juniper Square. Over a period of 18 months we got to know each other. It was a perfect fit for my background. Tech, real estate and business development. The product had been proven (i.e. paying customers) and the opportunity to help grow another business was very exciting for me. What attracted me most was the focus of the team and commitment to excellence in everything we do. From the product to customers to the team, we have a very high standard and it's exceptionally rewarding to work with such a talented group of real estate and engineering professionals.
M: Juniper Square is a mystery to me. You have remained very private to date, why so?
B: It's funny you should say that. The truth is there was nothing secretive or stealth about what we were doing. It really comes down to having a plan, staying focused and executing. Our plan, from day one was to build an exceptional product and to get the right mix of early customers using our software and helping us to make it better. In an industry where the there is a history of vendors (especially software) over-promising and under-delivering, it was critical that we had customers to tell our story and help us build trust. After all, who would you trust more, a sales guy or the actual customer using the product? Up until announcing our pivot to general availability at the beginning of February, we were only focused on taking referrals from existing customers and thus didn't do any marketing. I guess that may be what caused the perception of being secretive. We now have a website and everything is out there for all to see. Seems there was a lot of pent up demand, if the last two most are any indications. We are very excited to be able to serve the broader industry now.
M: Can you tell us about your company and your products/services?
B: Juniper Square is a modern, all-in-one investment management software system that enables more productive fundraising, saves managers time, and produces an unparalleled reporting experience for investors. Designed specifically for the real estate industry, Juniper Square helps over 50 clients manage more than 20,000 investment positions and $25B+ in capital. Customers are often coming to us from a range of systems which do a piece of what Juniper Square manages. Most often the "system" is spreadsheets. We built the software to be a system of record for tracking and managing investment data and investor relationships. This means breaking down data silos between workflows and systems that support both the front and back of house teams. For groups that raise capital on a deal by deal basis we are often replacing spreadsheets. For our institutional customers we may be moving them from multiple systems like a CRM or war room/file sharing site.
M: Who are your customers?
B: Many are featured on our website and in various video's and case studies but they are anyone who invests in real estate and has outside investors. We have clients that raise capital on a deal-by-deal basis and those who manage discretionary funds. Our customers' capital strategy varies as does the composition of their investors. We have customers that relate to institutional investors as well as those that primarily raise capital from friends and family or family offices. Common themes across all of our customers are the desire to use software to be more efficient and to deliver an exceptional experience to their investors.
M: Who are the co-founders and what's their background?
B: Alex Robinson, Adam Ginsburg and Yonas Fisseha. We are fortunate to have a group of co-founders that deeply understand both the technology side of our business as well as real estate investing. This may sound basic but for the non-technical readers out there, it's important to have a combination of both the technical and business experience as well as to ensure there is someone who can speak both languages. Writing code to build software is basically like speaking another language and if the person running the business doesn't speak that language, there will likely be major challenge. Each of the co-founders has extensive experience in building and running technology companies. Prior to Juniper Square Adam was the co-founder of a company that many of your readers may know called nextdoor.com. Alex is a real estate investor as well has having built and run a technology company for the reinsurance business.
M: What is your marketing strategy? How do you reach your target markets and who are they?
B: We have been very fortunate in that we have gotten to our scale without any marketing at all. In fact, without a website to send prospective customers to, we relied entirely on the quality of our product and the referrals from existing customers. I think this is pretty unique. We look at each of our customers as a partner. The partnership includes important feedback loops but also includes helping us identify other new clients. Our target market is anyone who invests in real estate and has outside investors including all of the constitutes that service and advise these groups. We see a lot of flow and thus understand best practices. Sharing our knowledge and contributing to the conversation in a thoughtful way has been a very effective for us. We have some exciting ideas around how we will market the product and as we test them, we will be able to gauge how the market reacts. This isn't really a pay-per-click type of target audience so you can expect everything we do to be thoughtful and deliberate based on what we know about our customers and prospective customers.
M: Where do you think we are overall in the CRE tech landscape?
B: CRE tech has changed a lot over the years and it's an exciting place to be. There are a lot of great new companies that are trying to use technology to help our industry evolve. I think we are still in the very early innings of this latest round (4th I believe) of the real estate tech adoption lifecycle. The industry is hungry for better tools and the next critical step is finding a way to get all the great new tools to talk to each other and to help ensure there is a coherent 'go to market' strategy. One thing I hear from executives all the time is that they want to adopt new technology, but they don't have a process for evaluating and implementing these new systems. As a result, they often get frustrated that there are so many companies all selling what appears to be a similar product. We, as the CRE tech community, need to do our part to thoughtfully educate the market and give end-users the tools and knowledge that they need to make the best business decisions. The best is yet to come. For sure!
M: What's next for the company?
B: We will be focused on growth during '17. We are building out our teams across departments and I will be focused on expanding our customer base. The software will constantly be evolving to address new product features on our roadmap and that our clients request from us.
Connect with Brandon on LinkedIn and Twitter and Juniper Square