are you a cretech trailblazer?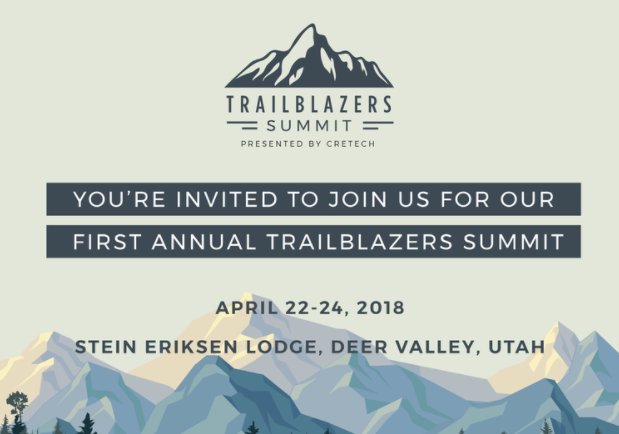 One of the most amazing parts of my job, is that I get to meet and communicate on a daily basis with some of the most amazing, talented, and inspiring people in the commercial real estate tech sector.
They come from all over the world, in so many different parts of the business, and all with really incredible visions of how they are trying to bring a new era of technology to the commercial real estate industry.
Since I entered the space in 2011, I have seen so much progress and growth in the sector. Great progress made by many startups, huge amounts of capital flowing into the sector, and so many talented people joining the movement.
As part of our CREtech.com platform, we are rapidly expanding the event side of our business in 2018 from three events in 2017, to eight this year. The events themselves are scaling really fast, as our most recent December event in New York City attracted over 700 professionals from across the globe.
With so much happening, and momentum at a breakneck pace, I had an idea for a different type of event. One that would be more intimate, focusing on some big themes like A.I., Blockchain, Cryptocurrency, and more. One that would really allow a select group of professionals in CRE tech to gather and discuss where we are as a sector, where we are going, and also encourage more collaboration amongst the leaders in the field.
So my team and I came up with a really exciting new event called The Trailblazers Summit. It's going to be held on Sunday, April 22-24 in Deer Valley, UT. We are fortunate to have two extraordinary speakers in the lineup, as well as networking sessions and interactive discussions.
I am thrilled that the attendees so far represent a strong cross-section of professionals from virtually every aspect of the industry. From commercial real estate developers and brokers, to startups, VC's, and thought leaders.
The format will be pretty intensive with maximum time spent on learning, connecting, and sharing all things commercial real estate tech.
No yoga (although I am a big fan), no life coaching (also a big fan), and no bonfires (kinda a fan). Think Allen and Co. meets a CREtech event. Serious, business-focused, casual and in an extraordinary setting.
We have a few tickets remaining, so if you think you are a Trailblazer, we'll see you in Utah!