Bringing Tech to a Market I Would Never Have Never Thought Of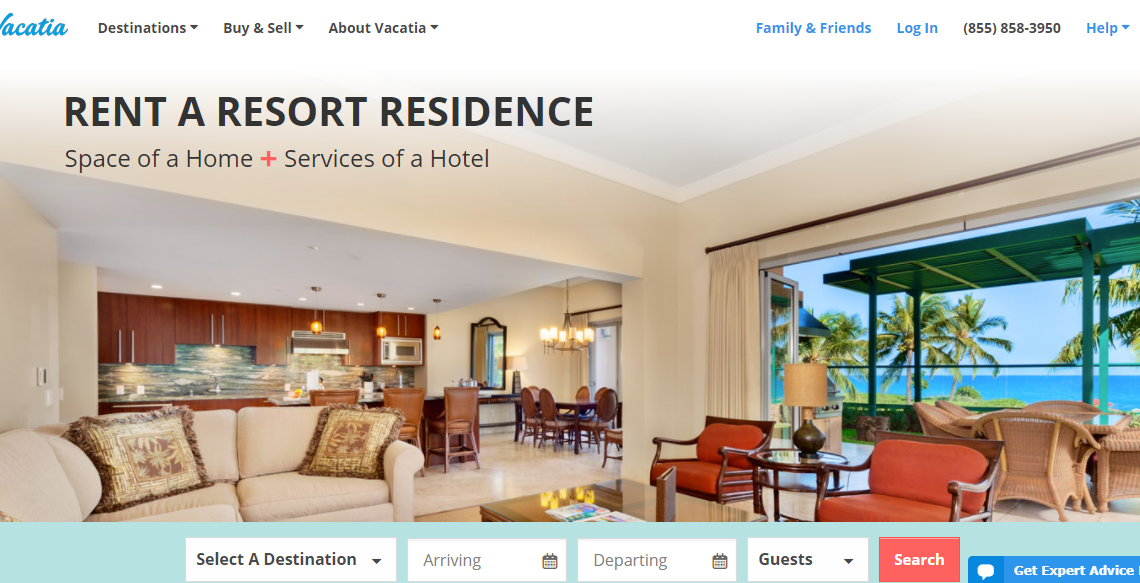 Q&A with Caroline Shin, CEO & Co-Founder of Vacatia
Some of the most successful startups and entrepreneurs go places most of us would never have thought of. Or they simply go in directions where others are either too afraid to go or where we see a large amount of potential headaches. Meaning, some people go after the hard, messy or challenging things and others don't.
I think Caroline Shin is that kind of entrepreneur. She gravitates to the challenging and sees nothing but the enormity of the opportunity.
Thanks to Brad Harries, one of the top business consultants to in the real estate space, I had the pleasure of connecting with Caroline recently. This successful, seriall entrepreneur is making a big bet on bringing technology and efficiency to the Timeshare industry. I must admit, when we first connected I knew nothing about this industry (and didn't have the most positive opinions either). But when I connected with Caroline, those opinions turned around pretty quickly.
Caroline is a proven entrepreneur with a pretty incredible track record and a site that has the potential to really be enormous. Think AirBnB for Timeshares. It is clear, judging by her world-class investor group, that many of the smartest people in tech and real estate agree.
Here are the excerpts from our recent interview...
Michael: What's your background?
Caroline: I'm a travel nut. After stints in tech and strategy consulting, I joined the startup team at Hotwire to be their lead website architect, later managing product and supplier relations. After we sold Hotwire to Expedia, I joined Starwood Hotels to lead their global CRM and revenue management initiatives. When the startup itch came back, I moved to Sentient, an early-stage on-demand private jet service, as their head of service and operations. After selling Sentient, I was an angel investor focused on tech and not-so-tech startups, but all sharing a common mission to create memorable customer experiences.
An investor in Hotwire introduced me to my current co-founders who have deep experience in the timeshare industry. I was amazed to learn about a $20B sector in travel and real-estate, with over 7,000 resorts and large amount of under-utilized inventory, that is still selling (largely offline) like it's 1999…or rather 1989. Challenge and opportunity are two sides of the same coin. I was hooked.
M: Why do you see such a huge opportunity in the timeshare market? When I think of real estate sectors to bring tech to, this wasn't a market that even came to my mind.
C: Me either! At the CRE//Tech conference, I heard about how slow the real estate industry has been in adopting technology. Timeshares is a segment of both real-estate and travel that's been operating over the last 40 years largely unchanged in its development, operations and sales activities.
I often get asked if timeshares "will still be around" with the increasing popularity of Airbnb and HomeAway. The answer is undoubtedly yes. Airbnb and others have shown that there is real demand for spacious accommodations at great values as an alternative to traditional hotel rooms. However, many customers are still shying away from Airbnb because they want the comfort and peace-of-mind that comes with hotel services and amenities.
The timeshare product, with both the space of a home and services of a hotel, are ideal accommodations, especially for vacationing families. Owner satisfaction is high when in-use. In fact, many timeshare owners own more than one interest, which is typically a one-week use-right backed by a deeded fractional ownership. The problem isn't the real-estate asset or the hospitality service, but the antiquated way the product's been sold as ownership-in-perpetuity through high-pressure sales, and the difficulty owners face when they need to sell their interest.
There is tremendous value to unlock by changing how this real-estate asset is marketed, sold and distributed, to resonate with how current customers want to shop today.
M: Tell me about your site - what does it do and how does it help both the owners of timeshare homes and renters?
C: We make it easy for families to rent a "Resort Residence", which is what we call timeshares along with fractionals and wholly-owned condos in a professional resort. Our rental guests are thrilled when they find Vacatia. Most families have no idea this type of inventory exists, or is available for rental. They are happy not to be forced to compromise between space (Airbnb) and service (hotels). And they find family-friendly content and features useful to their travel planning, such as our complimentary 48-hour On-Hold, or financing options like our FlexPay split billing program. Our rental inventory comes from unsold inventory from timeshare developers, foreclosed owner inventory that is controlled by homeowner associations, and individual owners looking for short-term liquidity. The renter does not know, and should not care, where the inventory comes from since they only interact with Vacatia and rentals are instantly bookable.
We also offer a resale marketplace where owners can list their timeshare interest for sale. With any illiquid market (such as the ticketing space before StubHub), there are unscrupulous actors looking to prey on desperate or uninformed consumers. In the last decade, many timeshare owners have been hit with resale scams that falsely promise them of getting them out of annual maintenance fees associated with their ownership, often for a very large fee. Vacatia partners with timeshare developers who endorse us to their owners as a safe and effective resale solution when they are looking to sell.
We are now in the process of working with timeshare developers to support their primary sales efforts by leveraging the technology we already built to transact resales. Imagine you rent a Resort Residence on Vacatia for your next family vacation. Instead of cramped, adjoining hotel rooms, you enjoyed having 3 separate bedrooms for the entire family with a large living room, fully-equipped kitchen and fun resort amenities. Your family loved the experience so much, you opt-in to learn more about the benefits of ownership, online on your own time, instead of going through a timeshare sales presentation. You can chat with a sales specialist, compare various product options (offered by the timeshare developer or an individual owner) and even make an offer right on the website. Once your offer is accepted, Vacatia's licensed customer service team will work with you to complete the closing process. And in a few years, you can elect to rent or sell your timeshare on Vacatia if you find that your travel requirements have changed.
Unlike the hotel industry, timeshare companies are not looking to cut out the middleman. In fact, they have embraced us as a friendly disruptor who can accelerate their technology adoption to broaden their own audience and lower their high sales and marketing cost. It's been an honor to be named to the board of American Resort Developer Association, and for Vacatia to win the prestigious "Ace Innovator Award for Industry Partner".
M: How did you go about building the site?
C: First and foremost, we hired the right people. Our CMO was the first head of ecommerce at FedEx, the first GM of Apple online store, and the first CMO of StubHub. He brought over his top lieutenants from StubHub. Their experience has been very transferrable to building our marketplace. Our product and supply teams have deep travel expertise from companies such as Expedia and Hotwire. And because we are selling real-estate or advising owners of real-estate, our customer service and legal team are licensed agents across 30+ states.
M: Who are some of your investors and are you currently raising money?
C: Vacatia's lead investor is San Francisco-based Javelin Venture Partners. As part of his due-diligence, our lead partner at Javelin purchased a timeshare on the resale market. He is now an owner of a dozen timeshares and rents them for more than what he owes in annual maintenance fees! Our early seed investors include numerous prominent founders and senior execs from the travel, real estate, and timeshare industries. They represent a tremendous resource, available to advise me on strategic issues or introduce me to their network when needed.
We are fundraising for our Series B round. We're looking for the right investor who shares our enthusiasm for disrupting a large but traditional industry to make this real estate asset resonate with the current audience.
M: How large is the site today and what are your expansion plans?
C: We currently work with over 650 resorts and have helped 23,000 families rent at a resort residence. In about a year, we facilitated over $4 million in resale transactions where 25% of buyers were brand new to timeshares and who preferred to purchase online rather than sit through a sales presentation (the rest of the buyers were existing timeshare owners looking to purchase another interest). We plan to rapidly expand the number of resorts we work with for rentals and sales, and expand our 29 destinations to be available in every major leisure destination worldwide.
Caroline Shin, Chief Executive Officer & Co-Founder
A seasoned travel and hospitality executive, Caroline is passionate about building companies that embrace technology to deliver a stellar customer experience. She shows this passion with her extensive professional experience, including acting as the lead website architect on the startup team at Hotwire, which later led her to manage product and supplier relationships. Caroline also led global Customer Relationship Management (CRM) and revenue management functions for Starwood Hotels and Resorts. As Senior Vice President at Sentient Jet, she oversaw client services and command center operations, as well as launched a new technology platform for flight management. Caroline co-founded StoreVantage, a SaaS scheduling and CRM system for service-oriented businesses. She was also a technology and strategy consultant at Accenture and Scient, working with Fortune 500 and startup clients. Caroline is a member of the Board of Directors of the American Resort Development Association (ARDA). She holds a degree in Nuclear Engineering from MIT.
WANT MORE CONTENT FROM MICHAEL? CHECK OUT HIS #TALKSHOP AND ON THE STARTUP ROAD SERIES!