ClientLook

CONTACT
Michael Griffin, Founder and CEO, ClientLook
THE SCOOP
It's impossible to not to like Michael Griffin!!! He was one of the first people I met in the sector and has remained a good a friend since. He attends and supports ALL of our events at CREtech.com. He's the guy in the front row listening, taking notes, continually learning and studying. And if there is a more networked guy in the industry I haven't met him! And what's really special about all this is that Michael has been in the industry longer than most of us (can't tell by looking at the guy ) having started in the sector in 1991 as a broker and moved on to founder of his successful startup, ClientLook, one of the leading CRM's in the commercial space. Oh and I did I mention he is also an EVP-Strategic Relationships at Xcelligent?!?! Really amazing career of accomplishments. Since 1995 Michael has been pioneering industry-specific software solutions. I don't think anyone in the space has done as much as he has in this regard!
Now serving clients in over 1600 cities, ClientLook was born in 2008. Its mission is tocreate the industry's most intuitive, effective and connected CRM solution with an unrivaled passion for customer service. Given Michael's background and deep connections within the industry, it's no surprise that he was able to painstakingly build ClientLook from the ground-up to satisfy the unique needs of commercial real estate professionals. By combining contact management, deal tracking and client collaboration with a property module and Virtual Assistant service, ClientLook helps companies get organized in ways never seen before. To me, that's the greatest single opportunity today in commercial real estate tech…to help brokers compete more effectively, NOT to challenge their domain expertise. To become the tool that helps them make more money!!! ClientLook is that kind of tool.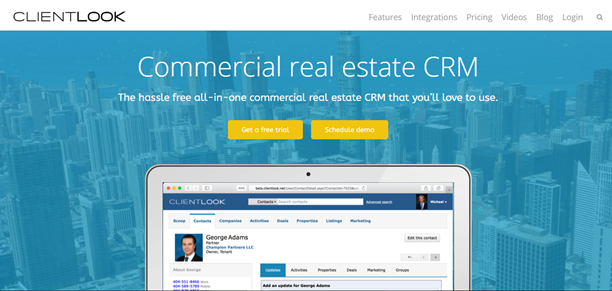 Another really exciting part of what Michael and his team are doing is integrating with other leading industry solutions to deliver a complete all-in-one technology platform. As I have also written about extensively, creating synergies with other sites is a terrific strategy to scale and also help brokers more easily embrace and adopt tech solutions.
If you don't know Michael and ClientLook, he is absolutely one of the most important people to have in your rolodex (ok ok, I know half of my readers won't know what the hell that is ).