CRETech/PropTech RIP Part 3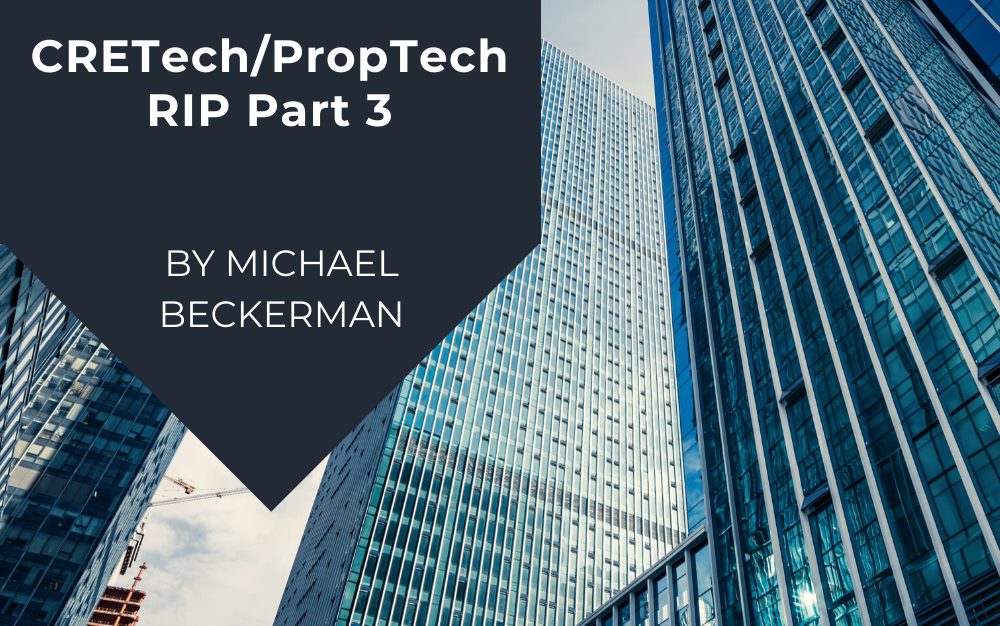 The most important advice I can give a startup today...
Drop the terms "Proptech Startup" from your vocabulary!
Of course, given the state of the economy, dry funding climate and the challenges that the real estate industry is confronting, every startup in our industry needs to manage their business in survival mode first and foremost. Because that's what most of our sector is being confronted with on a daily basis. Having weathered many a storm in my long career (although this one is unlike any I have ever encountered), every small business knows it's critical to hoard cash, continually cut costs wherever possible while still being able to function effectively and devise an overall strategy to stay afloat for what feels like is going to be a long, long slog.
It's also a time to rethink EVERYTHING and turn "poison into medicine," (a Buddhist expression we use in my particular practice).
As I have done with my own company, it's now the time to reevaluate what your value proposition is in the marketplace. And to rethink every aspect of your business as I just don't think we are going to go back to business as normal. Ever. There are so many fundamental shifts happening in the business world around us that it truly feels as if we are living through the first historic and fundamental shift in my lifetime in regards to how businesses operate from both human interaction and space utilization perspectives.
This blog will be the final part in my series on "Reimagining" our young ecosystem.
Here is my advice to every startup: when you call yourself a "Proptech startup" you are agreeing to be categorized as one very generic, broad ecosystem and you are essentially outsourcing your own value prop. That is not just a huge risk to your business, but it also severely limits your business's growth potential. As the "Proptech" sector goes, so goes your company. And if the sector sees a massive correction in valuations, it will be assumed that your business also faces that pressure. If adoption is lagging in your sector, it must be lagging in your business. Also, when you call yourself by any category, you have absolutely confused your target audience/future sales prospects as they are already overwhelmed with too many choices in our space. You are not telling them what you do, you are telling them who you are. That is a horrible marketing strategy.
Here is a great example of what we, as a industry, should be emulating. It's from an article in PitchBook and describes a new funding round for Robinhood...
"Sequoia is in talks with Robinhood to lead a $250 million round at a pre-money valuation of around $8 billion, according to Bloomberg. The provider of online stock brokerage services was valued at $7.6 billion with a VC round last fall, according to PitchBook data."
Boom. Not only do I get what Robinhood does, I also see that they are in their own category. In four words, I knew exactly what they did and could clearly see their value proposition… "online stock brokerage services".
As Fintech is the industry I study the most for comparable insights on our industry, here are three other examples to illustrate my point from an article that Forbes posted this past February. 
Stripe, Its software platform lets businesses accept online payments, with customers ranging from small websites to Amazon and Facebook. In 2019, Stripe launched a new corporate credit card and small business loans, which are automatically repaid from payments it processes for borrowers. 
Ripple, Facilitates international payments, including with a cryptocurrency created by its founders, XRP, for 300 institutional clients, including Standard Chartered and Santander. In 2019, sold $500 million of XRP, using proceeds to expand and invest $50 million in MoneyGram, which now uses XRP in 10% of its cross-border transactions to Mexico.
Coinbase, After making its mark as a safe and regulatory-compliant crypto exchange, Coinbase has branched out to offer crypto custodial service to institutions, plus a personal wallet and new currencies designed to appeal to those seeking more privacy.
Now you may think this is just a marketing tactic but if so, you are absolutely not getting what I am suggesting and the importance of it. When you say you are a "category" and not a specific application or solution, you are essentially not in any business at all. And you are also not in the business of selling your service. Worst yet, with every single landlord or brokerage firm asking first and foremost about every technology, "What's the immediate ROI of using this technology???" you need to stress your value prop clearly in seconds upon someone discovering your tech company.
Another critical mistake many in our sector make is that they describe themselves by HOW they deliver their product/solution. Examples I see everyday are when companies say they are an "Artificial intelligence platform that...." or "We use machine learning to..."
Who cares how you make the f'n sausage, just show us how amazing it looks and tastes!
My point is that too many of us (and I accept full responsibility as someone who has helped build this sector) are doing ourselves a disservice by falling for the easy way of branding our industry simply by one category. We think that if we "dumb it down" we will be able to help the real estate industry quickly understand what we do and who we are. But it's actually the opposite. You are adding to the noise and clutter and part of the reason why so many real estate professionals are always telling me that they can't tell one company from another in our space.
You are all "tech companies". And our sector is actually REAL ESTATE not "Proptech". Under the old way of thinking, we were literally just selling to ourselves.
This new way of thinking is also how I am repositioning my own company.  "Reimagining Real Estate". That's a whole lot bigger and has a clear value prop than "CRETech's leading this that and the other thing"!
So, how do I suggest you rethink your value prop?
Simple.
You are a SAAS product focused on providing data solutions...
You are a digital marketplace for sales in commercial real estate...
You are a digital payments company for the construction industry...
Etc.
Say what you do. Describe your value prop. You're not a category, you're a product/solution. Don't fall for the "label" strategy. Yes, using a label seems to be an easy way to define yourself, but it's actually hurting your ability to stand out in the clutter and break through...
It's CRETech/PropTech 2.0
It's time to rethink who we are and what we do.
We are all in the real estate business.
We are as valuable as an architect or lawyer. A contractor or a marketing firm.
We are simply "technology".
P.S. Next I will turn my attention to what I see as the greatest threat to our real estate technology industry.