Embrace the Machine: AI is the Future of CRE Tech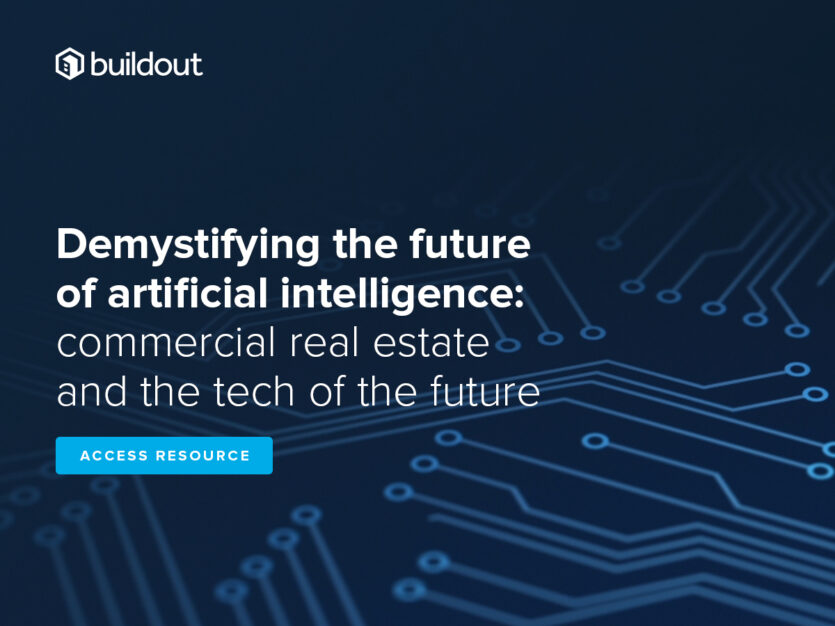 I am fascinated by AI. And scared shitless too :)
"Hey, Siri! What's the weather like this weekend?"
- Ding. "The forecast for this weekend is 79 degrees and sunny."
"Alexa, order me a copy of Walter Isaacson's 'Benjamin Franklin.' "
"Your order been fulfilled. Would you like to place another order?"
Crazy!
AI has created films, written pop songs, and won at Jeopardy. With AI applications permeating almost every aspect of our daily lives, it's only a matter of time until it naturally begins to aggressively transform the commercial real estate world. If the past provides any insight into CRE tech adoption, the industry may initially resist using AI but still, I believe it is the future of CRE.
That's why I was fascinated and excited to see that my friends at Buildout created an awesome resource: Demystifying the Future of Artificial Intelligence: Commercial Real Estate and the Tech of the Future.
The CRE industry has already embraced the cloud and the big data that comes with it. Artificial intelligence is simply the next wave of transformation. Written for commercial real estate agents, brokers, and the professionals that serve them, in Demystifying the Future of Artificial Intelligence, readers learn why AI matters for the future of the industry. All in an easy to digest manner.
Even the most tech-savvy CRE professionals need to make sure they're prepared for AI to change how they're currently doing business. Embrace the disruption. Adopting AI means using machine learning to discover trends you could have never identified without wasting hours crunching numbers. It means better communication with stakeholders. It means spending more time providing top-notch service for your clients.
After reading Demystifying the Future of Artificial Intelligence, you will have a much clearer understanding of the future of artificial intelligence in commercial real estate. What CRE professionals may not understand (but soon will) is that there are two types of AI: artificial general intelligence (AGI) and applied AI. And no matter how advanced technology becomes, it will never replace the role of a broker or agent. It will only enhance their ability to be more productive, more proactive and even more strategic.
What we early tech adopters are witnessing is the power of AI to transform how CRE brokers, agents, investors, and developers make key decisions that impact their bottom lines. In fact, you may be using applied AI tech and not realize it. Using a service for predictive analytics? That's applied AI. Have a chatbot installed? Natural language processing is a form of AI. Monitoring a smart building? That's applied AI, too.
Be prepared for the next wave of change in CRE tech. Start thinking about how AI applies to you. Download Buildout's Demystifying the Future of Artificial Intelligence – or ask Alexa to download it for you.
I promise you won't be disappointed.
P.S. - I am so fascinated and excited about AI and its impact on our sector that we are holding an event on September 28th at the CBRE Global Headquarters in Los Angeles on this very topic. I hope you will join us!
Don't forget to come meet me in Los Angeles on September 28th and New York on December 7th for CRE // Tech! Tickets are on sale now!
WANT MORE CONTENT FROM MICHAEL? CHECK OUT HIS #TALKSHOP AND ON THE STARTUP ROAD SERIES!