Finally, a job site for the real estate tech space!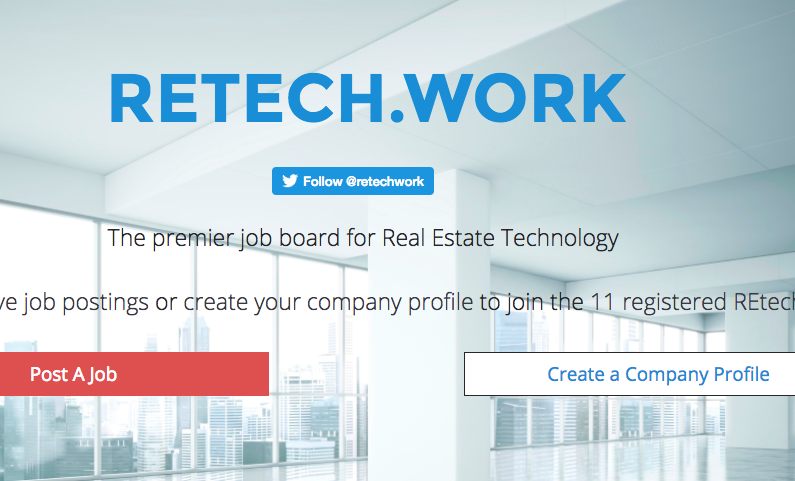 What a great idea. But why the hell did it take so long?!?! As the CRE tech industry continues to grow and evolve into a significant business sector, there is something that perhaps there hasn't been demand for to date. JOBS!
No more.
Thanks to Rivers Evans, Principal at ERC Commercial Real Estate, there is now a dedicated jobs platform devoted to the CRE sector, RETECH.WORK. The new platform, where users can add jobs and company profiles, is so great that we added their feed to Real Estate Tech News.
I had the pleasure of talking to Rivers about his new site, his views on the sector and his own personal favorite sites.
What is your background?
I worked at a CRE brokerage prior to co-founding a public safety tech startup. Eventually, I joined the sales team of a high growth remote startup, Toptal, where I had a front row ticket to innovation. Earlier this year, I decided to re-enter the CRE arena. Kind of a whirlwind, but I can't seem to shake the attraction to both CRE and tech.
How and why did you create RETECH.WORK?
I realized that REtech startups are opening job positions at a staggering rate, but in digital placement, they stand shoulder-to-shoulder with every other startup.
The real estate tech space is no exception to the talent shortage in the US and European markets. Add to that a preference for real estate experience, and recruiting seems like an uphill battle. We want to attract high caliber candidates from outside our industry, spotlight the most innovative startups in REtech, and make a solid case for joining this booming vertical.
What do you hope to accomplish with the site?
Our goal with RETECH.WORK is to attract and retain talent in REtech. There's already a steep learning curve breaking into our vertical. Wouldn't we all benefit from less "brain drain" if the collective community became aware of all job opportunities? That's the big picture. That's the challenge our community must overcome as talent demand increases and supply remains constrained.
Why do you think tech has taken so long to be embraced by the CRE sector?
Now THAT is a tough question, and I'd love to expound in another post. I see this sentiment everywhere, and we can address generational gaps, relationship driven deals, etc, but I believe it comes down to expectations. Some of us expect one giant leap forward in adoption for this tech cycle - that's almost never the case in any industry, especially where the innovation within the cycle is nascent.
What if we turned that question around... what's taken our innovators so long to arrive to CRE the way they have media, education, and health care? Yes, CRE is notoriously difficult for outsiders compared to residential, but we have legacy technology in CRE, and at some point, legacy entrepreneurs decided to enter the fray, so the space has always been viable from that perspective. What's taken so long this time around? I believe that every entrepreneur stands on the shoulders of giants, and CRE is finally seeing the benefits. Blockchain is a decent example.
Then you must be thinking "Great. So we just wait for spin-off applications?" Not exactly. CREtech companies like RealMassive, VTS, and CompStak are hitting the right buttons to excite and engage users across the spectrum - but it's only the beginning. The CRE space possesses unique challenges, but I don't think protectionism is at play. There isn't a conspiracy by laggards to stymy innovation so much as entrepreneurs unlocking the right combinations for each of the myriad of pain points. From what I can tell, CREtech is actually being embraced by the most influential players in the game: the landlords and the tenants... which makes broker adoption an inevitability.
What advice would you give to someone who wants to market to your generation?
Social media is the key to millennial marketing, but like most things in life, it's more important to listen well than to speak loudly.
What are some of your favorite CRE tech sites?
As in news sites, blogs, etc.?
For rousing opinions, Duke Long. Never disappoints.
For PropTech - James Dearsley.
I also see a ton of potential in Ryan Dennis.
To stay informed, I turn to Real Estate Tech News.
Whats next for you and your team?
We're looking for contributors to cover recruiting and HR topics in REtech, including interviewing REtech startups on hiring and retention strategies. All are welcome to reach out on twitter @riversevans.
Thanks Rivers!