Hines and Fifth Wall… A Profile of How Leading Landlords Are Showing Leadership In The CRE Tech Sector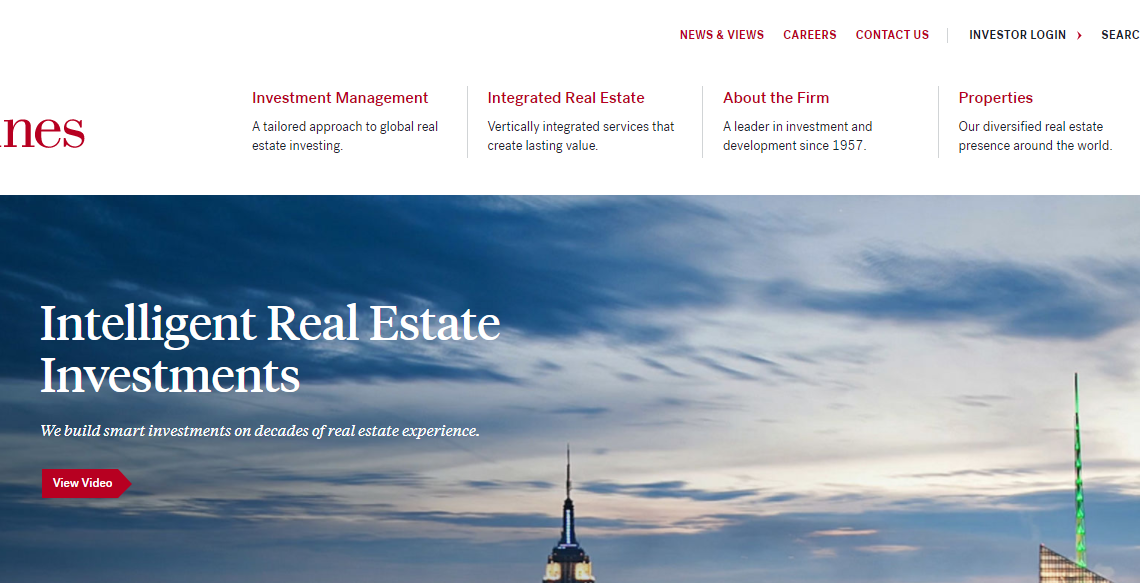 Q&A with Charlie Kuntz, Innovation Officer at Hines
When I was coming up in the world of commercial real estate in the late 1980s, there were a few names that were simply the gold standard that everyone in the industry followed and tried to emulate. Trammel Crow, Mack Pogue, Gerald Hines, Mort Zuckerman and a few others. In particular, Hines was just stunning. They were the first company I saw that built massive skyscrapers that defined skylines all over the world. And throughout my career, Hines remained the pinnacle of success in the industry. Globally!
So when I recently spoke with Brad Greiwe and Brendan Wallace, Co-Founders of Fifth Wall, I was particularly fascinated with their relationship with Hines. I had asked if I could interview Hines as to their relationship and how it came to be. As a result, I was fortunate to then connect with Charlie Kuntz, one of the smartest guys I have spoken to about real estate and tech regarding their relationship with Fifth Wall and many other topics.
To me, having a company of Hines' caliber so focused on tech is a wonderful affirmation of the progress being made in CRE tech and the real momentum taking place in the space
Here are the excerpts of my conversation with Charlie. I hope it sheds some light on what one of the world's leading real estate companies is doing in the tech space and how they continue to trailblaze today just as they have done for decades.
Michael: What is your role at Hines?Charlie: After 10 years with Hines in our San Francisco office focused on development, new business, and execution in the Bay Area, I started a new role this year creating an Innovation team to support the firm globally. There is abundant change currently taking place in our industry, and we are dedicating resources to best position the firm to leverage this wave.
M: What role does technology play in your company and within your portfolio?C: Technology continues to be a key driver within Hines. If you think of innovation as the actual change, technology is often the vehicle that allows it to succeed. As an organization, our goal is to identify the right tools that allow the innovation to take place.
To make this happen within our vertically-integrated and global organization, you could say that we follow the "it takes a village" approach. From an Information Technology (IT) perspective, we have Jesse Carrillo, SVP & CIO, who is responsible for directing all corporate technology, strategy and standards for Hines worldwide. And to identify the best tools to help our firm operate internally in the most effective manner, we have Ilene Goldfine, VP and head of the Business Technology Group.
On the physical asset side, we leverage the expertise of the Corporate Engineering and Operations Services (COES) team members who support our on-site property management and engineering teams to ensure that our buildings/assets are operating optimally. This team is led by Clayton Ulrich, SVP. Hines also depends heavily on our amazing Conceptual Construction team led by Jerry Lea, EVP, whose team is tasked with identifying the best systems, equipment and tools are used in designing and construction our new development projects. Last, sustainability has played a key role in our decision-making since our founding. Our Global Sustainability Officer, Gary Holtzer, helps us explore new technologies and incorporate best practices to across our portfolio.M: What are the origins of your relationship with Fifth Wall? C: Hines and Fifth Wall mutually sought each other out through numerous connections across the industry. Several individuals within Hines either had a previous relationship with Fifth Wall member, and others were introduced to Fifth Wall through other relationships in the industry. Several introductions occurred at once. Hines had been exploring ways to get into the space because we believed it was a tremendous opportunity for us, so the creation of Fifth Wall was well timed. We realized relatively quickly we were the ideal partners to execute on the strategy.M: What are some of the ways that this investment in the Fifth Wall Fund benefits your team at Hines?C: The Fifth Wall team is in many ways an extension of Hines and its other real estate investors. They dig in deep in areas where we want resolution. When we identify a new area of real estate tech which we believe can be a differentiator, they step in and explore all viable companies in the space. They run RFPs at the operational level and underwrite investments into the companies at the financial level. We then pick our preferred company together. If Fifth Wall decides to invest in the company, we get insight into their financial health and strategic goals. We also know that people we trust are coaching and mentoring these companies as they evolve and mature. It is a helpful way for us to mitigate risk inherent in exploring new technologies and engaging startups or younger organizations.M: What makes these guys good at what they do?C: The team has a unique combination of experience in the real estate sector, in starting their own businesses, and in Venture Capital / Private Equity investing. This allows them to speak all three languages, understand all three perspectives, and navigate the confluence of those three areas.M: How does the relationship actually work? Are you in regular contact with them? Do you help them vet investments? Are you applying the actual investments within your portfolio?C: I speak with Fifth Wall at least once a week and email just about daily. The pursuits come from both directions. Sometimes we are looking for a specific tool or we identify a company that intrigues us. We then notify Fifth Wall, who gives us their opinion after doing their own research and vetting. On other occasions, Fifth Wall knows they want more exposure for the fund in a certain area. They will identify the top contenders and introduce Hines to these companies. We learn about the product or service, sometimes conduct pilots, and come back to Fifth Wall with our opinion from a use perspective. Another significant value-add has been the conversations among the anchor investors. Those relationships I've created have proven to be some of my most valuable ones.M: Are there any particular tech applications/product categories that you are particularly interested in?C: We are heavily focused on anything that improves the service and flexibility we can provide to our tenants or clients. We also focus on the best tools to make us more operationally efficient as an organization. But while new tools can be helpful to our teams, we also know onboarding these new tools takes our colleagues away from their primary responsibilities temporarily. As such, we are very selective and cautious with those maneuvers.M: Hines has always been recognized as a leader in the commercial real estate industry and a real bellwether that others follow. In that regard, do you think that technology will play an even bigger role in your future plans?C: Gerald Hines says he has seen more change in our industry in the last five years than the entire twenty-five years preceding that. And I think most of us agree that the upcoming years will be even more transformative for the real estate community. Advancement in technology is a primary driver of that change. At the same time, the volume of new technology initiatives and companies being created is moving at an unsustainable pace. We continue to challenge ourselves not to take on new technologies for the sake of using something new, but instead focusing only on the items that deliver the highest value to our firm, our investors, our tenants and our employees. We believe this balance will help us lead the industry through that change.M: If you were going to give some advice to another developer/landlord that was thinking about investing in tech, what would you tell them?C: With the recent increase in the number of startups in the real estate space, picking the right real estate technology solution is incredibly difficult. Whereas many of our peers and competitors have expertise in real estate investment decisions, not many of us have the skills necessary to vet through the large number of newer technologies in the same way we would find or identify the next deal. Therefore, finding a partner like Fifth Wall helps mitigate the risks. And from a competitive perspective, any developer/landlord who is not focused on what these newer technologies can bring to their organizations, need only look at the list of companies who were at one point listed on the Fortune 100 and are no longer in business because they thought that the status-quo was sufficient.
Mr. Kuntz serves as the firm's Innovation Officer and is responsible for tracking and examining the viability of the most innovative building design, building technology, and real estate technology overall in the industry and implementing the newest ideas and thinking on every Hines engagement. Since joining Hines in 2007, Kuntz has contributed to the development, acquisition, asset management, financing, marketing and disposition of more than eight million square feet of commercial real estate, most recently including Salesforce Tower and 33 Tehama in San Francisco.
Kuntz earned his BA in English from Georgetown University and his MBA from The Tuck School of Business at Dartmouth College.
WANT MORE CONTENT FROM MICHAEL? CHECK OUT HIS #TALKSHOP AND ON THE STARTUP ROAD SERIES!