Marketing Real Estate Tech 2.0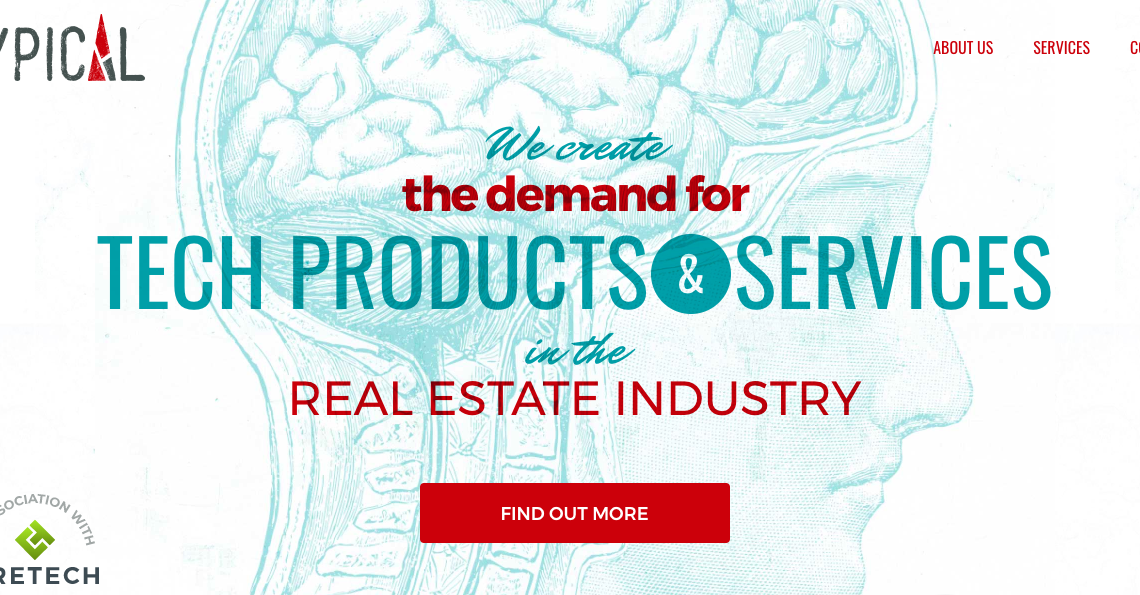 I have been involved in the marketing of commercial real estate for almost 30 years. When I hear that number, it's actually crazy how long i have been focused on helping real estate companies market themselves. And through the years it's amazing how much has changed from the days of newspaper and magazine ads to direct mail, banner ads and PR, and now social media.
The one thing in marketing though that is constant is change. Marketing is ALWAYS changing and evolving. But unfortunately, I don't always see my friends in the marketing, PR and media sector evolving as much as I think they need to be to keep up with the changes happening in technology and in the business world itself. It's crazy to me how much the thinking and tactics are still so antiquated.
That's one of the reasons I was so impressed when I met Mark Kalkwarf and he shared with me his plans for his new company, ATYPICAL. ATYPICAL is a really innovative, creative and leading edge marketing shop that is focused on the CRE Tech sector. When I found out even more about what he was building, I knew immediately that I wanted to partner up with him and his team. It was the perfect compliment to our already fast growing blog creation and social media platform.
I spoke with Mark about his new company, our JV and a bit about him personally. Here are the excerpts...
Michael: Why did you decide to launch ATYPICAL?
Mark: I have been part of the CRETech community for many years, trying to market and sell technology solutions to real estate organizations. Over the years I got bored and frustrated with the lack of creativity and engagement in the industry. It felt like tech sales and marketing was following a specific set of rules, rules that had not been challenged in a while. As the head of marketing at Open Box at the time, I felt like I needed to shake things up a bit, so we started to experiment. We put the rules to one side and took a fresh look at everything we were doing. We ran with the ideas that scared us the most and the response was amazing. It was clear that the industry was craving the same things I felt were missing. It was at that point that I decided I wanted to take lead in rewriting the rule book. I put the business plan together, got some funding and registered the domain atypicalcompany.com. Fortunately, my entire creative team and business partner Skye van Aswegen bought in to the vision and joined the company.
Michael: How is ATYPICAL different from other sales marketing and strategy firms?
Mark: We work exclusively in the CRETech space, meaning that we only provide our services to technology companies targeting the real estate industry. We believe that the combination of our technology background, marketing know-how and real estate experience gives us the ability to deliver a premium solution to our customers. In addition, we are constantly looking to push the envelope and challenge the status quo which means our customers are always getting something a little different.  
Michael: What strategy do entrepreneurs miss when building their sales and marketing plan?
Mark: I believe that the biggest mistake entrepreneurs and corporations make is seeing sales and marketing as two different functions. Sales is seen as being responsible for revenue growth and marketing for brand management. The two functions are run independently with little or no synergy. This is a huge mistake. The buyer journey starts with marketing and ends with sales and every action needed to progress your prospects along that journey needs to be a well-defined collaboration between marketing and sales.
Michael: What's appealing to you about the commercial real estate technology industry?
Mark: You have a real need for technology adoption on the one side and a booming supply of innovative technology solutions on the other. What excites me is the part we can play in bringing those two sides together.
Michael: We're excited about the services our partnership brings to the commercial real estate technology industry. In your words, what do you think tech companies will gain from our venture?
Mark: When we first started exploring this partnership, the most important thing from both sides was customer experience. We have structured our joint service offering with that as the centerpiece. This partnership gives tech companies access to some of the best sales marketing professionals in the industry and the ability to augment their existing team. We've created the opportunity for tech companies to work with one team to execute their entire sales marketing strategy and the experience will be remarkable.  
Michael: What are you doing when you are not at work?
Mark: Well my wife and I have 3 boys so when I'm not at work I am often:
Trying to figure out the controls of the latest Xbox game (8-year-old)

Trying to remember all the words to the Frozen soundtrack (4-year-old)

Trying to look excited about reading 'pop-up peekaboo' for the 100th time at bedtime (2-year-old)
With the little time I have left I enjoy traveling, experimenting with expired 35mm film photography, reading books about how smart people have done amazing things and watching Arthouse films.
Mark comes from a technical background, starting his career off in software development. Over the last 16 years he has acquired a deep understanding of technology, business strategy and marketing. The combination of his creative thinking and entrepreneurial spirit results in him approaching things from a very different angle. Before starting ATYPICAL, Mark was the head of marketing at Open Box, a global real estate software & services firm.