One Person I Wouldn't Bet Against in CRE Tech…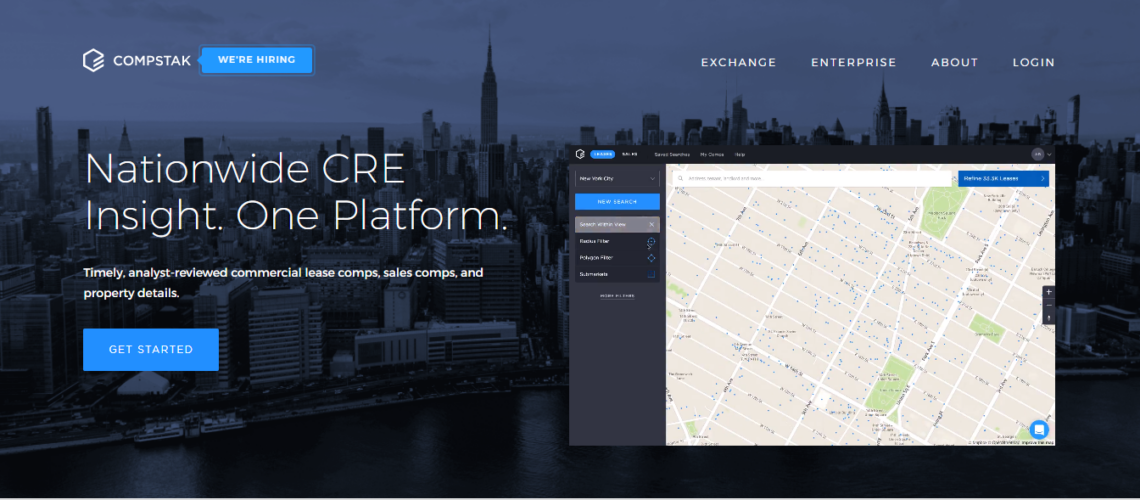 Q&A with Michael Mandel, Co-Founder & CEO of CompStak
Michael Mandel was one of the first guys I met in CRE Tech about five years ago. First impression… he was smart, had a vision and new the space. But you really never know if someone has the "chops" to succeed in being an entrepreneur until they get tested. A lot.
Five years later Michael is still standing. And thriving! I am sure his company has been through many twists and turns (like all of us). I am sure that only he and his team know the true struggles of building a startup in this space. But clearly they are doing a lot right as their site keeps evolving, growing and WINNING!
I have always been a big fan of Michaels and remain very appreciative of his leadership in this young industry. I root for the success of CompStak and as a result, I do all I can to help promote them. They seem to have built the the classic "win-win" culture… they support others and in turn, others support them.
So when I read their recent news about their announcement with Moody's I thought, "Here they grow again"! :)
Here are the excerpts of our recent conversation...
Michael Beckerman: What is the background on how this venture came about?
Michael Mandel: We first connected with Moody's Analytics a few years ago, and then reconnected earlier this year. As our conversations progressed, we realized that there are a lot of opportunities to leverage our relative data-sets to build products that would expand the customer base of both Moody's Analytics and CompStak. The timing was right this year for the investment and partnership, as Moody's has built out a new Emerging Business Unit that has identified CRE as a strategic priority for the company.
MB: How does this announcement benefit each company? And, more importantly, how does it benefit each of yours customer bases?
MM: From CompStak's perspective, it increases our exposure within the risk space, where Moody's Analytics' brand and products are incredibly strong. In the near term we see this as a tremendous opportunity to expand our presence among our existing bank customers, while also broadening our customer base. Longer term, we're very excited by the opportunities created through the new products that our companies will build together. Leveraging the combination of Moody's data sets with CompStak's data sets will provide for new products that we think will be very special. We'll have more to come on that soon :-).
I won't speak to Moody's Analytics, other than to say that I know that they're excited to grow their presence within the CRE space, and working with CompStak will give them a tremendous opportunity to do that. Additionally, if all goes well, CompStak's data will help make Moody's Analytics risk models even better, and will become part of the foundation of MA's initiatives in CRE.
MB: In the short term, how will the partnership work?
MM: In the short term, you will hopefully see CompStak's data allowing for more accurate risk modeling within Moody's Analytics' Commercial Mortgage Metrics product. I think you'll also so some interesting new things at the intersection of CMBS data and CompStak leasing data. We have some other pretty exciting products in the works, but we'll keep those under wraps for now.
MB: Looking out longer term, are there plans to jointly develop new products together?
MM: Absolutely! We've already gotten started on building two new products together, and you'll see some of our data rolled up into MA products soon.
MB: Your niche and strategy has always been to use crowdsourcing to create the most robust data analytics in the commercial real estate space. Is that one of the things that you think attracted Moody's Analytics to Compstak?
MM: In part yes. They were were certainly intrigued by our methodology, and were curious as to how it could be applied in other areas. More importantly, they were interested in our proprietary lease comp database (and now sales comp database). We could never have created such a robust database without crowdsourcing, so while crowdsourcing is certainly our secret sauce, it's the data sets that are created through that methodology that is most exciting.
MB: Does Moody's Analytics currently have a footprint in any aspect of the commercial real estate data space? If so, how will your data complement theirs?
MM: MA is working to grow it's CRE footprint, which is part of what makes this partnership so exciting. Right now, MA's most notable product within CRE is their Commercial Mortgage Metrics product, which is the market leading Loss Given Default model, used by lenders that are looking to understand the risk profile of their CRE loans. While many of your readers may not be familiar with it, it has become an absolutely critical tool in the Risk space.
MB: I know that Moody's also owns several other companies that operate under their corporate umbrella. Are there any other aspects of their company that you will integrate with?
MM: One area of Moody's Analytics that we're very excited to work with, is their Economic team. Moody's owns Economy.com, and their economic data is unparalleled. We're very excited to see how economic trends like job creation, tie to data we track, like lease rates and sales prices. I think that as time goes on, there will also be interesting opportunities to work with the Moody's CMBS data. Moody's is the largest rating agency for CMBS, which means that they have a ton of data at their fingertips.
MB: You have structured several other joint ventures recently. What's the key to making them work and what other types of products/platforms might you be interested in next?
MM: We're still figuring out what works and what doesn't with these partnerships and integrations. Every deal we've done is a bit different, but they certainly become easier to structure as our External API becomes more robust, and our understanding of what works best for us in these deals solidifies. When we are evaluating these opportunities, we have a very simple 3 part checklist:
1) Does this deal present a massive distribution opportunity?
2) Does this deal provide for a lot of guaranteed revenue?
3) Does this deal cannibalize our business in any way?
If the deal doesn't offer either terrific distribution or a lot of revenue, it's a non-starter. Some of both can work too. Then we look at the cannibalization risk. Ideally, an opportunity like this will provide no cannibalization risk whatsoever. However, in the event that the deal does provide some risk, we can often make it work if the distribution or revenue is meaningful enough.
MB: How's business overall at CompStak?
MM: 2017 has been and pretty incredible year for us. We've more than doubled our market coverage, and are now in over 70 markets, 900 submarkets and 8,000 cities. We launched our new Sales Comp platform, and a ton of new product features and functionality. We've set new records for revenue growth, and have continued to maintain a blue-chip roster of clients. Of course our growth in new partnerships and integrations with companies like Moody's, Xceligent and others, should continue to drive our brand recognition, distribution and revenues moving forward, so we're very excited to capitalize on these opportunities.
Michael is Co-Founder + CEO of CompStak. CompStak creates transparency in commercial real estate by gathering information that is hard to find, difficult to compile or otherwise unavailable. The world's largest brokerage firms and most preeminent real estate investors use CompStak's commercial real estate data to compare properties and make investment decisions.
Since launching CompStak in early 2012, Michael has helped navigate the company through tremendous growth, with $20 million raised, 70 markets launched, and a 50 person team. He has been named 30 Under 30 by Real Estate New York, and a Rising Star by The Real Deal.
Michael is a regular speaker on the future of commercial real estate, real estate technology, and data transparency. His speaking engagements include talks for the Urban Land Institute, the CCIM Institute, NAIOP, the Zell/Lurie Real Estate Center at Wharton, the GSAPP program at Columbia University, the Schack School at NYU, Yeshiva University, Drexel University and Babson College. Michael has also appeared on Fox Business and National Public Radio, and has been featured in the Wall Street Journal, Forbes, Bloomberg Businessweek and other notable publications.
Before starting CompStak, Michael led the NY metro data center practice for Grubb & Ellis, where he was named National Rookie of the Year. He graduated Babson College in 2005, where he led the Babson Entrepreneurial Exchange and was a member of the world's first live-in business incubator, the e-tower. Michael is also a proud alum of the 500 Startups accelerator in Mountain View, California.
WANT MORE CONTENT FROM MICHAEL? CHECK OUT HIS #TALKSHOP AND ON THE STARTUP ROAD SERIES!