Q&A With Julia Davis, VP, Global Head of Broker & Real Estate Partnerships at WeWork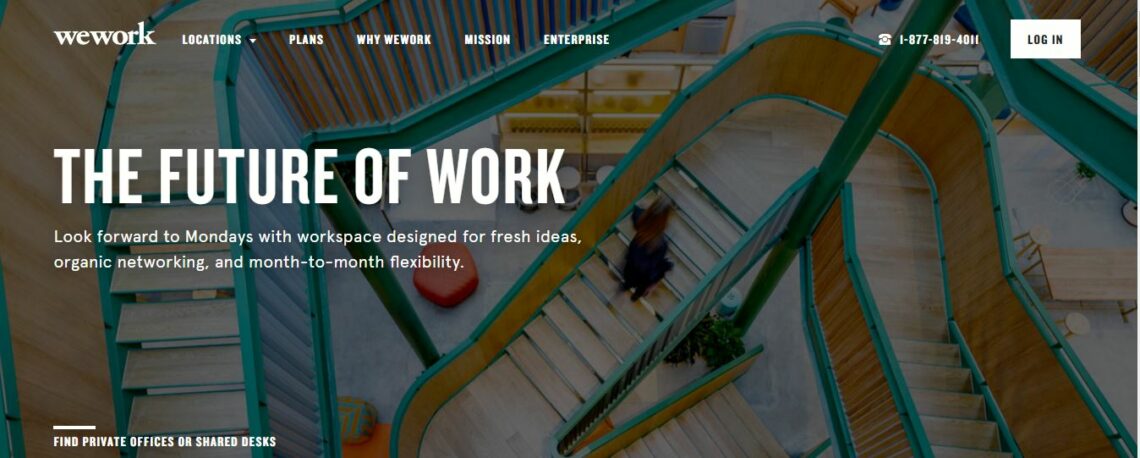 I have a confession to make. I love WeWork! Always have. I think it's just about one of the coolest startups I have ever seen (although I think they are far from actually still being a startup). I LOVE the concept. I love it as a tenant, as someone who is obsessed with tech and space trends, and as an admirer of any company that thinks out of the box.
As someone who used to work in a boring corporate environment (my own) I always hated them. Thought they killed creativity and lacked in intimacy. And then when I joined the tech world with my own startups, I often wondered why there wasn't a place where like minded entrepreneurs and startups could work in a creative, less structured and more flexible work environment. And then came WeWork! And for me, it was love at first site. I have so many friends who work in a WeWork location and know tons of startups that do, as well. And now, even some of my corporate buddies do too!
Although, one thing that I never knew about WeWork was how they actually work to support the commercial real estate brokerage industry. I had no friggin clue. And so I reached out recently to Julia Davis who is their VP and Global Head of Broker + Real Estate Partnerships to learn all about how they work closely with brokers across the country to support their own tenants requirements. Julia is the real deal. She COMES FROM BROKERAGE and gets how the sector works and the importance of building alliances and trust with the real estate community. I was really, really impressed!
I met Julia in NY at their Corporate headquarters to learn more about how they work with the brokerage community… here are some excerpts of our conversation.
(BTW if you want to hear an amazing podcast on how WeWork came to be, listen to one of the Co-Founders give a fascinating overview of how they came to be here.)
Michael: Tell me about your background and what attracted you to WeWork?
Julia: Most of my (16-year) career has primarily focused on commercial real estate, spending seven of those years with JLL in a variety of roles including tenant representation, landlord representation, transaction management, and marketing. Most recently, I was with a real estate tech startup where I launched and led the San Francisco market, as well as developed and built out the real estate and expansion team.
WeWork is the perfect coupling of my past real estate experience and my desire to be a part of something with an entrepreneurial spirit. The energy is palpable. For me people are always a big part of my career decision. On one of my rounds of interviews I met with 6-8 different WeWork employees, and I was struck by the passion that all of them had for the work they were doing, the idea generation, open-mindedness and of course, intelligence. I knew that they were a group of people that I wanted to work with.
I don't think she would mind me telling this story, but our COO, Jen Berrent, spoke at one of our breakout sessions on Employee Day last year about Culture. One thing that resonated with me was that she has a personal mission statement, and as she is making both personal and professional decisions, she looks to make sure it is aligned with that statement. While I don't have a dedicated mission statement, I do have core requirements and WeWork really met all of them.
M: What is your specific role at the company?
J: I am the Global Head of Broker and Real Estate Partnerships and Referral Programs at WeWork. My team is responsible for the business development, management and operations surrounding the Broker Partnership and Referral Programs. Additionally, I spearhead strategic partnerships and initiatives with external real estate partners.
M: How does WeWork work to support the commercial real estate brokerage industry in particular? How does it actually work, say if I have a tenant and I think they are ideal for a WeWork solution?
J: The WeWork Broker Partnership Program rewards brokers for the introduction of clients to the WeWork community. Brokers can introduce a client, own the relationship and be compensated regardless of how involved they are throughout the process. Our goal is to be great partners to the brokerage community by building and nurturing relationships and offering solutions to our real estate partners and their clients - our members.
There are three accepted methods of broker client-member ('lead') submission:
Online submission - brokers may register a personal profile at wework.com/brokers and submit client details under the "Introduce" tab autonomously
Email submission - brokers may email brokers@wework.com and/or the local Sales Lead / Account Manager to provide client details
Sales Lead / Account Manager must then create a lead online within the portal manually
Phone submission - brokers may call my team 844.557.0832 and/or the local Sales Lead / Account Manager to provide client details
WeWork team member must then create a lead online within the portal manually
M: Can you provide some specific examples of transactions you have done with brokers? Or maybe some of the specific brokers who you have worked with?
J: Here are a few of the many broker led deals that we have completed in 2017:
Dynamo Technologies at WeWork Tysons in the DC Metro area for 72 Desks. Broker: Paul Graham with Colliers. Dynamo is the largest member at Tysons, and they've grown significantly since coming into the space.
GE Transportation at WeWork Fulton Market in Chicago for 35 Desks. Broker: Todd Lippman with CBRE. GE rotated multiple departments through WeWork to expose them to our community and environment.
Wingz Software at WeWork Civic Center in San Francisco for 33 Desks. Broker: Matt Manteuffel, CBRE. Matt signed this tech company as a three month swing space deal, while waiting for their custom buildout to be completed.
Dubset Media at WeWork Embarcadero in San Francisco for 20 desks. Broker: Marie Philips, Instant Offices. We have a strong relationship with Marie.he consistently brings in deals and is an advocate of WeWork. Marie worked with Dubset, a DJ marketing company, to find their permanent outpost and home at WeWork Embarcadero.
Mizuho Securities at WeWork 300 Park in New York for 59 Desks. Broker: Matthew Barlow with Savills Studley. Mizuho grew from 41 desks in May 2017 to 59 desks in July 2017.
M: What markets are you most active in and what are your expansion plans as a company?
J: WeWork currently has 130,000+ members globally, 156 physical locations, in 49 cities and 15 countries (includes announced locations). In June 2017, we opened 7 new buildings across 7 cities.
Our most recent growth is in Latin America and Asia. New York City as a market still contains the greatest number of locations for us. As a company, we are looking to scale in many of our existing markets, as well as consider expansion into other countries and markets.
The Broker Partnership Program is operational in all of our regions.
M: Any new initiatives you are rolling out?
J: As a company, we are always looking for ways to improve and grow. In my role specifically, I am looking at ways that we can further develop our relationship with the real estate industry and grow our Member community.
Don't forget to come meet me in Los Angeles on September 28th and New York on December 7th for CRE // Tech! Tickets are on sale now!
WANT MORE CONTENT FROM MICHAEL? CHECK OUT HIS #TALKSHOP AND ON THE STARTUP ROAD SERIES!