Storefront Is the Textbook Example of How to Build a Marketplace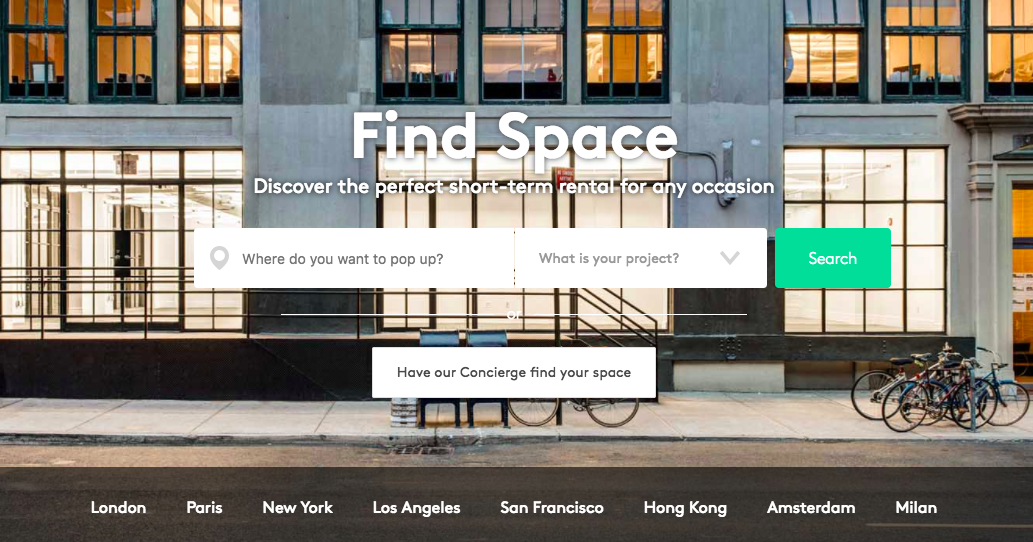 Q&A with Arnaud Simeray, VP of Partnerships at Storefront
I have been an admirer and follower of Storefront since they entered the CREtech industry. They were one of the first startups I met when I joined the sector. And clearly, they were also very early in the short term/pop-up leasing phenomenon. To watch their growth and evolution since then, as well of the entire short-term leasing sector, has been truly fascinating.
I recently caught up with Arnaud Simeray, VP of Partnerships at Storefront in New York and here are the excerpts of our conversation...
Michael: It's been a few years since I connected with Storefront. What's been the evolution of the company over the past few years?
Arnaud: Storefront relaunched in 2016 and merged with the PopUp Immo, the European leader of pop-up stores, to create the first and only global marketplace for short-term retail and pop-up spaces. We've since expanded to 6 countries, opened an office in Asia, and continue to grow rapidly in the US. We move into our new HQ in Soho in 2017 and continue to bring in talented minds.
M: What were the big lessons learned along the way in scaling your startup in the real estate tech sector? Any particular major evolutions on the product or platform?
A: Real estate was (and perhaps still is) one of the last "old industry" without a real digital transformation. First it was all about education and it continues to be so the real estate players understand the ROI in tech. Our product evolves constantly and as we look to release a new "MVP" at each cycle, we work hand in hand with our real estate partners to ensure the product is aligned with their needs.
M: How would you describe the platform today and how many markets are you in?
A: Simply put, the Storefront platform is a global marketplace where retailers and brands can book a retail space as easy as booking a hotel room. We've built ourselves to be a marketplace truly scalable where the renters, landlords and Storefront can interact and "match" within just a few days, even for longer leases such as a 1 year deal. This has allows us to continue to grow and be present in 6 countries over 3 continents.
M: What are the pain points your are solving?
A: The reason why Storefront exists comes from two strategic fundamentals: first, that the current way of searching, finding, and leasing a commercial retail space is complex, slow, expensive, non-transparent, inefficient, and with too many parties involved. It is a painful process that only a few brands can afford since it's traditionally required a 10 year investment. Further, by making this process easier and more affordable, now digital-first brands have more access to physical retail spaces than ever before.Second, brands do not want to commit for 10 years anymore. They want flexibility, to test a new market or area, and to create a retail experience that can change every month, based on current trends, holidays, etc. Storefront exists to help them find the short-term space they are seeking.
M: Who are some of the brands on the platform?
A: We've worked with all kinds of brands including Nike and Netflix, from big-box retailers, to ecommerce brands, to start-ups and burgeoning artists and designers, across all types of budgets, space sizes, and layouts. We helped launch Everlane's first pop-up store and venture into brick-and-mortar, worked with JCPenney to rebrand into Jacques Penne for a holiday pop-up store, and have also launched key digital brands like MM.LaFleur, OBEY Clothing, Master + Dynamic into physical spaces.
M: What's the concierge service and what other types of value add services are you now providing brands?
A: We are the go-to platform and resource for any brand looking to do a pop-up store, whether it's for few days, a couple weeks or several months (up to 1 year in the US). Our concierge team helps brands understand the entire process and strategy behind opening your pop-up store, by understanding the goals of any brand, whether it be boostings sales, meeting customers, testing a new market, or launching a new product.We also help transition eCommerce brands to the retail world via pop-up retail who eventually move on to permanent locations (we helped put on Everlane's first pop-up store in NYC and now they are opening brick-and-mortar stores across major cities in the US).
M: When Storefront started it was one of the first in the short term and flexible leasing sector. Now it's a very crowded and competitive space. Where do you see this sector today and in the future?
A: We love it! According to 2016 statistics from PopUp Republic, a retail marketing database, short-term retail is a $50bn+ sector and keeps growing, so there is room for many players. We continue to be the world's largest one and focus on keeping a pulse on the evolution of the market so we can develop our marketplace accordingly. Many small players started to emerge on a regional or city level but we feel strongly about Storefront's present and future.
M: What does the expansion strategy look like?
A: Storefront started in the US and France, then expanded into UK, Netherlands, Italy and Hong Kong due to market needs. In the US, we are leading in NYC, LA, Miami, SF and Chicago with a strong presence. We recently launched Texas, starting with Austin. We are looking to rapidly expand in new cities in 2018, based on the market and the needs of our brands, and the response so far has been phenomenal.
Arnaud spent over 10 years in the retail and real estate industries, growing brands and driving sales margins for high growth organizations and startups. He recently joined Storefront, the world's leading online marketplace for short term retail space, as the Vice President of Strategic Partnerships. Storefront currently has a portfolio of over 100,000 brands and retailers helping them launch pop-up stores, events and activations.