THE CONTENT MARKETING KING!
Ok ok, I might be a bit of an exaggerator with this one but honestly not too far off. Allen Buchanan is a great friend of mine and one of the first people I met in the CRE tech sector. And he isn`t even in the tech sector!!! He is one of the leading industrial brokers in the country, BUT he is beast when it comes to social media, content marketing and understanding all things CRE tech. I am a loyal follower of all that he does and I draw a great deal of inspiration from his posts, ideas and insights. If you want to learn from the best in real estate content marketing, follow Allen. He is that good. He is perhaps the best example of how real estate professionals should be marketing themselves in this new digital world.
And he is just an awesome guy to know, regardless. A true legend in the industry!
We caught up on my recent trip to Los Angeles for CRE // Tech and talked content marketing and social media, subjects he is extremely well versed in.
Here are the excerpts...
Michael: How has social media and content marketing helped your business?
Allen: In a word VISIBILITY! Folks shop differently today – whether for toothpaste or brokerage advice – you go on line, complete your research, figure out a way to have it delivered – all without leaving home and press "purchase". If done correctly, social media and content marketing create a huge digital footprint from which folks in the market for your stuff can easily find you.
M: What are some of the tools and tactics you use that have been most effective?
A: We use all of the social media platforms to market our content. The tough part is the creation of said content as we create 100% of the content we market. Blogger is our blog platform of choice because its free, easy, and owned by Google. YouTube houses all of our video content because – yes! It`s free, easy, and owned by Google.
M: Do you utilize traditional media as well? If yes, how so?
A: Yes. Our blog is published in the Orange County Register weekly on Sundays. We also mail postcards.
M: What advice would you give a real estate professional who wants to get active in social media and content marketing?
A: Start small. You don`t want to burn out. You can always ramp up – it`s tougher to throttle back. Learn from those of us who pioneered the CRE content marketing space – Coy Davidson, Duke Long, Michael Beckerman, Sarah Malcolm, Linda Day Harrison, Howard Kline, Andrew Bermudez, Jeremy Neuer, Ken Ashley, Michael Bull, Barbi Reuter, and others. We ALL approach it differently but with similar results. Consistency is much more important than anything else you do. Always be authentic!
M: Have you always been active in your career promoting your own business and your team? What were some of the things you used to do in the past that helped in that regard?
A: Yes. When I was in corporate America, you had to promote yourself in order to stand out. Once I started brokering real estate, you must market yourself, your listings, and company in order to – yes! Stand out. I like press releases and have used those historically to market. I also enjoyed clipping a timely article or notice of a promotion and sending those to clients and prospects. I became very entrenched in network marketing which was an easy transition into content marketing. The principles are the same – you must give before you get!
M: How do you find the time, and the inspiration, for being so consistent and informative with your content and social presence?
A: I am fortunate to channel my thoughts onto paper or video. Tis saves editing time. Our social is automated and we re-use templates – which I believe adds to the consistency. I learned to "work out loud" – the things I encounter and accomplish each day become a new blog post or TUESDAY Traffic Tip VIDEO topic.
M: Are they new tactics or social platforms that you are now embracing or considering using?
A: Facebook Live is something I like and with which I am experimenting. Video tours – especially drone footage is powerful. VR is making its way into our world. Predictive analytics will funnel – no pun intended – our prospecting in the very near future.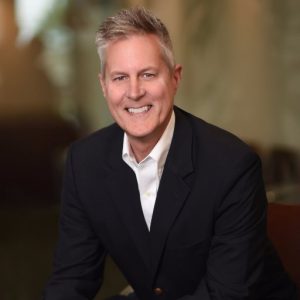 Allen C. Buchanan is a commercial real estate broker, author, and speaker. Allen joined Lee & Associates Commercial Real Estate Services, Inc. - Orange in 1984 after five years in the consumer goods business with Procter and Gamble Distributing Company and the E and J Gallo Winery. Allen has spent his real estate career in the industrial arena in Southern California, specifically Orange, Los Angeles, and Riverside Counties. Allen provides location advice to owners and occupants of industrial real estate. Allen became a shareholder in Lee & Associates Commercial Real Estate Services, Inc. – Orange office in 1988. Allen is continually recognized as a Top Five Producer of the Orange office.
In addition to being a highly regarded broker of industrial real estate in California, Allen has been a distinguished voice in the commercial real estate social media and technology community since he started his Location Advice blog in 2010. Allen`s posts are published weekly in the Sunday Real Estate Section of the Orange County Register, Orange County, California`s daily newspaper. Ever the forward thinker, Allen is the creator of the popular YouTube video series Tuesday Traffic Tips where he creates weekly, 1-2 minute clips offering pragmatic advice for commercial real estate professionals. Allen has been named to the prestigious Top Ten On-Line Commercial Real Estate Professionals List for the past three years.