The Most Significant Change To The Office Sector I Have Seen In My 30 Year Career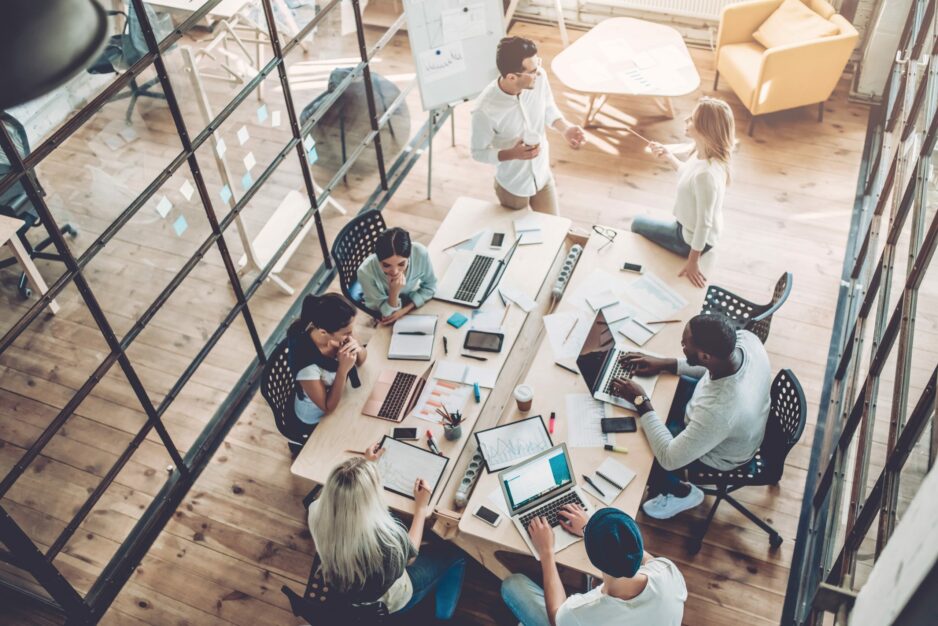 Space as a Service Headwinds Grow Stronger by the Day
A long, long time ago...
For as long as I can remember, the commercial real estate industry had five core pillars: office, retail, industrial, multifamily, and hospitality. As decades passed, each subsector of the real estate industry saw few significant changes. This stagnation was especially apparent within office buildings—they were usually multi-story and multi-tenanted. Of course, trends did come and eventually pass—massive suburban campuses come to mind, and urban high-rise developments, too. But those were less trends, per se, and more real estate cycles based on macro social and economic trends. Throughout it all, the office building itself has never really evolved. Sure, floor plates have varied in nature, but for the most part, core areas and access look like they did in the 1950s. And what's more, building operations and management haven't seen much innovation either.
The office building was ripe for change. 
The office building was ripe for change. And not just another trend, but after this long period of outdated ideas operating buildings in a modern world, there was an opportunity for a reconceptualization of what it meant to offer Space as a Service (SPaaS).
And then came WeWork!
At a time when traditional landlords were happy to maintain the status quo, reaping profits from a model proven over decades but without taking risks, WeWork entered the picture and turned the concept of space utilization and operational focus upside down and inside out. WeWork didn't invent the concept of coworking (far from it), but it surely mastered it. By bringing SPaaS to the office sector of the real estate industry, suddenly, everything was now up for discussion: lease terms, space form and function, and even running office spaces more like hotels than those traditional sprawling offices of the 1950s. Those same landlords who once ridiculed WeWork's business model, giving it a laughable "unicorn status," are now actively competing for SPaaS enterprise tenants.
Tech & the WeWork Effect
WeWork is only a SMALL PART of the story...
WeWork may have caused the biggest shift in the office space sector in decades, but it's just a part of the story—a small part, in fact. While WeWork invented an entirely new tenant solution around flexible and "cool" spaces, the real story—and the real opportunity for startups, developers, and operators alike—lies within the changed nature of tenancy. WeWork (and Industrious, Convene, Knotel, etc) catalyzed a shift that has forced landlords to drastically rethink the tenant equation.
My chat with Antony Slumbers.
When I met Antony Slumbers in London recently, I was impressed with his thinking. He nailed it when he discussed the transformational shift in mindset landlords must make—and quickly—or risk getting left in the dust. Slumbers' key argument is laid out in a recent piece he wrote: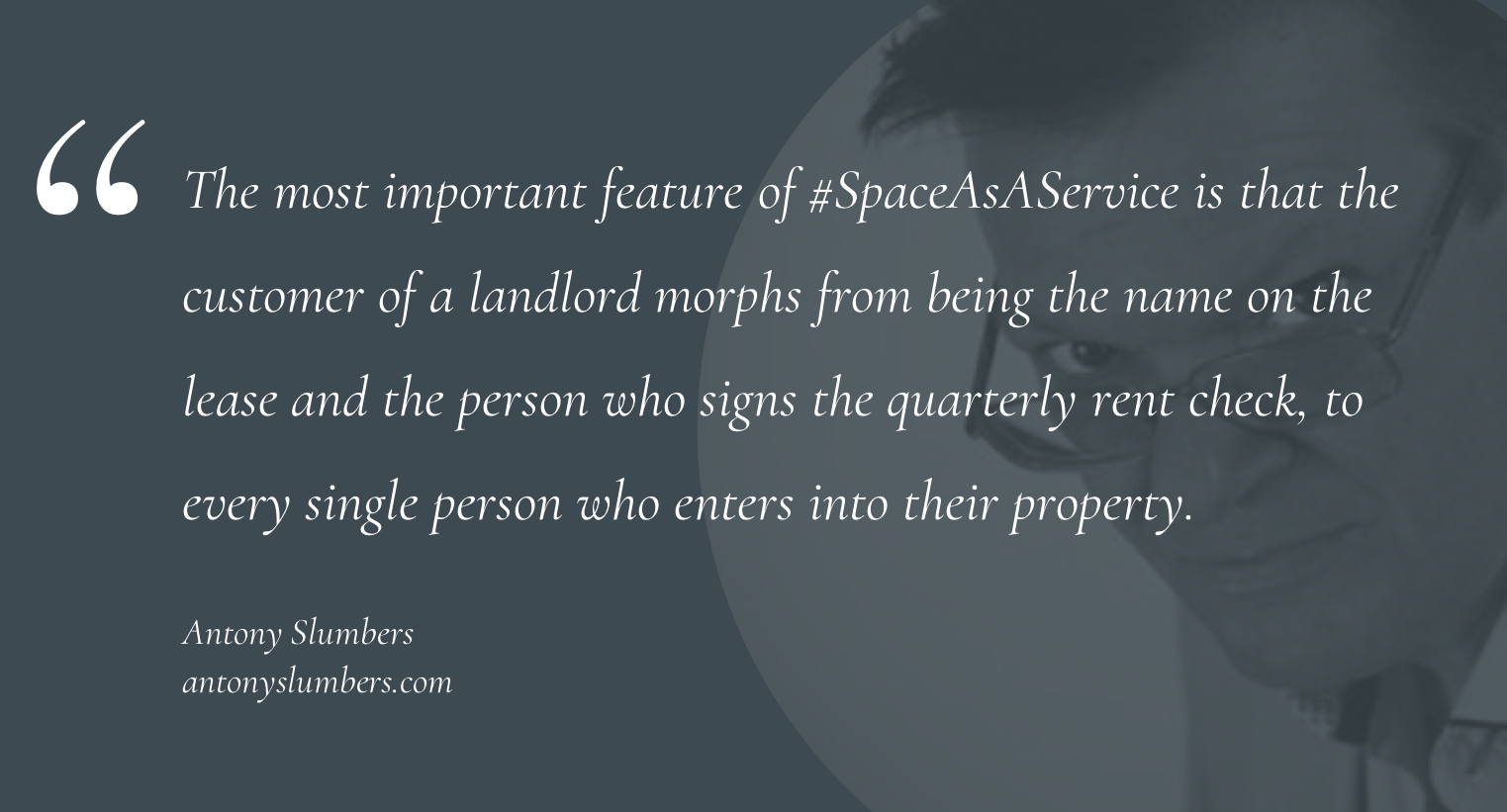 SPaaS is more tech savvy than the real estate industry.
He and I also agree on the fact that SPaaS adheres more closely to the norms and behaviors of the technology industry than the real estate industry. What does that mean, exactly? As these changes take root, the real value and leverage lies within networks and marketplaces. For landlords without the type of network inherent to business models like WeWork, it's harder to reach the top of the totem pole no matter how amazing the space. Companies in the tech world create winner-takes-all scenarios and market domination, but these were traditionally less concrete goals in the real estate world, where no winner-take-all landlord exists within any sector. That's precisely why WeWork is perceived as a long-term threat to owners and operators—WeWork has a global network of spaces that increase in value with every new location. The change WeWork has brought to the real estate industry is significant, widespread, and it's here to stay.
Outlook for Landlords
Soooo how do I react as a landlord you ask?
As a developer or operator, what's the appropriate response? What winning actions and mindsets will succeed in this changed landscape? Even more importantly, perhaps, how will this industry shift continue to manifest?
Well, more amenities, communication and flexibility for one thing.
Going forward, those who find success will rethink the concept of the modern office building. Gone is the Mad Men era of office development. Success hinges on reintroducing offices as hotels more than anything else. This means more amenities. More communication. More flexibility. More individualized control of the environment. You must reimagine the physical configurations of your assets with room for coworking, common areas dominated by food, and, perhaps, retail.
But don't you dare leave out tech.
Alongside all of that, you certainly can't leave out the tech component, the apps and CRETech startups enabling you to cater to the expectations of these new tenants. The potential within office buildings is enhanced and augmented by technology services allowing a tenant's employees to feel more more like guests than factory floor workers. A few of the tenant engagement apps and platforms providing developers off-the-shelf solutions include:
Success, however, is not just about what apps to integrate and "plug in"—it's about how you reevaluate the entire building from a design, functionality, and underwriting perspective.
Read the writing on the wall.
Many landlords are already reading the writing on the wall: innovate with the times or become obsolete. CBRE Research released a report titled "UK Landlords & Investors Embrace the Flexible Revolution." A staggering 77% of their participants are currently considering a form of flexible space provision, and 35% of landlords surveyed indicated that they intend to self operate their flexible space. That's bearing out in the UK, and also in the States, where developers among the 35% include Boston Properties, which offers a dedicated flexible space service called FLEX.
Tishman Speyer is also on the forefront of change
With Zo, a suite of service offerings for tenants (and their employees). Zo is a comprehensive suite of wellness, lifestyle, and corporate services. Speyer launched the service at Rockefeller Center last year, and Zo is now offered throughout its massive portfolio. (For a taste of that scale, understand that Rockefeller Center alone has a workforce of up to 30,000 across more than 300 companies; and in New York City, 80,000 people work in Tishman Speyer buildings).
Large corporations with scale and density have been offering amenities and services for years, but Zo has made them accessible to any and every tenant in a Speyer building. CEO Rob Speyer gets it: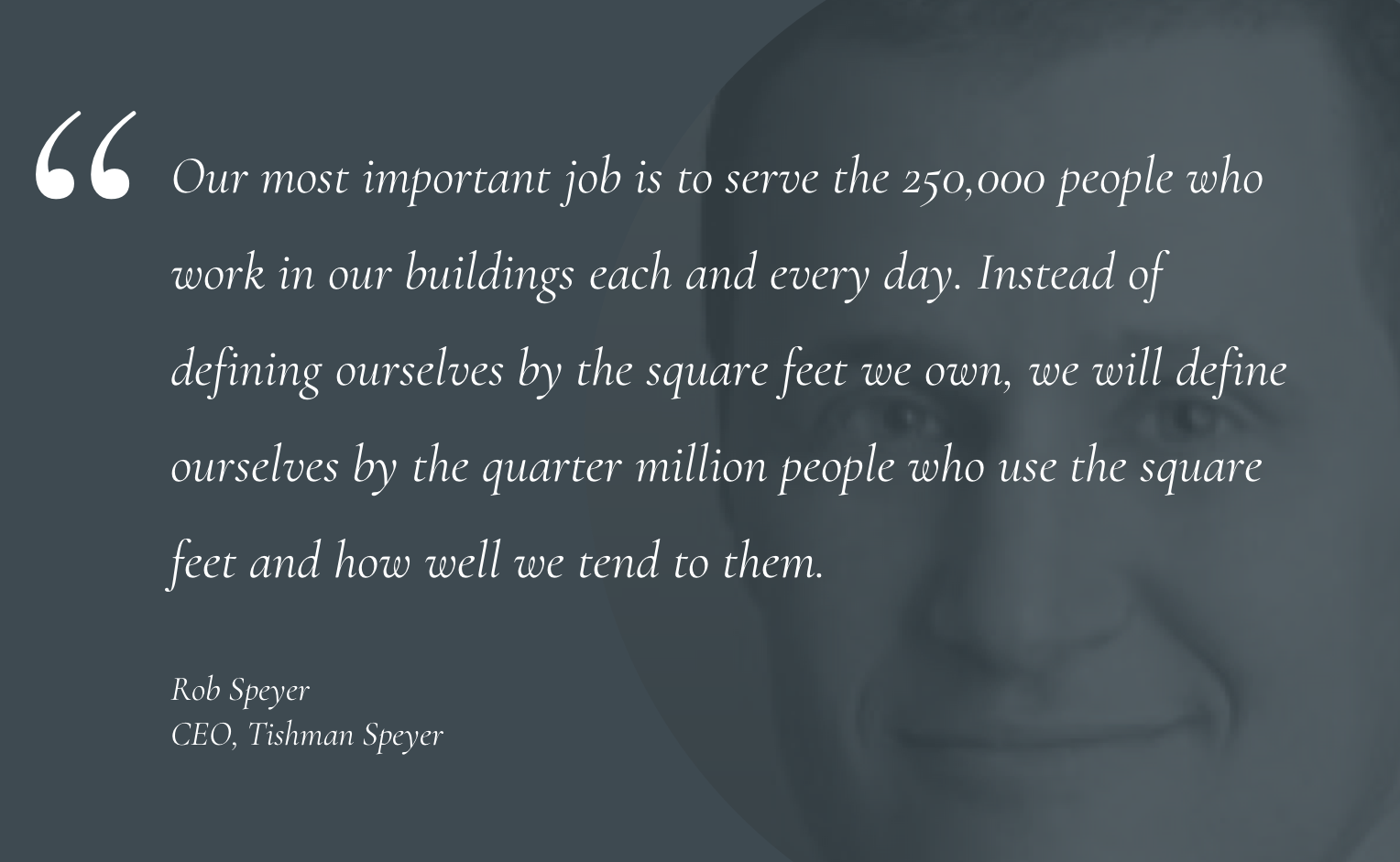 Looking Ahead: Where the SPaaS Headwinds Will Blow
I met Dror Poleg, the owner of Rethinking Real Estate, on my recent travels. He believes traditional real estate assets must transform in order to remain relevant. From his perspective, experiences are the future: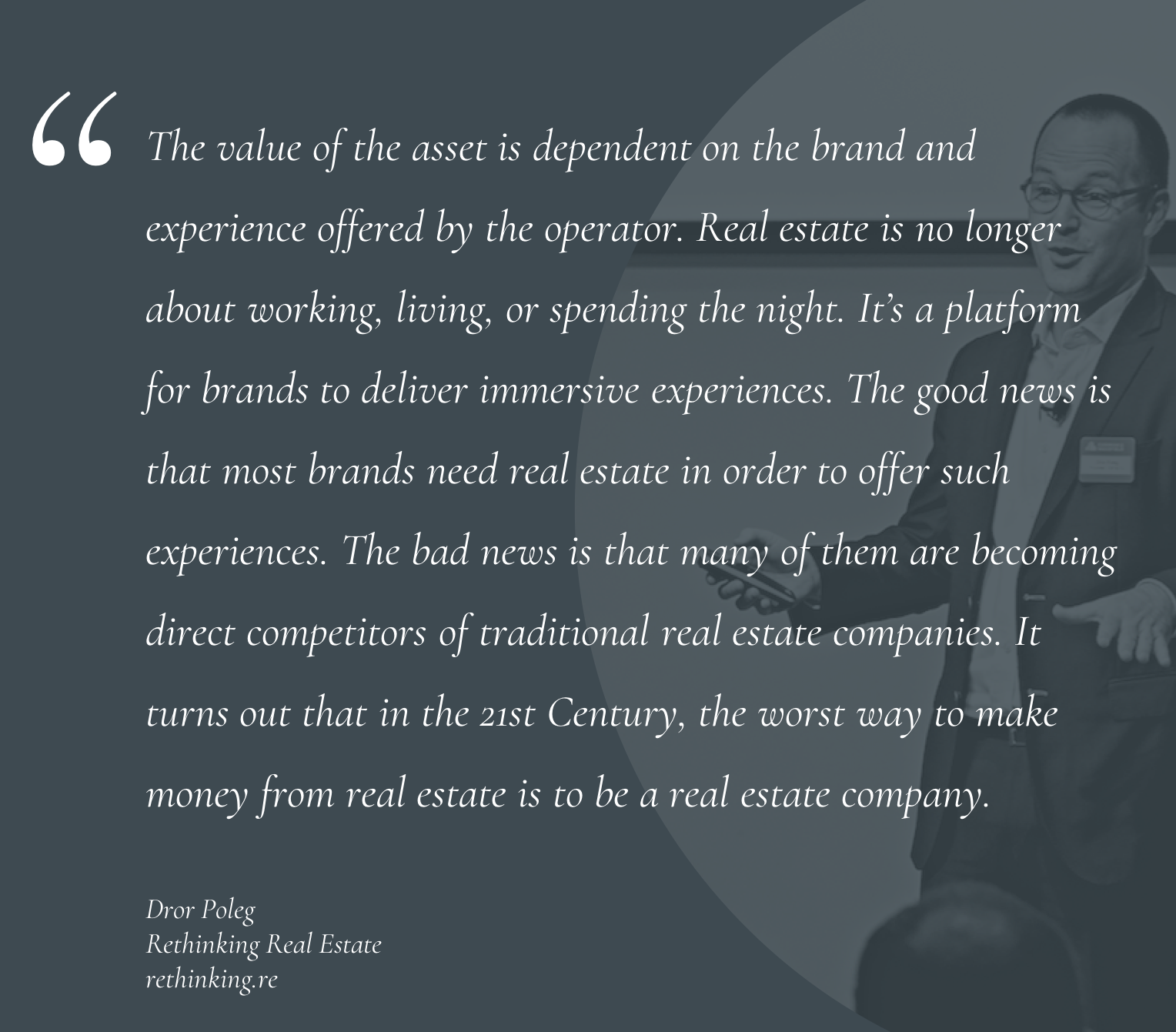 The needs of the tenant paying the rent check is no longer shaping the evolution of the commercial real estate industry. Instead, the most important clients are those actually utilizing the space—employees (both current and prospective), their friends, customers, investors, and business partners. What do they need to think, feel, and experience while in your space? Experiences make happy people. And without happy people using your space, your business is operating on a precarious path to obsolescence.
Another thought to contemplate:
Future "office landlords" may not even own the physical asset, as in the WeWork model. I can imagine a world with two classes of office real estate companies: one that owns the building, and the other that provides services and acquires occupants. That would adhere more closely to the current hotel sector, where Marriot and others mere operate the buildings but someone different owns them. In that same vein, office tenants may one day select  operators depending on factors like location or desired brand.
This is beyond a trend, so jump on this train. 
This mindset shift, and the correlated changes occurring to office spaces, are far beyond a trend. It's a seismic reordering of the landscape and the most significant change to the office sector that I have seen in my 30 year career. Will these changes necessitate that owners see less demand for traditional office space in the future? Yes, that just may be the case. But that doesn't mean less revenue for landlords. In fact, it'll likely mean more for those who understand the new paradigm and build their spaces—and businesses—for the future.
Real estate owners and operators must make strategic investments in order to position themselves for the coming world—an inevitable world in which a significant percentage of commercial revenue comes from flexible SPaaS. Practically, that means you must fundamentally shift the way you run, operate, and grow your space to place an emphasis on hospitality first and foremost. Yes, CREtech startups can help you navigate the turbulent waters—certainly create strategic partnerships where it makes sense. But these startups and plug-and-play products are not the entire solution. As in every other industry, there is no silver bullet.
Change is upon us.
In the coming months and years, an increasing number of landlords will take a more holistic approach to commercial real estate by offering flexible spaces, tailored services, and highly functional designs. Those who embrace the change will succeed and prosper.
Those who do not, will perish. Choose wisely.