The Top Ten Things I Learned from CRE // Tech San Francisco…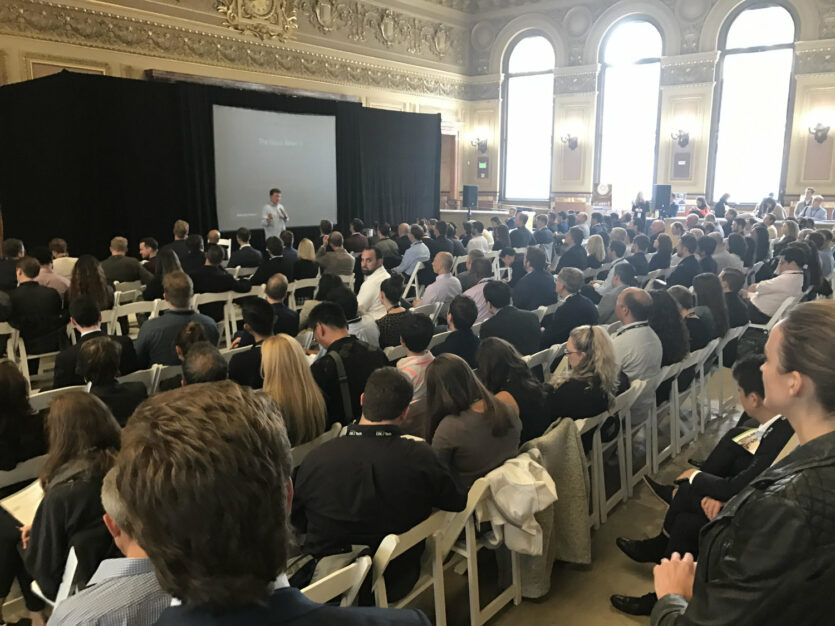 WOW! What an amazing event last week in San Francisco! This was our first CRE // Tech event since we acquired the platform earlier this year. Nearly 400 were in attendance. Amazing group of startups on hand displaying their cutting edge technologies. Tenants in attendance. Tons of brokers from JLL, Colliers, CBRE and Cushman & Wakefield, among others. Developers/owners. Lenders. Service providers. Bloggers. Thought leaders. And so many more industry sectors represented. A packed house, standing room only!
Here are my top ten takeaways from our event:
1. There is real momentum in the CRE tech cycle. Our attendance was up 50% from last years CRE // Tech event. Not sure there has ever been an event as large as this devoted just to CREtech!
2. Brokers and owners are starting to get engaged. Just looking at the attendee list reflected that there were more users than tech people. This is a great sign.
3. Startups are generating revenue and making progress. Talking with many of the startups, many are reporting that they are experiencing real user and revenue growth.
4. My friends at JLL (Jak Churton, Tom Poser and Hillary Hogan) are positioning themselves and their firm as real thought leaders in the real estate tech space and investing heavily in marketing, as well. Seems to be really paying off as evidenced by the amazing panel of tech tenants they put together.
5. Big names in the tech and real estate world are taking notice of what's happening in the CRE tech space as evidenced by our amazing list of speakers from Facebook, AirBnB, Salesforce and WeWork.
6. Ten-X is all about the data!!! Maureen Waters, CMO, spoke at length about how their emphasis and investment in big data really positions them well to continue to grow at an astonishing pace.
7. WeWork plays very nice within the real estate industry. You might assume that having nearly a billion dollar valuation, a company like WeWork would not be spending and investing in trenches of the real estate industry... but their heavy participation in our event was a clear sign of their brand culture and values.
8. Sandeep Mathrani, is an amazing speaker, thought leader and his company, GGP, is clearly bucking the trend in retail!
9. Tom Byrne is at it again! His announcement that he is joining Property Capsule as CEO is a great sign for the industry.
10. My team rocks! I am truly blessed to be supported and mostly, led, by an extraordinary team of professionals who put together an incredible event. Thank you team. You blew me away once again!
If you missed us in San Francisco, I hope you will join us for our upcoming events in Los Angeles and New York. And maybe even more to be announced. Check out CRE // Tech for details.
Thanks to all those attended and supported us at this amazing event.
Onward and upward...
- Mike