This is what REAL thought leadership looks like…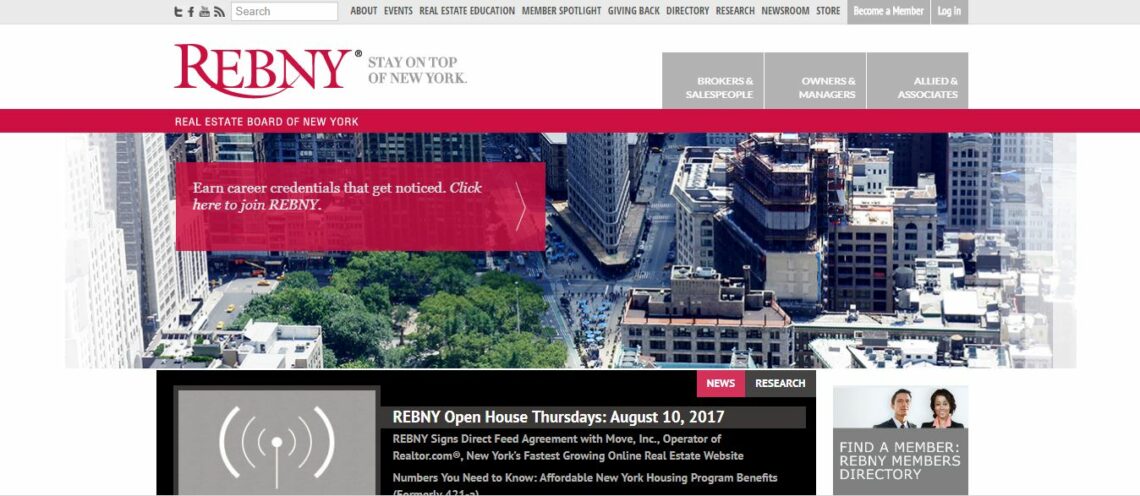 One of the greatest parts of my job is that I get to meet amazing people every single day. People that inspire me, teach me, motivate me and who help advance our industry in so many important ways. Sandhya Espitia is one of those amazing people. After an amazing track record of accomplishments at ICSC where she wore many hats (including the most recent, education), she has recently joined one of the most influential and important real estate trade organizations in the country, REBNY (Real Estate Board of NY) to serve as Deputy Senior Vice President. At REBNY she will have many important roles including managing the new REBNY RLS Syndication platform which is one of the most exciting new tech initiates I have seen in quite some time, as well as education for the organization and its members.
As someone who has spent a great deal of her career on educational issues, Sandhya has become one of the most important people in the real estate sector having helped thousands upon thousands of professionals learn, grow and adapt to best industry practices. More important to me however, is that she is one of the nicest, most accessible and "win-win" people I have ever had the pleasure of connecting with.
Here are some excerpts of our conversation… I hope you connect with her directly.
Michael: Tell me about your new role at REBNY...Sandhya: I joined REBNY this summer as Deputy Senior Vice President. I oversee three verticals: services for commercial and residential brokers, industry education, and the residential listing service (RLS). It is a very dynamic role as it allows me to touch different programs and services our members deeply care about.
M:What attracted you to the organization?S: The opportunity to create something new. While REBNY is committed to building on the great work that has taken place for more than a century, the organization is also very interested in tackling issues that have to do with the future. Such organizational attitude opens the door for thoughtful creation and innovation-- two fundamental principles for me.
M: What are some of the big initiatives you are working on?S: I lead a cross-functional team that focuses on three strategic member-facing areas. My core approach is people, strategy and process. We are working on strategic priorities and some have a deeper sense of urgency. Right now I am working closely with our Residential Listing Service (RLS) team because we just rolled out syndication, which is a service that is incredibly beneficial for the industry and consumers. On the Industry Education front, I am re-thinking how we approach learning as a service for an industry that continues to change and craves innovation; and on the brokerage services front we will be evaluating our portfolio and developing a new framework to design future initiatives. M: Can you describe the REBNY RLS Syndication and how this came to be?S: I actually joined REBNY at a very exciting time. REBNY has been working on RLS syndication for 2 years. There is great intelligence behind it—from industry insiders to staff. RLS Syndication gives our members the opportunity to send their listings to a network of hundreds of public listing websites-- in one click. Syndication allows brokerage firms to multiply listing visibility, eliminate the task of individually uploading listings to aggregators, and keep listing information accurate and consistent across websites so consumers are well-informed to make real estate decisions. It is an incredible contribution to the industry in NYC and while we just rolled it out last week, our ongoing goal is to add all pubic listings websites to the network.
M: Do you see something like this working in the commercial space?S: Absolutely, I think Residential Listing Service Syndication is a great model that can be translated into the commercial space.
M: How can someone get involved in REBNY and your programs?S: REBNY connects people and ideas to advance a collective agenda. We listen to the industry and give our members a platform to be part of matters they are passionate about-- from education to advocacy, and from research to awards. Our volunteer leadership is very strong and positively involved. They have made REBNY a remarkable organization for 120 years. In my seven weeks at REBNY I can say that it is a place for those who deeply care about the evolution of real estate in NYC, so the opportunities to have a voice—through joining committees, events, or advocacy efforts—are real.M: Having spent so much time at ICSC, what were the big takeaways for you that contributed to that organization's continued success, relevancy and longevity?S: ICSC was a place that enhanced my versatility. I had three different roles in four and a half years. I attribute this to having the range of knowledge and experience to take on new roles as organizational priorities shifted. My first assignment was to redesign the professional development curriculum to make it relevant in each global region. That was a fun challenge because I disrupted the notion that knowledge could travel by simply translating North American content into other languages. Some colleagues were not happy with me because I was taking comfort and familiarity away from their jobs. But it worked. My second assignment was to lead all ICSC's efforts in Latin America and the Caribbean. I took over the regional operations during a complex political climate. Managing all areas of the trade association in 15+ countries was an incredible experience. My days ranged from government relations to membership strategy, and from financial operations to industry events-- and all services in between. My team and I had awesome accomplishments. We made ICSC's annual convention in the region profitable for the first time in its history, created the first Latin American advisory board, launched the first Latin America Retail Real Estate Law Conference, and Industry Intelligence Conference. Our focus was to design strong content across all programs. Michael, as you know relevance is all about content people can connect with. So we did it. Our membership numbers went up significantly and attendance in programs exceeded expectations. Relevant firms started calling us to sponsor events. That is when I realized we had turned the page for ICSC. Companies wanted their names associated with us and unreachable leaders wanted to speak at our events. For me, it was like running a marathon. No time to slow down. I managed strategy, operations, and oh yeah, people. I had teams in NYC and Mexico City. I lived on airplanes and sprinted through airports from NYC to Buenos Aires. Members across Latin America became part of something big that allowed them to connect with each other, make business deals and share solutions to common challenges. I decided to have a baby during that time and my board was betting on where I was going to end up giving birth: Mexico, Brazil or Chile? I traveled until I was 8 months pregnant only because my doctor told me to stop. Left the office on a Friday at 8pm after a conference call, and gave birth to my daughter Paloma on Monday. It was an absolute crazy time. My third and last role was to lead the Education and Certification department which had a full global reach. I focused on advancing industry knowledge in five global regions, watched trends and drove innovation that resulted in better programs and industry conferences. This role allowed me to work with members in different countries, understand their needs and take those insights back to our headquarters in NYC. My team and I increased annual attendance in all education programs, developed a strong online education portfolio, streamlined operations and reduced operating expenses. I had a very talented team. We worked with industry subject matter experts which was an incredible learning experience. I became very close to the big questions the industry had, the issues they wanted to solve and their vision for the future. This role brought me back to my core which is a passion for helping industries learn, lead and thrive. We focused on human-centered design and asked ourselves tough questions. It was like being in a room with chefs discussing their best techniques to craft a memorable dining experience.
Don't forget to come meet me in Los Angeles on September 28th and New York on December 7th for CRE // Tech! Tickets are on sale now!
WANT MORE CONTENT FROM MICHAEL? CHECK OUT HIS #TALKSHOP AND ON THE STARTUP ROAD SERIES!