WHAT OUR CRE // TECH MID-YEAR REPORT REVEALS THAT EVERYONE IN THE INDUSTRY SHOULD BE PAYING ATTENTION TO…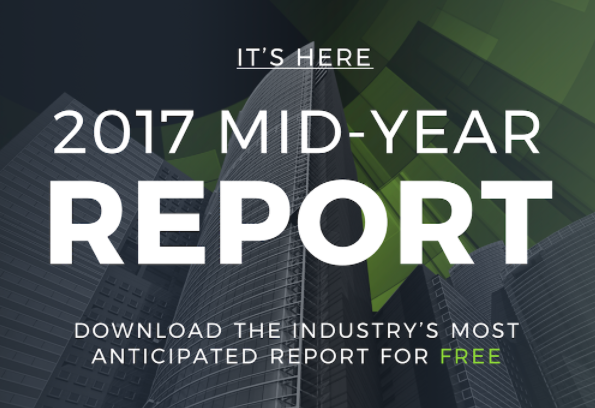 After several months of intense research by our team and leading industry experts, we have released our 2017 Mid-Year CRE // Tech Report which provides a comprehensive overview of the state of the CRE tech industry as well as profiles on the hottest startups in the space. It`s a report that is considered to be the "go-to" analysis and update for much of the industry. How do I know, because it always has been for me and my own network.
And that`s just one of the main reasons why our company, The News Funnel, decided to acquire CRE // Tech from it`s Founder Pierce Neinken. I was always a huge fan of Pierce`s and the entire platform. CRE // Tech has done so much to help support the industry from this Report to its amazing directory to the largest, most exciting events in the industry. And we are proud to now be re-investing in the platform to take it to the next level.
The main conclusion of the Report (and it`s something I have been sensing for a while) is actually contrary to what a lot of people think or are reporting.
And that is that FUNDING IS DOWN!
Yup, not what I am sure people wanted to hear and may actually surprise many. But I trust my team and the intense research that went into this analysis. Here is some of the team`s conclusions…
"Early stage funding trailed founding dates by roughly one year in 2014 and similarly growth stage rounds peaked soon after in 2015-2016."
"While 2017 funding is on track to be less than 2016, early stage rounds are still a major driver of deal flow and account for 68% of rounds and 29% of total funding in H1 2017."
As someone who talks to startups and investors ALL day, I knew this was the case. It`s actually hard to secure funding these days and it has been for a while. It`s misleading to most people because they read of a few big funding rounds with sites like Honest Buildings, VTS, Convene etc… And big news about WeWork or Ten-X. And also VC`s with high profiles like Fifth Wall, Camber Creek, Moderne Ventures, Canaan Partners, and Index Ventures. But those are the exceptions.
The truth is that it`s very hard to secure funding today if you are not either at the top of the food chain and/or not showing revenue or subscriber growth. Of course, there are exceptions, but those are the outliers.
So what`s my take? Several trends from my perspective to note:
We cannot know how much a company is spending internally on R&D. It just might be that if we looked under the hood of CBRE, JLL, Cushman & Wakefield, Newmark, Colliers etc., they might be in fact spending considerable money internally on building their own products. That`s an unknown.
We have reached a state of maturity in the sector and while funding levels are not at the level of investment from few years ago, it`s still a healthy number for a virtually brand new sector.
We will enter a period of mass consolidation in the sector as the strong get stronger and the sites with less funding or traction get absorbed.
4. Those with powder to invest are being very, very selective. It`s a, "It`s good to be King" type of environment if you`re an investor.
An important trend for me is that there are some amazing, very early stage companies that need funding and support and that slice of the investment pie seems to still be healthy and active.
Without a track of exits, M&A and IPO`s, the CRE tech sector is just going to remain in this state of equilibrium for the foreseeable future. Money is attracted to success and until some big paydays emerge, it`s going to be like this for a while. And although it may seem on the surface to be a bad thing, when you consider we are still in the very, very early stages of the commercial real estate tech sector, this is all very normal and actually a sign that the sector is maturing and NOT going away anytime soon.
Get the full Report for FREE here.
I welcome comments/feedback.