Why Did It Take Me So Long?!?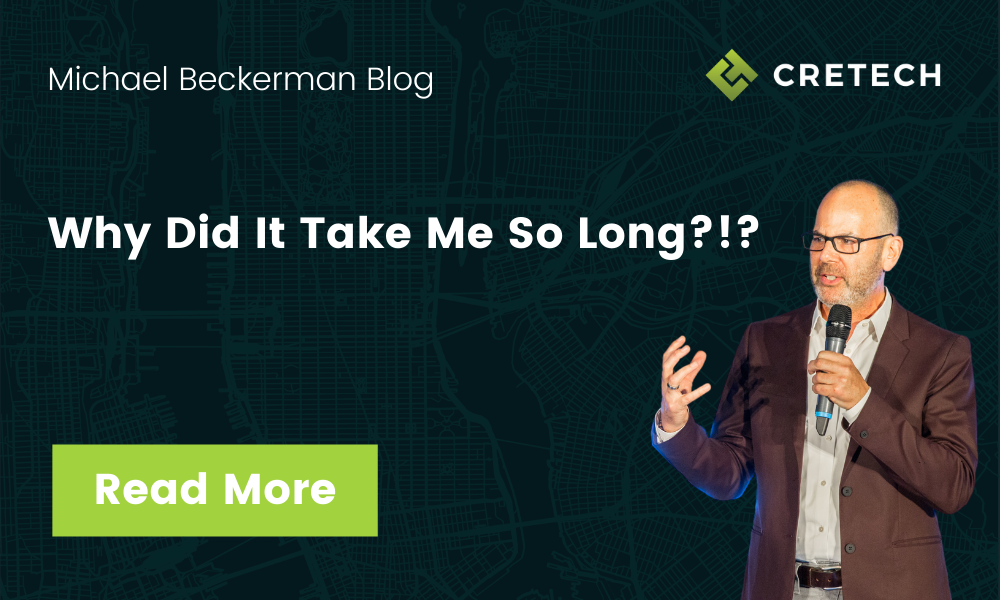 As with everything in my life, I am a slow learner (just ask my wife:). And yet, I do consider myself an infinite learner in that I am constantly trying to push my own boundaries as it relates to knowledge, discovery and passions to pursue. Both personally and professionally.
And so it was no surprise to me that it took 56 friggin years to finally embrace the fact that one of my personal passions was not being reflected in my professional life. You see, I am a "tree hugger" in every sense of the word. Always have been and always will be. I am the sap that cries at every sunrise and every sunset. I can literally stare at the sky for hours with wonder and listen to a symphony of nighttime creatures forever. I did this as a kid walking and hiking on trails with my dad, as a young man traveling the country fly-fishing and now as father with my kids spending countless hours outdoors in the woods on our own property in the mountains.
I stress about the environment daily. I have watched every documentary I could on climate change. Read every article. Donated whatever I could to whomever I could. Michael Beckerman, the "environmentalist". Not quite. But passionate about the environment, nonetheless.
But in my professional life... nada, zilch, bupkas. Even though the industry that I love and have devoted my life to (commercial real estate) is responsible for 40% of the world's energy consumption and 1/3 of all carbon emissions, I have done little, if anything, to use my own platform and voice to tackle this crisis.
And like so many times in the past, I once again challenged myself and found that I was a complete hypocrite… I was totally comfortable as a private citizen doing my part but I was a coward in my public life as I did shit to affect meaningful change in an area I cared so deeply about.
No more. 
There are two people, in particular, that I have to thank for helping me see the light… Sustainability & Social Impact Leader, Lindsay Baker and Co-Founder & Managing Partner of Fifth Wall, Brendan Wallace. Both are dear friends who are also among the most knowledgeable and passionate thought-leaders, activists and active participants in helping the real estate and sustainability communities embrace each other. Through their writings, investments and advocacy, I have learned so much. And, I have also learned how much I still have to learn.
But I am now "all in". I pledge to do all I can in my professional life to help make meaningful change now and for my kids generation. 
I will commit to helping our industry understand that it has the responsibility to adopt sustainability in a meaningful and measurable way to impact profound change, but also the opportunity to embrace new technologies that will lead the way in addressing climate change. I will push people and companies to do more. I will work on strategies to measure the industries progress and do all that I can to drive meaningful change.
Just look at what Larry Fink, CEO, Blackrock has said about how climate change has absolutely impacted the world of finance and how his company will be way out in front of the issue or what Microsoft is doing. And what Steve Ross of Related recently said about his own legacy. We must get more real estate leaders to step up and embrace this challenge. It is true in most industries, but particularly in real estate, that people do "follow the leader" and so we absolutely need more leaders to step up and be heard. Leaders like Scott Rechler,Chairman and CEO at RXR Realty, Christy Hill, Managing Director at PGIM Real Estate, Laura Craft, SVP, Head of Global ESG Strategy at Heitman and many more. 
Here's what I can do in my own small way:
I will ensure that

CREtech's programming

consistently reflects sustainability and ESG ina more substantive way and not because it's "trending".

I will go out of my way to assist, support and mentor any tech platform, professional or company focused on helping make the built world a safer and cleaner place to live, work and shop. 

I will work with CREtech Advisors like

Clelia Peters

,

Charlie Kuntz

,

Karen Hollinger,

Pat Klein

,

Jeff Kok

,

Ginny Miller

and many others like

Travis Putnam

,

Greg Lindsay

,

Travis Connors

,

Brad Dockser

that are passionate about these issues to come up with new ways to encourage investment and adoption of sustainability startups and tech companies that contribute to a healthier climate.

I will speak up and be heard. Consistently. Whether in blogging or in webinars, I will promote these important themes.

I will support whatever nonprofits and associations I can.
This is what I want my professional legacy to be and I will do whatever it takes to make a difference.
Perhaps it was the great "reset", as my wife calls it, during COVID-19 when literally the whole world was out of cars and in their backyards and parks, walking or hiking, just enjoying nature. It seems like everyone I know was rediscovering the joys of the great outdoors. For me, not being in a car, train or automobile and spending much of the pandemic on my farm was also a reset. And seeing how all of this has led to the cleanest air that we have seen in decades was the wakeful call many of us unfortunately needed. But just look at what's happening all around us and it becomes incredibly obvious that we need to act now... and fast.
It's taken me a long time to understand that I could use my own personal passions to do good in my professional life. And also to come to the realization that the real estate sector has been contributing to global climate change in a substantial manner for a very long time and that it needs more education, awareness and leadership of how to reverse this trend. Seeing that our platform at CREtech is the home of so many of these solutions and so many of the industry's leaders, I have no doubt that together we WILL make a major positive impact on real estate embracing sustainability and ESG.
We need to act now! Our industry can, should and will lead the way. And not just in some PR bullshit kind of way. Real change. Real progress. A real impact.
I will personally and professionally, see to it!
"We do not inherit the earth from our ancestors, we borrow it from our children." 
- Native American Proverb