you mean that steve case?!?!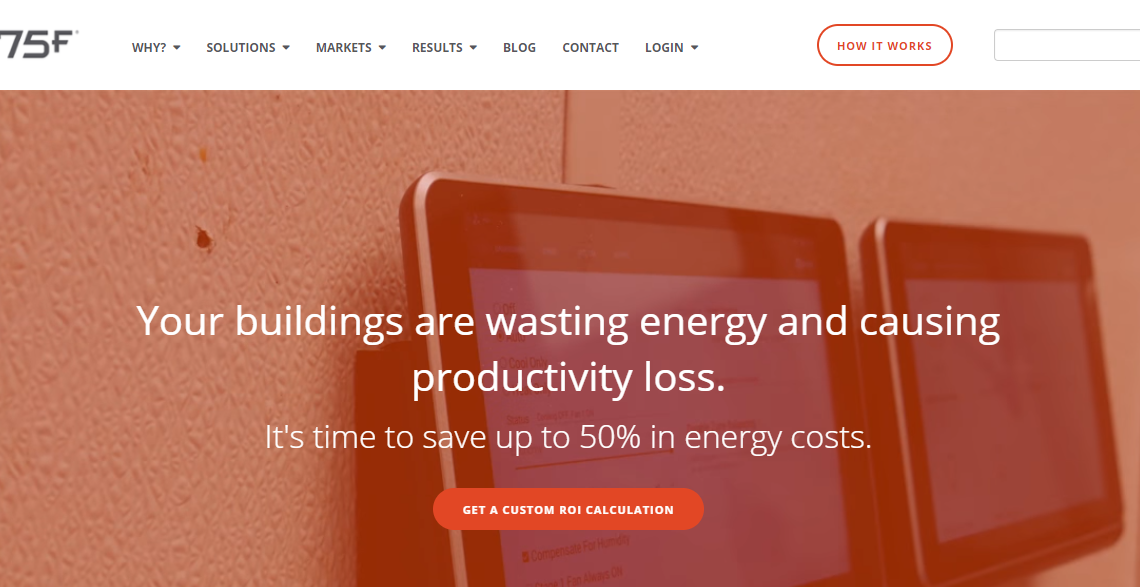 Q&A with Deepinder Singh, CEO of 75F
I was reading my customized news feed from The News Funnel the other day and one tech story really caught my eye. It was about Steve Case, yes that guy, the founder of AOL. He had invested in a start up in Minnesota and to say that I was intrigued is an understatement. I had read The Third Wave and been a big fan of what Steve was doing with Rise of The Rest, as well. And then I saw that one of their investments was in a site called 75F and I had to learn more. So I reached out to the company and connect with their CEO and Founder Deepinder Singh to learn about the company, his journey, how he secured the Steve Case connection and startup life in Minnesota
Fascinating conversation. Incredibly impressive entrepreneur. Really smart product and vision.
Here are the excerpts of our conversation...
Michael: What is your background?
Deepinder: I've tinkered with electronics since a child. By profession, I ended up as a computer networking geek, have been part of 6 startups, and brought a wealth of embedded products to market. I had one of the world's first terabit routers at my house for five years - which doubled as the most expensive garage heater in the world. My key goal in every endeavor is to simplify operational complexity and make products intuitive.
I love racing cars and bikes. I used to be a competitive shooter and spent 5 years on the Canadian National team for Olympic style pistol.
M: What was the inspiration/vision behind Founding 75F?
D: We moved into this big home in MN, and our daughter would wake up at night. The temperature in her room would be 8-10 degrees cooler than our room, since the thermostat was in our room. As a self-respecting engineer, I founded a company to fix the problem.
That helped me really understand building behaviors. I came to appreciate that the reasons behind temperature imbalances within a building go far beyond thermostat location. That offered an incredible opportunity for a profound impact on energy savings and efficiency.
Our vision is to make smart buildings accessible to all. We're lowering the threshold for smart building controls adoption, with lower installed costs, speed and ease of use for more efficient, comfortable and productive occupant environments. Only a small fraction of buildings have automated controls, and those systems are overbuilt with decades old technology that isn't feasible for the rest. That's gotta change, and we're here to help.
M: What markets are you targeting and presently serving?
D: We focus on the commercial buildings market and the supporting ecosystem and stakeholders, from owners to occupants. Our geographic focus is primarily in the U.S., as well as India and the Middle East.
We started as a retrofit for smaller <25k sf buildings served by Rooftop Units (RTUs). And, now, we've developed and deployed products that serve much larger buildings, well over 500k sf, and the corresponding HVAC systems, such as hydronic controls: VAV with reheat, boilers, heat pumps, cooling towers, etc. We're going into global HQ offices and winning deals against the largest controls solutions providers. So, we've really been scaling!
From a vertical market perspective, we've built upon our original focus on and success with restaurants. This has naturally led us to retailers and also to commercial real estate portfolios. With our expanded product suite, we're really expanding our market appeal across verticals and building profiles.
M: How does your product work and what is unique about it as compared to Energy Management Systems that currently exist?
D: Compared to often dated-technology EMS, 75F uses modern technologies (IoT, cloud hosting, machine learning, big data analytics) delivering intelligent controls for proactive management, so businesses can take action on the energy use insights. Just like the security monitor in the bank in those LifeLock ads, what good is monitoring a problem if you don't fix it? 75F delivers information and controls to take action through an intuitive workflow-driven interface.
The controls can be automatic: the learning system has predictive algorithms to proactively and preemptively manage to building and occupant priorities. It takes into account many more data points (millions per day) and runs algorithms for predictive management - which is proven to save more energy and money. And, from facility managers to occupants, the people associated with the building get controls at their fingertips.
M: Do you have any examples of how your product has helped a business?
D: We have several case studies and testimonials from clients across restaurant, retail, office and industrial businesses.
1. An office suites co-working space was able to install 60+ zones in 2 days.
2. We've made our solution fast and intuitive to install. Elementary 8- and 9-year-olds have installed and configured the 75F system to manage comfort and sustainability for their school.
Cyprus Classical Academy Blog post and videoCyprus Classical Academy Case Study PDF
3. Three Square Market has embraced automation to an extreme (they're the first US company to microchip employees); we equipped them with a unified system to monitor and control 66 zones in their new 100k+ sf office/warehouse HQ, which has RTUs, Unit Heaters, VAV with reheat, and hydronic systems.
Three Square Market Blog post and videoThree Square Market Case study PDF
4. Taco Bell has created comfortable environment to retain employees, in addition to remotely managing HVAC and lighting, pressure and IAQ.
Border Foods videoBorder Foods Case study PDF
M: Can you describe how the Steve Case and The Rise of The Rest investment came to be, a bit about their Fund and how it wilt help grow the company?
D: We have had great experiences gaining endorsement and visibility through competitions. 2014 was an instrumental year, starting with the MN Cup, and continuing with Cleantech Open (winning nationally for energy efficiency). When Steve Case's bus rolled toward Minneapolis for his Rise of the Rest tour, participation was a natural choice for us. And, Steve Case helped facilitate 75F participation in Google Demo Day. In addition to the $100k prize from the Rise of the Rest competition, Steve's ongoing encouragement, support and facilitation have helped to open doors and develop opportunities. We reflect on that in a recent Blog post regarding Rise of the Rest.
M: What is the startup scene like in Minnesota?
D: Minnesota has a rich history of innovation and startups quietly at work. Though historically agriculture, retail and healthcare dominant, the startup ecosystem has evolved significantly over the past 10 years. Some key programs such as the MN Cup hosted by Carlson school Management, the Cleantech Open and the Angel Tax Credit from the MN state government have been instrumental in incubating a number of startups. We still face "brain drain" to the coasts, though the MN quality of life has helped with a "brain gain" trend. And, the Rise of the Rest helps too!
M: What's next for the company?
D: Given our product suite expansion, our focus in now on scaling with go-to-market efforts, including creating awareness and channel development. The ease of installation and management capabilities open new managed services opportunities for those involved in property and facilities management, equipped with data insights and remote monitoring and controls. We're heading to the AHR Expo in Chicago with Daikin, so that should be big.
We have a very strong focus on delivering value all the way through the value chain, with an emphasis on the occupant experience. We recently integrated with the USGBC's Arc platform. With the Occupant App, you can empower employees and other tenants to tailor their space with zone-specific controls for temperature and lighting. Geofencing can anticipate and pre-condition their space for optimal comfort, wellness and productivity. We're really seeing the greatest return on people. Energy savings are significant with our solution, with typical payback under 3 years; however, the human experience has an order of magnitude higher value. Arc and the WELL Building Standard are helping put structure in place for the occupant experience, as the ultimate measure of building performance.
Deepinder Singh co-founded 75F in 2012 after having designed some of the world's fastest core networks for service providers like AT&T, NTT and Verizon. With almost 25 years of experience in electronics and computing, he's brought a wealth of embedded products to the market. His key goal in every endeavor is to simplify operational complexity and make products intuitive. That's why he created 75F, an intelligent building automation solution that utilizes Internet of Things (IoT), big data and the latest in Cloud Computing/Machine Learning. This powerful combination creates a solution that predicts, monitors and manages the needs of buildings proactively.
WANT MORE CONTENT FROM MICHAEL? CHECK OUT HIS #TALKSHOP AND ON THE STARTUP ROAD SERIES!