"57 channels and nothing on."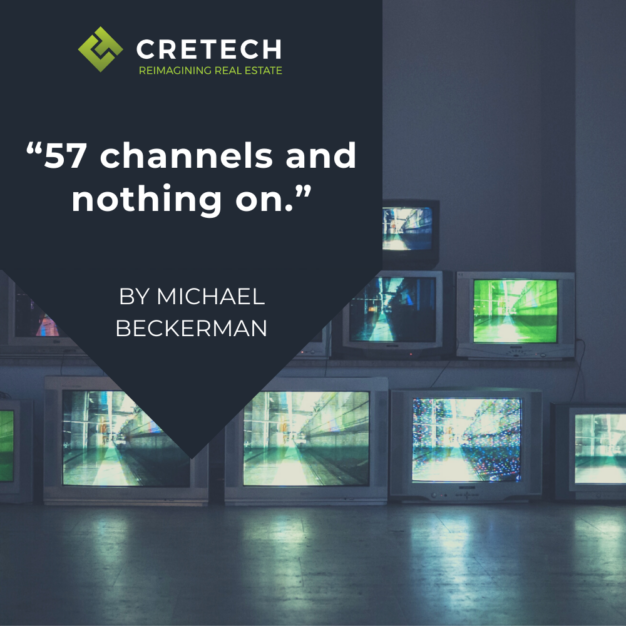 "57 channels and nothing on." - Bruce Springsteen
I am losing my f-in mind!!! What I used to hear in my head was "Bruuuuuuuuuce" and it has officially been replaced by "Zooooooom".
Just because someone can appear on a webinar or video doesn't mean they should. Sorry. That sounds shitty and very judgmental I know. But as someone who has been in the content business for 35 years, I think I have a good handle on what good content is and what is crap.
Everyone is talking Covid-19. And everyone is talking "back to work".  And everyone is doing a Zoom webinar or posting videos on-line. And I mean, EVERYONE! The media. The conference co's.The brokerages. The VC's.The landlords. The tech CTO's. The law firms. The accounting firms. The consultants. The banks. And on and on. 
On top of that, every business big and small in the world is piling on and doing webinars. You literally look at your newsfeed on LinkedIn and it's all Zoom webinars.
And I am the first to admit, I sometimes don't put out great content. I will own up to it. 
And what are people saying on all of these webinars? Not much that is unique, original, insightful or even provocative. It's just "57 channels and nothing on!"
Now don't get me wrong, there is some great content out there. And I do think it's a good thing that content has been democratized in general. More voices. More diversity of opinions, etc.
And I still consume a great deal of content daily but I am much more selective about it than I have been in the past. Here are some examples of content that I found to be stellar on the pandemic, "back to work", investment strategies and real estate.
The Crisis, the Recovery, and the CRE Markets with Starwood Capital Group's CEO, Barry Sternlicht
Virtual event: A conversation on workplace safety and reopening the economy
What coronavirus means for the global economy | Ray Dalio
Fly on the Wall Ep. 6: Dr. Peter Linneman, CEO & Founder, Linneman Associates
Connection Next - Temporada 1 E1 - "El nuevo escenario del Real Estate según el MIT" Steve Weikal
Preparing the built world for the new normal | Part 1 | Openpath & CRETech
Leading through a Crisis Day-by-Day
In the good ole days, when we had these things called "physical conferences", it was really, really f-in hard to speak at one of my events. I would get quite a few emails from people who were pissed off that they couldn't speak. Our standards were so high and it was really hard for most people to accept that. It wasn't snobbery. It's that I had a duty to my audience to put the best content on the stage, period!  And the feedback we consistently received was that we had the best content in the industry. But today, with the stage now being Zoom, everyone thinks that they are welcome.  This is not always a good thing. The audience suffers as a result and begins to tune it all out in time. (I think that this is already happening, actually.)
It's the same reason why I do not personally get my news from social media. Just too many damn opinions out there and I really do still believe in real journalism (shocking, I know). If I read something in the Wall Street Journal, Financial Times, TechCrunch, Fortune, Forbes, Bloomberg, Fast Co. etc, I know there was a process involved in that reporting. Sure they make mistakes but these reporters are professionals. It's there job!
So, what do we do about this? I am saying right here and now that I am going to be doing less webinars. While our audience at CREtech is massive (nearly 100,000 globally), I don't want to contribute to the noise just because I can. Less is more. You will absolutely see less webinars from CREtech going forward. If you do see something from us, trust me, we thought really hard about it.
My advice for others is to do the same. Do less. Think harder. All of your efforts will soon result in diminished returns as the entire business sector is overwhelmed and wants to hit "pause" on all of these webinars and videos. Be thoughtful about your content. Ask the hard questions; Is what you are presenting incredibly unique and thought-provoking? And if the answer is no, then spend your time doing something more productive.
I, for one, and perhaps many others, will thank you.
Rant over.
Beckerman out!