9 Things To Consider When Building A Custom Trade Show Demo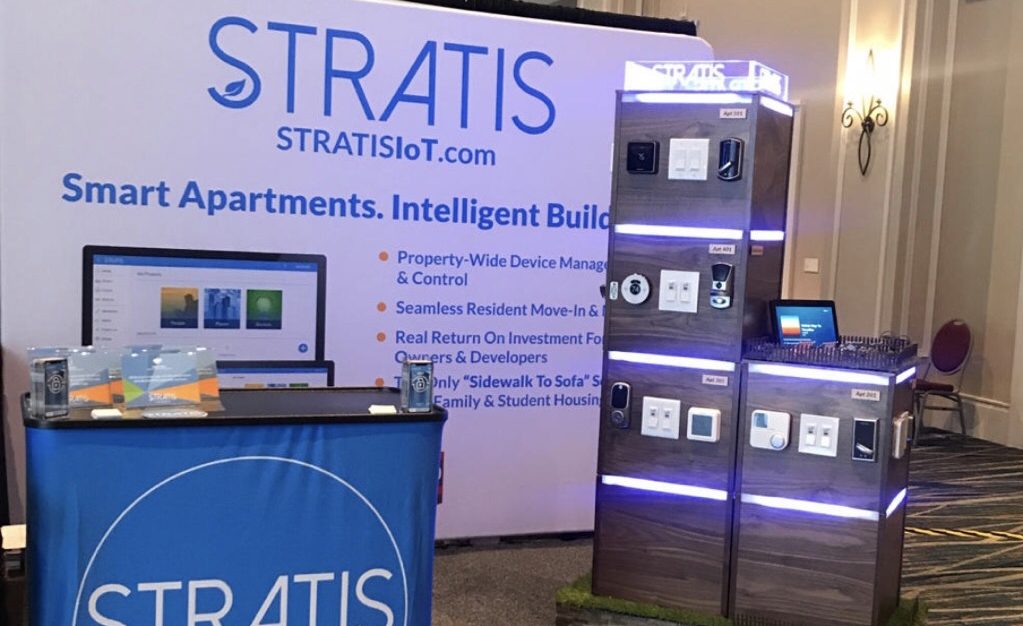 By James Calder, Director of Marketing at STRATIS Iot
Our team at STRATIS just built an epic custom trade show booth in under 90 days. We debuted it at one of the biggest events in the multifamily industry, NMHC's OPTECH Conference and Expo 2018. It was a complete team effort, crossing every department from engineering to installation, leadership and of course marketing. This was no easy undertaking and stretched our teams to new levels of creative problem solving. Logistics were intense for this one, but rewarding on the back end. Here are nine important things to consider when your marketing team rebuilds your trade show experience.
1. Think Big, But Keep It Simple.
Our leadership team challenged us to create an interactive experience to show our complexity, our expertise, our multiple software and hardware integrations, our full building control, simply.
The end result was something that no company in the industry has showcased to date. We created a 360-Degree Interactive Smart Apartment Building consisting of modular units (great for shipping, btw).
It is an entire building, showcasing smart locks, lights, thermostats, common area locks, blinds and more. It shows attendees the STRATIS Package Place and partners RealPage, Inc., tour24, and ButterflyMX, Schlage Locks, Leviton, and Resideo, plus dozens of others, simply. Even beautifully.
2. Don't Try To Do It All In-house
We have a lot of creative individuals across our teams. Our Chief Engineer, Kelly Campbell (who worked at Google for nearly a decade) is also a talented woodworker. He built our first tabletop demo, but the demands on his time these days made it a no brainer to outsource the woodworking aspect of our demo. There are many "Custom Trade Show" companies available online, but after reaching out to a few, I found them a bit arrogant. One company located in Denver told me they would not even speak with unless my budget was about $50K.
We decided to stay local and work with a local woodshop. I posted the project on a few woodworking sites in the area, as well as setting up initial consultations. In the end, we selected a company called Philadelphia Woodworks for the creation of the demo.
3. Visualize Your Plan
Our marketing manager, Jasper Lloyd, is an expert at making visual concepts for others. He created an initial mockup of the design that we brought to the woodshop. This visual was extremely helpful for describing the project internally and externally to our hardware partners. This project also required design of a new 10 foot banner and podium.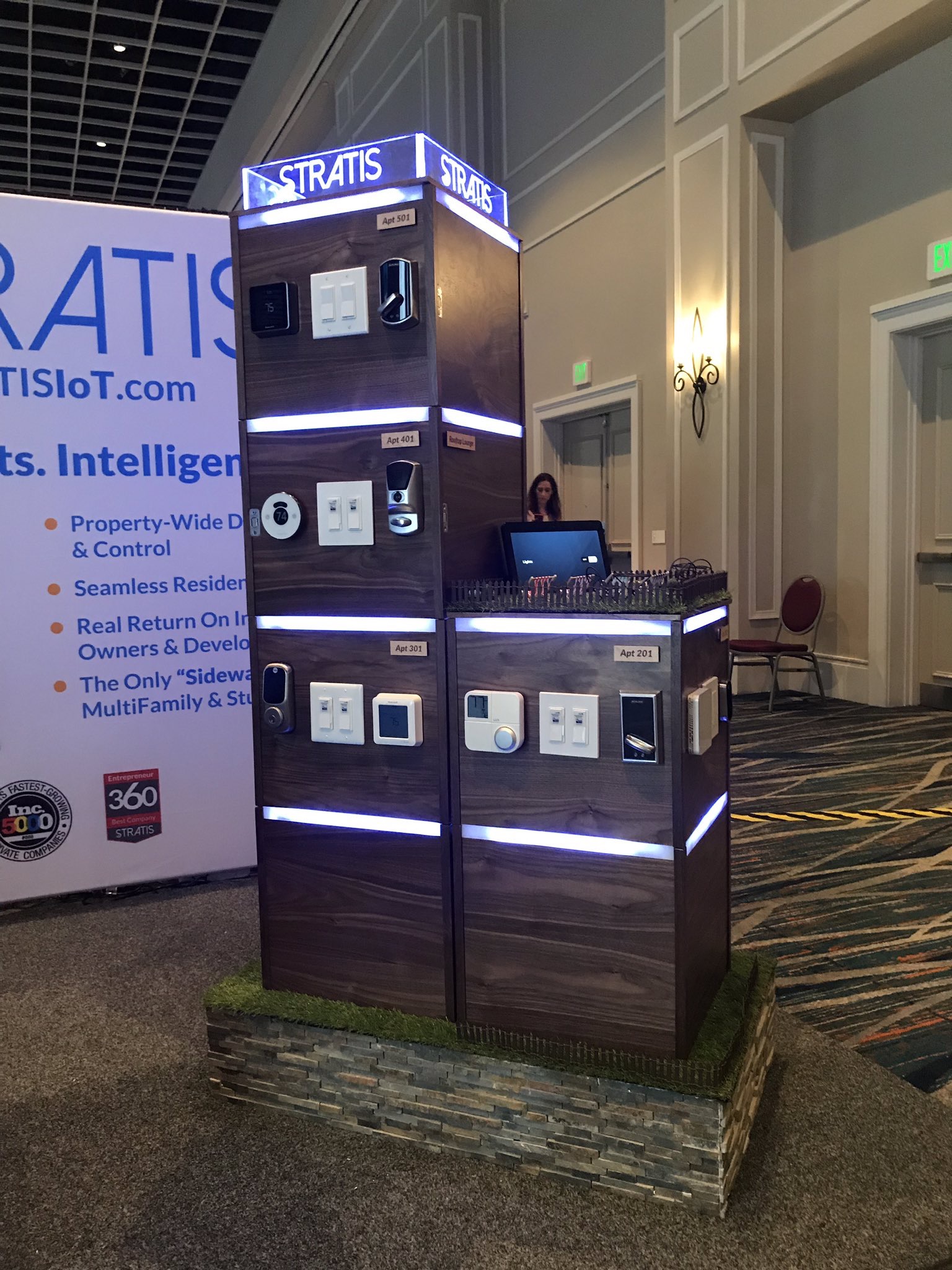 4. Never Underestimate The Complexity Of Design
When our Chief Engineer and our marketing team visited with the outstanding team at Philly Woodworks, I personally was naive to the amount of decisions that would need to be made regarding the construction of the project. Sure, I understood that router templates would need to be provided for the door locks, light switches, and thermostats that we would be later be adding, that was common sense. However, I did not anticipate the layers of detail needed to make sure the modular boxes became structurally stable to survive shipping to many events in the future and to fit perfectly together.
5. You Will Never Have Enough Time To Do All That You Want
Time was a major factor in this project. Some on our team doubted if we would be able to meet the deadline of OPTECH. Mostly because this was just one of hundreds of projects our team was working on. Prioritize the most important aspects of the demo and work backwards to make sure you have everything you need to execute.
6. Stay On Top Of Your Timeline
This project required staying on top of our timeline for the full three months. With a busy team that meant big meetings and little meetings whenever possible. Philadelphia Woodworks was an amazing partner to work with. Michael and Jake thought of things we didn't even know we would need. Like extra roof pieces and extra bases if we wanted to split the apartment into multiple demos for multiple shows. When the crunchtime came they helped greatly by handling the outsourcing of the finishing of the piece and even delivered it personally to our office.
7. The Pressure On Our Install Team
It came to a point where, despite our best efforts, we only would have one week for the installation of devices. Our install team consisted of Bret, Christian, Anthony, and Kelly. They worked around the clock to wire and install as many devices as they could before shipping. They went above and beyond. They figured out solutions for hardware that was late shipping to the office. And the rest of the company graciously put up with the noises from Kelly on the laser cutter and the mess we made in the center of the office.
8. Shipping In The Rain
During this project, Jasper and I realized that the crate we ordered for the base of the structure was not big enough. We decided to make a run to Lowe's and build our own crate for it. Planning for shipping was crucial. As soon as we knew the size of each wood section, I was able to order these great heavy duty cardboard shipping crates from KuBox. Because this project came down to the wire, our drop date for shipping was the Friday before the show. Because we had doubts that FedEx would pick up our crates in person and we needed to purchase insurance, we decided to take them to a FedEx Shipping Center. We didn't anticipate that it would be pouring rain in Philadelphia that afternoon. Jasper and I borrowed a truck and scoured the office for tarps. We were able to ship them off in time, a bit soaked, but no worse for wear.
9. Make Sure You Have Someone Handling The Demo OnSite
I have done logistics for more than enough tradeshows and events to know that you have to have someone onsite who is owning your demo experience.
For us, that was Our Chief Innovation and Product Officer Charlie Hill, who was also instrumental with coming up with the design of the new demo. He arrived two days early and picked up the booth crates at a FedEx to finish off where the install team left off. He had the demo working seamlessly and the booth was packed during the show.
While the marketing team had the honor of managing this project, it was a company-wide effort. We tried to plan for everything, but any seasoned professional knows that you never can. I created a 25 page manual for the onsite team to help as much as possible. If you are attempting to rebuild your tradeshow experience, make sure that you have all departments on board before you set a deadline for your teams. It is a complex undertaking, which can never be done alone. While it would be impossible to thank every individual contribution to this project, we are extremely grateful for all of them.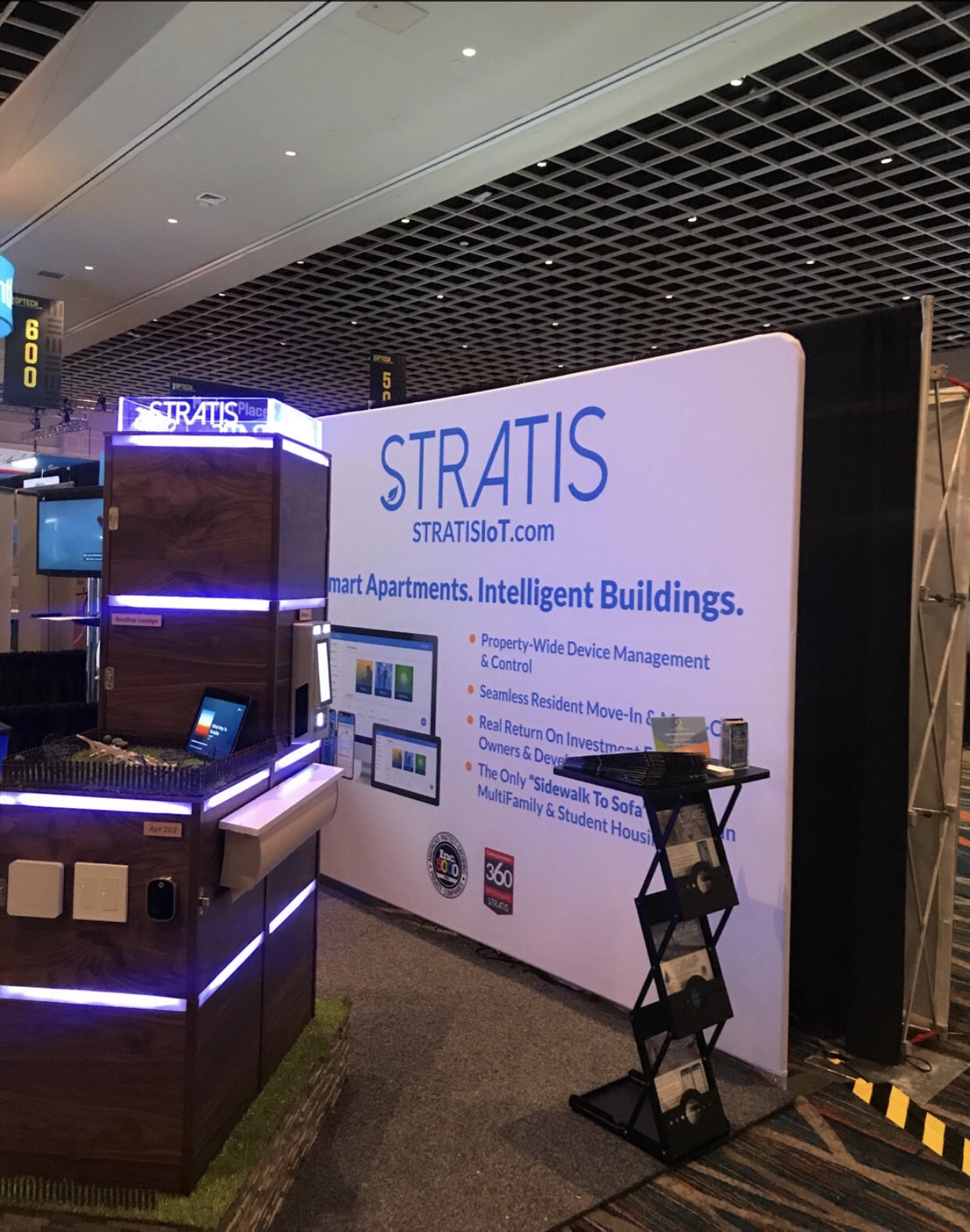 About James
James is a Philadelphia-based Head of Marketing for STRATIS, the only system of its kind built for the complexities of multifamily and student housing. He writes about marketing, IoT, technology, Business, and more and is a frequent contributor on the Huffington Post, ReadWrite, IoT For All, BBN Times, Propmodo, LinkedIn, and other sites. He was named Top Voices on LinkedIn in 2015, out of more than 2 million bloggers on that platform.