CREtech Acquires Leading Commercial Real Estate Tech Industry Research Platform RE:Tech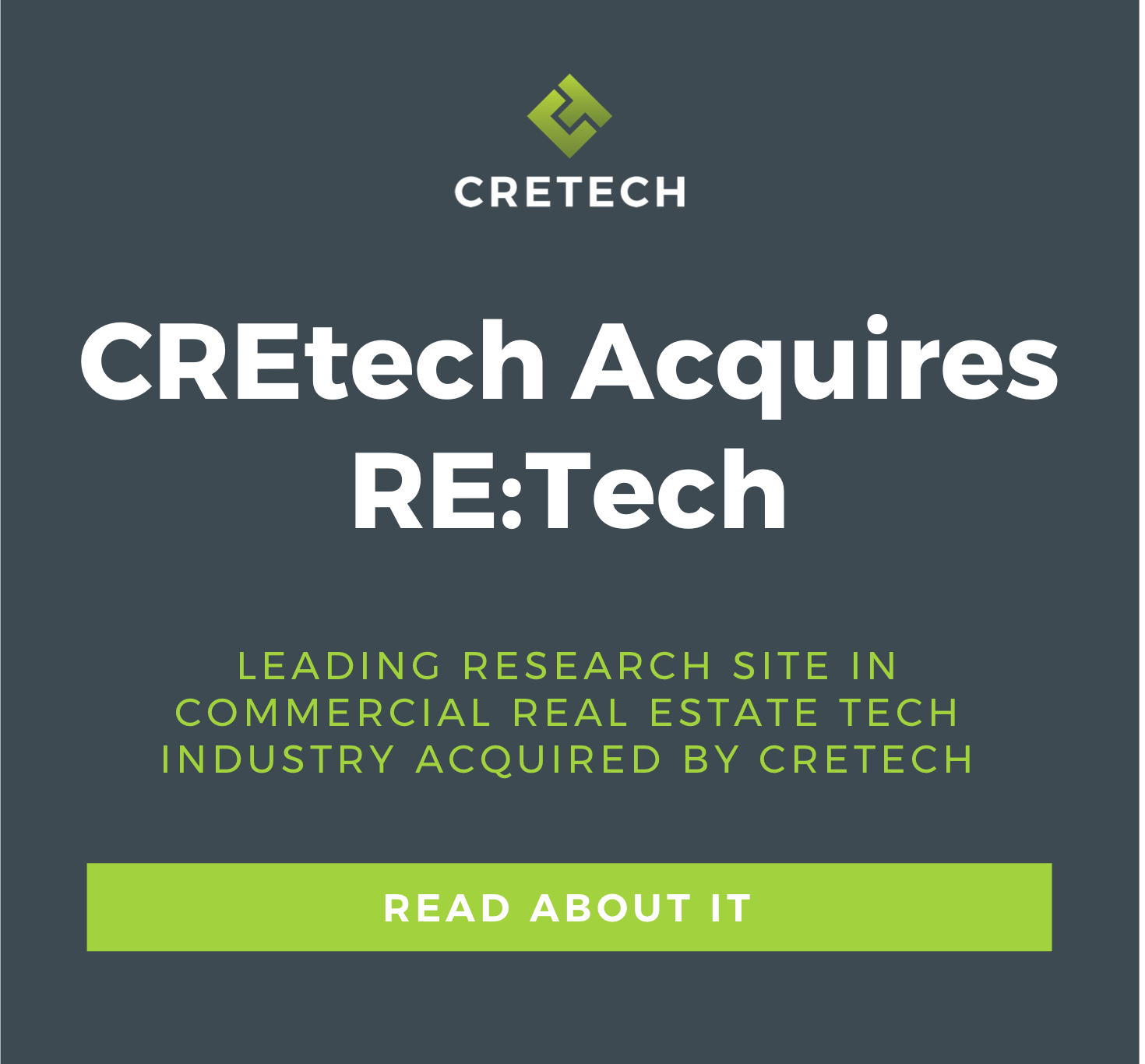 Largest event, data and content platform in the commercial real estate tech sector announces first 2019 strategic acquisition
New York, NY (January 22, 2019) — CREtech (cretech.com), the largest event, data and content platform covering the commercial real estate tech industry, announced today the acquisition of RE:Tech. Launched in 2013 by Ash Zandieh, serial entrepreneur and startup founder, RE:Tech is the most respected and referenced research tool in the commercial real estate tech sector, providing global snapshots and emerging industry trends.

A former top commercial real estate broker at ABS Partners Real Estate, Zandieh will join the growing CREtech team as Chief Research Advisor. Zandieh spent the past five years growing RE:Tech into the number one research and proptech advocacy organization for the commercial real estate tech community worldwide. He also founded PropertyIDX (formerly Falkon App), New York City's leading investment sales marketplace of listing and market data to increase property visibility and deal flow.
The acquisition of RE:Tech continues CREtech's ascent as the leading commercial real estate tech discovery platform in the world and reflects the company's mission of pursuing targeted acquisitions in 2019. Currently, CREtech hosts the largest conferences in the U.S. and plans to make a concerted push into the content and research side of the sector.
Under CREtech's leadership team, the company will reinvest in RE:Tech's research and content to include quarterly, yearly and monthly reports on emerging trends, funding and other key data that is in high demand by their growing community of over 30,000 subscribers. In 2019, CREtech also aims to build on their centralized database of the leading startups, investors and thought leaders in the U.S market.
Lindsey Imperatore, CMO, CREtech commented, "The acquisition of RE:Tech is an important milestone in our platform's history and reflects our core expansion and reinvestment strategy for 2019. We are extremely proud to welcome Ash to our growing team and excited to be working closely with him to build the leading research platform for the entire real estate tech ecosystem. At CREtech, we are committed to connecting the commercial real estate industry to the emerging tech sector through content, research and data that ushers in a new era of innovation for the industry at large. This acquisition is a critical step towards that goal."
"Given the breadth of startups in the property tech sector, consolidation is not only inevitable but also required for growth," stated Ash Zandieh, Founder, RE:tech.  "As the leading real estate tech data startup, I'm excited to partner with CREtech to be part of this global and emerging movement. Our partnership with CREtech will allow us to do more for the global property tech sector while better serving the startup and venture capital community," continued Zandieh.
About CREtech
CREtech is the largest event, data and content platform in the commercial real estate tech industry. The platform features the most well attended trade shows in the industry, hand selected daily news, the largest directory of tech startups serving the industry and industry leading research.
CREtech is owned and operated by The News Funnel, the leading content, connectivity and event platform devoted to the commercial real estate industry.
Get tickets to an upcoming CREtech event or learn more about marketing and sponsorship opportunities by emailing anne@cretech.com.
Get Featured
Get your content, news and products featured on CREtech.
Discover the commercial real estate industry's hottest startups, VC's and thought leaders.