CREtech and Kastle Announce a Decision Support Tool to Visualize and Monitor the Growing Proptech Landscape at CREtech San Diego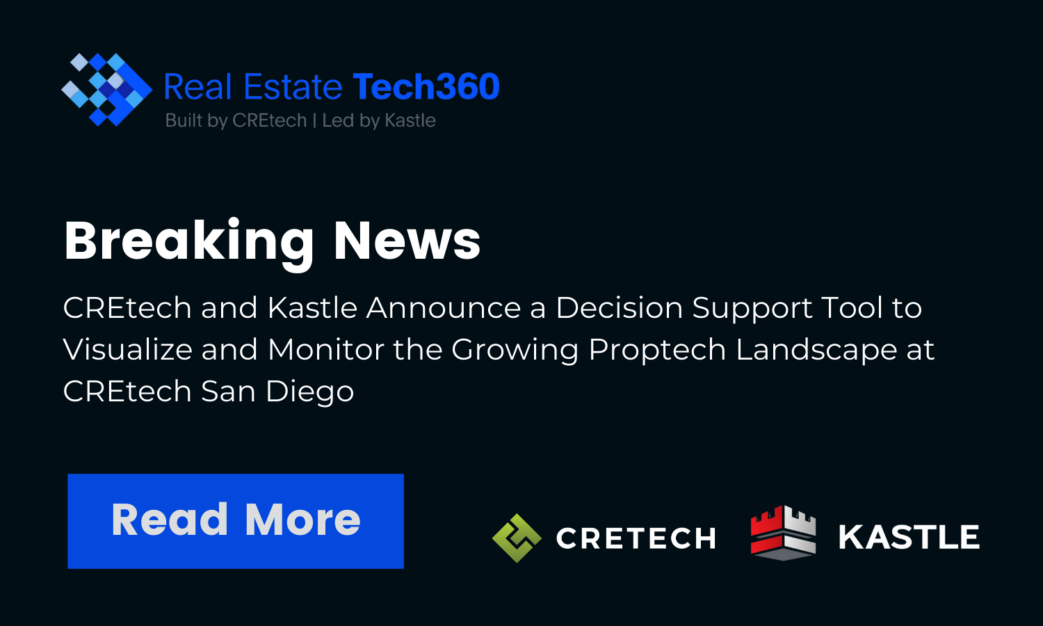 CREtech and Kastle announce joint research partnership, Real Estate Tech360, launching at CREtech San Diego

New York, NY (March 23, 2022) — CREtech, the largest international community of professionals devoted to technological innovation in the real estate sector, and Kastle, a leader in property technology and the nation's largest managed security provider, announced today the release of a joint research partnership, called Real Estate Tech360, to monitor leaders across the property technology industry and provide an intuitive tool to help discern the market's players.

With approximately 10,000 real estate technology companies formed in the past decade, the Real Estate Tech360 provides a resource for the real estate community to monitor the ongoing development of the many solutions in the North American market, across numerous sector verticals. The Real Estate Tech360 will map out the companies and categories as they evolve and highlight those that may be particularly relevant to technology buyers and investors. 
In the creation of Real Estate Tech360, CREtech was responsible for researching thousands of proptech startups with the goal of selecting those technology companies that are leaders in the built environment based on size and market value, while Kastle provided market insight, data leadership and web visualization. Real Estate Tech360 will be an ongoing endeavor to be updated quarterly, based on continuous, data-based research, incorporating market feedback and new industry developments.
"The proptech sector has exploded in growth over the past few years with nearly $30 billion invested in 2021 and now almost 10,000 startups competing for market share," stated Michael Beckerman, CEO, CREtech. "As a result of so much extraordinary growth in this young industry, the byproduct is that there is also a great deal of confusion from customers who are simply overwhelmed with the amount of choices in the marketplace. Our goal in working with the leadership teams at Kastle was to create a dynamic research report that would help the industry by organizing the solutions that are leading the way in the proptech sector," Beckerman concluded.
"This is an important step towards bringing greater clarity and insight into the increasingly complex proptech landscape, especially as expectations of real estate technology are evolving," said Haniel Lynn, CEO of Kastle. "We are proud to partner with CREtech in creating a valuable resource that will help monitor the continued growth of the industry as well as help customers navigate the changing real estate environment and corresponding technologies integrations to meet their needs." 
To obtain a copy of the Real Estate Tech360, visit RealEstateTech360.com
About Kastle

Kastle has been leading the property technology industry since 1972 with advanced technology solutions and services, protecting commercial real estate, multi-family residential, global enterprises, educational institutions, and critical government facilities. Kastle's state-of-the-art solutions include access control, video surveillance, visitor management and identity management, as well as a suite of mobile security applications, all integrated on an open, standards-based platform and supported by a team of experts 24x7x365. Headquartered in Falls Church, Virginia, Kastle is on Silicon Review's 2021 Five Best Security Companies to Watch list.
About CREtech
CREtech is Reimagining Real Estate. We are the largest international community of professionals devoted to technological innovation in the real estate sector. Our mission is to help the industry embrace, adopt, and future proof its businesses. Our streaming, live/virtual events, and consulting platform inspires the next generation of ideas, processes, and people to champion the world's largest asset class. Learn more: cretech.com