CREtech Announces Five Stages of Cutting-Edge Content at CREtech New York this October 12-13, 2022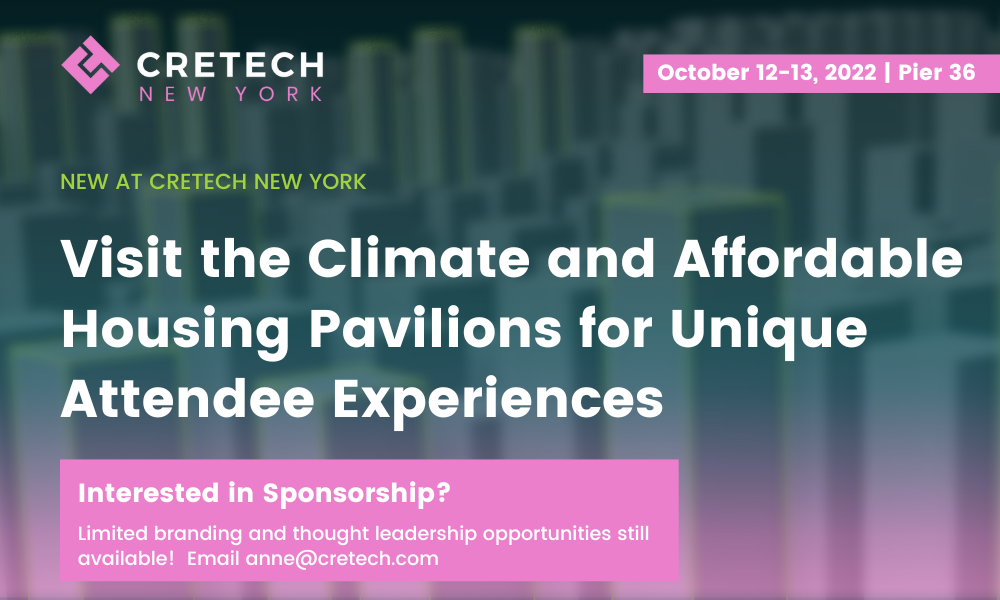 New York, NY (September 13, 2022) — CREtech, the largest international community of professionals devoted to technological innovation in the real estate sector, has announced they will be offering five stages of cutting-edge content at flagship conference, CREtech New York, this October 12-13.

CREtech New York attendees will experience the full suite of CREtech conference offerings, including a packed expo hall featuring the latest technology solutions, unrivaled networking opportunities with leading real estate technology professionals from around the world and cutting-edge content across five stages.

The stages will educate and inspire attendees through a mixture of exclusive keynote presentations, panel sessions, fireside chats and interactive sessions from the biggest names in real estate technology.

The stages at CREtech New York 2022 include:

Main Stage:

Get educated by leading C-Suite speakers on the Main Stage with special keynote presentations and panel sessions on built world innovation.

Innovation Stage:

Discover the most innovative technology solutions on the Innovation Stage with demonstrations and presentations from the hottest technology providers.

NEW! Ask Me Anything Stage:

Have your questions answered by pioneers of the real estate industry on the Ask Me Anything Stage.

NEW! Climate Pavilion:

Hear from leaders at the Climate Pavilion discussing technologies that support sustainability and ESG standards for the built world.

NEW! Affordable Housing Pavilion:

Listen to experts at the Affordable Housing Pavilion discussing the technologies and data driven insights that promote housing stability and affordability.
"At CREtech we take great pride in always trying to expand the proptech ecosystem to include new markets, new tech categories and consistently reach new industry stakeholders to touch every aspect of the real estate and tech sectors," stated Lindsey Imperatore, CREtech President and COO. "As part of this mission we are thrilled to include two new pavilions focusing on climate and affordable housing tech at our upcoming New York conference and are also thrilled to see such a robust turnout of commercial real estate tenants, developers, investors, investment banks, law firms, government leaders and more attending the October event, many for the first time. These are all wonderful signs of progress that our entire proptech ecosystem can take pride in," Imperatore concluded.
View confirmed speakers here and agenda here.

Real estate executives from around the world will attend the CREtech New York conference to network, uncover new investment opportunities, and acquire leading-edge products and services to enable digital transformation for the largest industry in the world.

Ahead of the conference, CREtech New York attendees will also be able to schedule 1:1 in-person meetings through their event matchmaking app in CREtech's industry renowned Tech Connect Lounge.

To register and learn more about CREtech New York, click here.

To learn more about sponsorship opportunities for our new stages including branding and speaking roles, click here

About CREtech
CREtech is Reimagining Real Estate. We are the largest international community of professionals devoted to technological innovation in the real estate sector. Our mission is to help the industry embrace, adopt, and future proof its businesses. Our streaming, live/virtual events, and consulting platform inspires the next generation of ideas, processes, and people to champion the world's largest asset class. Learn More: CREtech.com