Craig Robinson of WeWork to Speak at CREtech Chicago on Oct. 18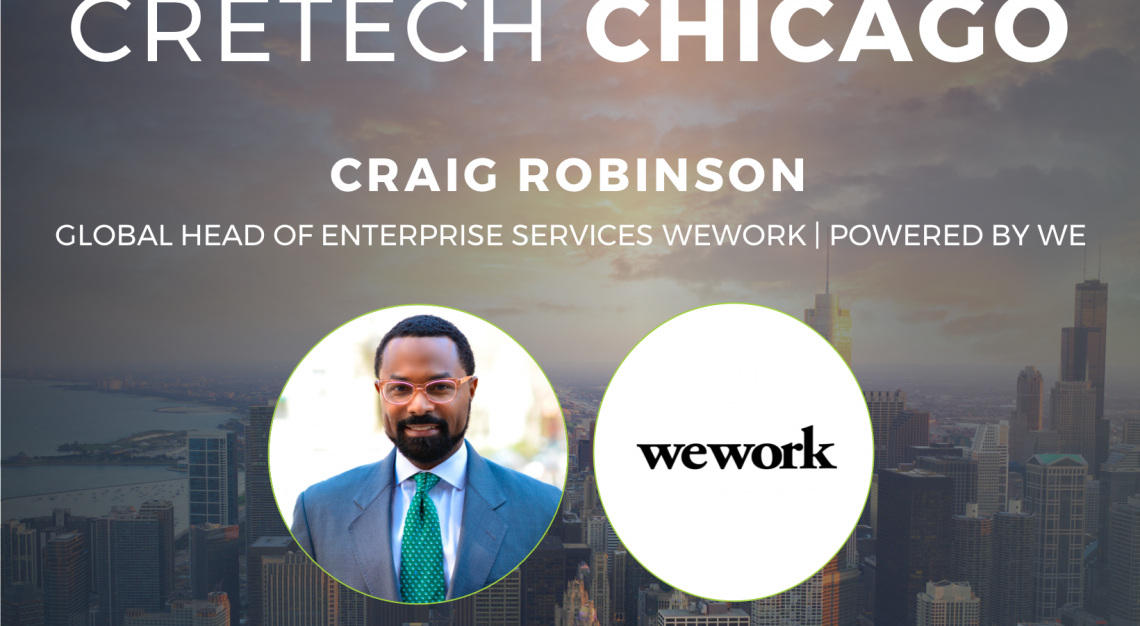 CREtech Announces Inaugural Chicago Event On October 18th
The Leading Commercial Real Estate Tech Event Company Comes To Chicago For The First Time
New York, NY (September 21, 2018) -- CREtech (cretech.com), the leading event, content and connectivity platform for the commercial real estate industry, announced that it will host its first Chicago event on October 18 at JLL Global HQ, The Aon Center.
The event will feature the leading startups in the commercial real estate tech sector as well as thought-leaders from some of the most active real estate development and investment companies. The CRETech.com events are the most well attended and fastest growing in the commercial real estate tech sector.
The CREtech Chicago event will kick off with a Keynote Presentation entitled 'Innovation + Technology: New Pieces of the Real Estate Puzzle' by Steve Weikal, Head of Industry Relations, MIT Center for Real Estate. Weikal is recognized as the preeminent authority on all things commercial real estate tech.
Additionally, Bob Ageloff, International Director, JLL, will moderate a panel featuring some of the leading landlords and investors in CRE tech. The panelists will include Bob Six, COO, Zeller Realty Group; Brad Beile, COO, Sterling Bay; Ryan Salvas, VP Real Estate Tech and Innovation, EQ Office; and Michael Ellch, Vice President of Development, Related Midwest.
Our last session will consist of a One-on-One with Michael Beckerman, CEO, CREtech and Craig Robinson, Global Head of Enterprise Services, WeWork
"Our goal at CREtech is to build the commercial real estate tech ecosystem into a national movement of innovators, investors, thought-leaders, developers and brokers who are passionate about bringing technology to this massive industry," stated Michael Beckerman, CEO, CREtech." "As part of this mission, we are traveling throughout the country to spread the CRETech gospel and to introduce commercial real estate professionals to all of the exciting things happening in the tech sector. We are therefore thrilled to be bringing the CRETech movement to Chicago and deeply appreciative of JLL for hosting us," Beckerman concluded.
To get tickets, click here.
About CREtech
Our mission at CREtech is to connect the commercial real estate and tech sectors, bringing a new age of innovation, investment and growth to the industry. The platform features the largest events, most important daily newsletter, largest directory of startups and industry leading research. CREtech additionally provides Advisory Services to startups and commercial real estate developers/brokers.
CREtech is owned and operated by The News Funnel, the leading content, connectivity and event platform devoted to the commercial real estate industry.
To learn more about becoming a sponsor, a list of upcoming events and other exciting news, please click here or email cali@cretech.com.
Purchase tickets for CREtech Chicago here.